Odd habits.
Everybody has at least one… right?  During a run last week I realized I have some odd running habits:
1. I have to chew gum
No idea how/why this started, but suddenly I don't leave for a run without a stick of gum.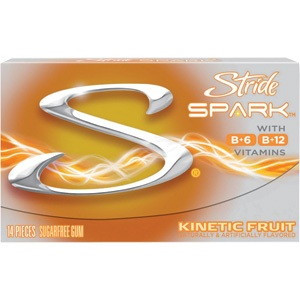 Morning runs get the energy gum.  Does it work?  I think so… at the very least the placebo-effect works!
2. I alternate the shoes I wear
Another randomly started habit.  I accumulated 3 (new) pairs of running shoes and convinced myself that rotating the shoes I run in will help with… I'm not sure what.  Soreness?  Injury prevention?  Matching my running outfit?
Somewhere I read that rotating deodorants is a good thing so your body doesn't get too used to one brand and build an immunity.  In my head, running shoes are no different.
3. The mileage I run has to be a round number
Unless it's a short run, in which case I must run 3.14 (a 5K).  Why not stop at 3?  Who knows.
---
One of the most-viewed pages on this site is my Zucchini-Banana Muffins.  98 calories. 2.2 g protein.  The veggie-factor.  Vegan.  These are some pretty good breakfast muffins!
I just made them better.
---

Zucchini-Banana PROTEIN Muffins
(a.k.a. The 92 Calorie Muffin)
1/4 C white whole wheat flour (I use King Arthur)
1/4 C spelt flour
1 scoop (2 T) vanilla protein powder
1/2 tsp baking soda
1/2 tsp baking powder
1 tsp cinnamon
1/4 tsp ground ginger
1/4 tsp freshly grated nutmeg
1 small zucchini, grated
1 small ripe banana
2 T unsweetened applesauce
2 T light agave nectar
1 tsp vanilla
Preheat oven to 350 degrees.  Grease 6 regular-sized muffin tins with Pam/butter/Earth Balance.
In a large bowl, combine dry ingredients.
In medium bowl, mush bananas with a fork.  Add remaining ingredients and stir.
Add the wet mixture to the dry, stirring until just combined.  Pour into muffin tins and bake for 20-25 minutes, rotating pan half way through.
Makes 6 muffins.
Approximate Nutrition Info: 92 calories, 0.4g fat, 17.9g carbohydrates, 1.8g fiber, 8.4g sugar, 5.3g protein
***
I'm still in a food coma from last night's dinner – more tomorrow!  Today calls for a looooong, gum-filled, round numbered run. 🙂
Do you have any odd and/or randomly formed habits?