Good Morning, fellow long weekend-ers!!!
It's another short post, as I am continuing to enjoy the long weekend.  And I have the sunburn to prove it.  Terrible, I know.
Thank you everyone for the positive feedback to my new Fitness page!  I'm excited about continuing to grow/improve it.
---
As for my mystery lunch… it was a (Georgia) Peach Caprese!
Peaches are in season now and I've had great luck finding perfect ones at local farmer's markets.  Try subbing them for tomatoes in other dishes too – they are delicious in sandwiches (with parm and prosciutto), salads (with blue cheese  and arugula), or even in salsa (with cilantro, onion, and mango)!
Check out my guest post @ The Athlete's Plate for a riveting write up.  Thanks again to Matt for asking me to be his guest!
---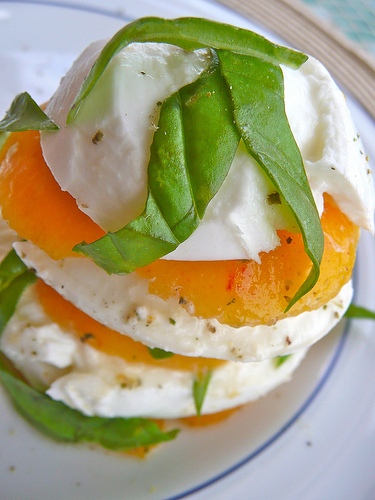 Peach Caprese Salad
1 medium ball of Mozzarella di Bufala
1 large peach 1/4 cup fresh basil
1 tsp high-quality olive oil
Salt and pepper, to taste
Slice mozzarella into 1/4 inch rounds. Peel peaches and slice those into similar sized rounds. Chiffonade (chiffonade = stack basil in a small pile and roll into a cigar-like shape then slice into ribbons) the basil using a sharp knife (a clean cut helps prevent the leaves from darkening).
Layer the mozzarella and peach slices on a plate and sprinkle the basil over the top. Finish with a drizzle of olive oil and salt and pepper, to taste.
Note: You can also drizzle them with a balsamic reduction, which is what I did here.
***
I'm off to run up a mountain before hitting up some festivals.  Good times.
Do you keep up with workouts over holidays or call it a total vaca?