I admit it.  I enjoy being the center of attention.
I'm the oldest child.  I can't help myself.
Surprisingly public speaking does NOT appeal to me.  It's not the standing in front of people part that gets me.  It's the opportunity to look like an idiot while standing in front of people.
Last weekend I did a "things you can make in a blender" demo for my gym.  Speaking AND making food in front of people.  Lots of room for error.  I was nervous.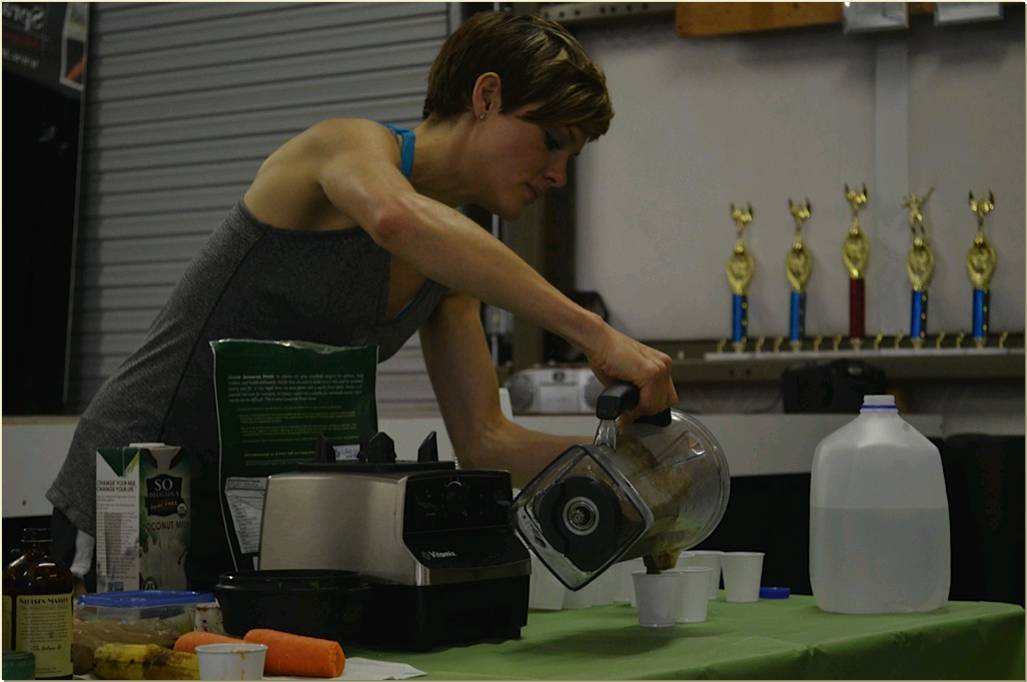 My trainer's daughter was nice enough to take some action shots.  I *think* this pic is the carrot cake batter smoothie.
I'm relieved to report it went well!  Nothing exploded or tasted bad.  It wasn't a large crowd, but people liked my food!  For my demo I made 3 smoothies and a lemon-rosemary bean dip.  You guys have seen 2 of the smoothies before:
The new smoothie was the crowd favorite.  It is also my submission to Heather's ginger-themed  Meatless Mondays from A-Z challenge this week.
---
I wanted to create a recovery smoothie for gym-goers that would help muscles bounce back fast after an intense workout.  (My gym is called "House of Payne" for good reason.)
The recovery drink I concocted is a Cherry-Ginger Smoothie. Cherries have been found to have unique anti-inflammatory properties; they may aid muscle recovery, reduce oxidative stress in athletes, and are good for pain relief.
Ginger also has anti-inflammatory properties, and is a powerful natural pain-killer. It has long been used to settle stomachs and relieves migraines. And ladies, it can be used for menstrual cramp relief. Wine works too… but you didn't hear that here.
Of course you need a protein powder in this smoothie. Taking in 20g of protein within 30 mins of a workout is the key for muscle repair and building. To learn more on this topic, click here.
Aside from making a great recovery smoothie, the cherry-ginger combo tastes delicious too.  Sweet, dark cherries compliment the spice of the ginger.  I love how the flavors balance each other.  In this recipe I used my favorite Growing Naturals Vanilla Rice Protein Powder. However, you can shake things up by using chocolate for a Cherry Bomb twist.
Recipe at bottom.
---
Workout Recap
I realized I'm always complaining about leg day in these recaps.  This week I'm praising leg day.  I have always complained about my "chicken legs."  Even when I was 30 lbs heavier than I am now, I had chicken legs.
This weekend I saw some pics of myself in posing practice.  There was a lot I wasn't happy with size-wise, but for the first time I realized my legs didn't look terrible.  Also this week I PR'd on my dreaded hack squats.  And I lived to tell the story. 🙂  Hard work pays off. 
Workout Recap (9/17 – 9/23):
Monday – Back/Triceps, Calf raises, 2 mile walk
Tuesday – Shoulders/Butt, 1.5 mile walk
Wednesday – Chest/Biceps, Calf raises, 2 mile walk
Thursday – Legs (w/ trainer), 2 mile walk
Friday – Back/Triceps, Calf raises, 2 mile walk
Saturday – Shoulders/Butt, 2 mile walk, 50 push-ups
Sunday – Rest-ish… 3 mile sprints
---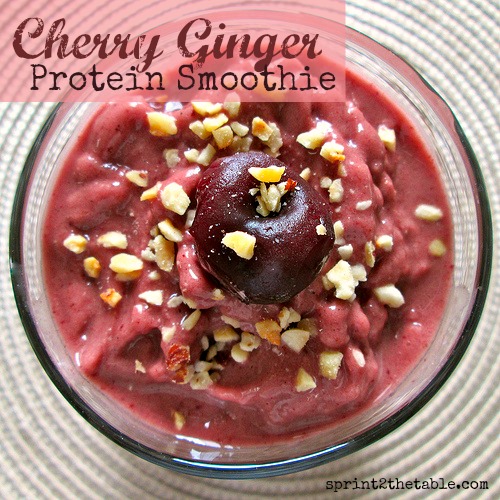 Cherry-Ginger Smoothie
1/2 C cherries (fresh or frozen) 
1 scoop vanilla protein powder (I use Growing Naturals Rice Protein)
1 in piece of fresh ginger, grated
1/4 tsp almond extract
1/2 tsp cinnamon
1/4 tsp Guar Gum (optional)
1/4-1/2 C unsweetened almond milk
Ice, to taste
1 C spinach (optional)
Place everything in a blender and blend until smooth.
Serves 1.
Notes:
You can adjust the milk and ice to suit your preference.  I like my smoothies super thick, so I use more ice and less milk.
Guar Gum is optional, but I recommend investing in some.  It's often used as a binder and volume-enhancer in ice creams and shakes, making them more creamy and thick.
I include a giant handful of spinach in nearly all of my protein smoothies.  I swear you can't taste it.  This is a great way to sneak in another serving of greens and add a little more iron to your diet to promote muscle health and energy metabolism.  Warning: Spinach will turn your pretty red smoothie a funky green color!
***
My second posing practice taught me I need more practice… more with the actual posing and general confidence than with the heels (surprise, surprise).
How do you recover after an especially hard workout?
Do you like public speaking?