I've made Blueberry Pie Oatmeal: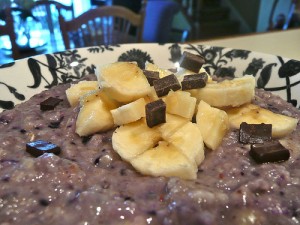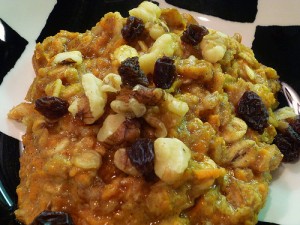 Strawberries and Cream Oatmeal (OMG – this was good):
… my oats have been a variety of fun colors!
One thing they have NOT been is green.  Until now.
I like zucchini bread for breakfast.  Zucchinis are in season and especially delicious from the local farmer's market.  These factors lead me down a path to an obvious breakfast conclusion… Zucchini Oatmeal.
Often I will spread nut butter on my zucchini bread, so I decided to follow suit here with a glob of almond butter…
… but it needed something extra.  Jelly?!
I popped a few blackberries in the microwave and ended up with a blackberry syrup of sorts. Zucchini Oats, PB&J-style.
Much like the bread, the zucchini is seen but not heard tasted.  If you are a fan of a sweeter zucchini bread, try it out with some chocolate chips!  I like to keep my b'fast a little more savory on Monday mornings.  Start the week out with my sweet tooth at bay. 🙂
---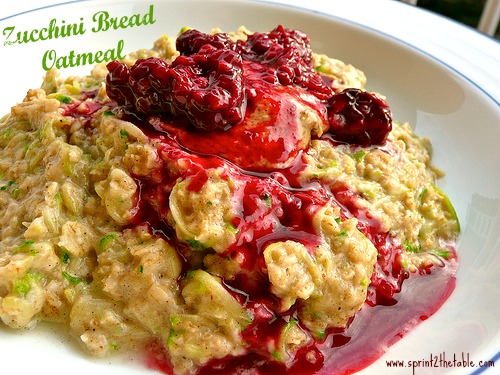 Zucchini Bread Oatmeal
2/3 C unsweetened almond milk
1/3 C oatmeal (I used McCann's Quick Cooking)
1 tsp cinnamon
1/4 tsp nutmeg
splash of almond extract
shake of sea salt
1/2 C grated zucchini
handful chopped pecans
1/2 T almond butter
blackberry "syrup"
In pot, combine first 6 ingredients and cook according to you oatmeal's package instructions.
Just before done (1-2 mins), add the zucchini.  Stir well and cook another 1-2 mins.  The zucchini should add moisture, but if the oats get too dry add a little water or milk.
Meanwhile, place berries in microwave-proof bowl and heat for 20-25 seconds.  This make a delicious, all-natural berry syrup!  You may want to add some sugar/syrup… but for my taste the berries were sweet enough without it.
Remove from heat and top with almond butter, berries, or other toppings.
Makes 1 serving.
***
I hit up the Farmer's Market this weekend and cannot WAIT to have a veggie-filled week.  #thingsineverthoughtiwouldsay
What's your favorite oatmeal creation?
Do you look forward to getting back on track after a fun-filled weekend?