Every once in a while, the stars align just right…
and a perfect Saturday is born.
This Saturday began with the 21st Annual Pride Run at the park across from my condo.
There was a special buzz in the air following the news that New York joined a growing number of states extending the basic right of  marriage to all of its citizens.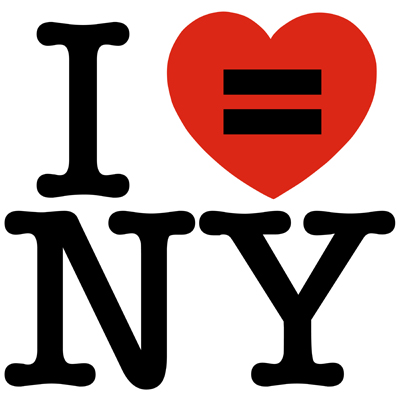 I've run this race 3x so far and it continues to be one of my favorites.  The course is great, it's well-organized, the runners are friendly, and it gets strong crowd support.  Even the police blocking off the streets cheer the runners on!
This year's race solidified the event's place in my heart… it marks the first time I placed in the Top 3 Females Overall!
I earned 3rd place overall and 1st in my division!!!
Stats:
Distance – 3.14 miles
Time – 23:41 mins
Pace – 7:45 mins
I have NO idea where that came from, but OMG I was thrilled!!!
Post-race I walked across the park for some raw milk (I know it's controversial… but it does have benefits and it tastes like a milkshake!), farm eggs, and peaches.  There is nothing more delicious than local, fresh food.
The afternoon was filled with softball and some quick pre-reunion weight lifting.
At the reunion I saw some people I was looking forward to reconnecting with, which was nice.  Overall… I don't know what I expected, but was just ok.  High school seems like a lifetime ago, and it wasn't the best of times for me.
In true foodie fashion, dinner was the best part of the night.
_______________________________________________________________________________________
A small group of old classmates (we are now good friends) – myself, Mallory (my BFF), Greg (her husband), and Laura (another friend) – all met for a pre-reunion dinner at Bocado (887 Howell Mill Road NW, Atlanta, GA 30318, 404-815-1399).
Thank god because the only food they served at the event was a cold tray of chicken nuggets.
Bocado has been on my "to try" list for far too long.  Several have contended that they serve the best burger in Atlanta; however, the other menus items are the real standouts.
My jalapeno-infused tequila cucumber martini was light and clean tasting.  The flavors were perfectly balanced – a great start to dinner on this hot day.
We enjoyed our drinks with a cheese plate made up of:
Purple Haze (goat, California)
Humboldt (goat, California)
Ewephoria (sheep, Holland)
The
Ewephoria
took the prize as the
favorite
, and the best named.
Our cheeses were served with radishes, cranberries, honey, and perfect crusty bread slices.  I say perfect because often toasted bread is so saturated in olive oil or butter that it becomes a chewy, greasy mess.  These slices were brushed with just enough olive oil to compliment the flavors.
For dinner Laura and I ordered small plates to share.
These were the best Fried Green Tomatoes I have EVER had.  Normally I'm not a huge fan due the the soggy, greasy nature of the dish.
The chef's interpretation of the dish did not suffer from this affliction.  The tomatoes were cut into spears and battered in corn meal, leaving them crisp and relatively light.  They were served over a bed of greens and radishes with hot sauce and a buttermilk herb dressing.
Our Beet Salad was served in a bowl with farro, orange segments, fennel, toasted hazelnuts, avocado, and goat cheese.  The flavors played together quite well.
Toasted hazelnuts added a dimension to the more typical beet-orange-goat cheese combo.  I especially enjoyed the different textures – the crunch of the nuts with the slightly chewy farro and creamy avocado and goat cheese.
The Burrata was the one dish that I wasn't impressed with.  The eggplant caponata on top was great, but the burrata itself was a bit too rubbery.  It was the only dish we didn't finish.  However, it was served with a kalamata olive country toast that was delicious.
Our waiter highly recommended the Summer Squash Salad.  As advertised, it was very good.  My only complaint is the heavy hand on the olive oil.  The squash was delicious and the cherry tomatoes were some of the best I've had this season.
Mallory and Greg both ordered the infamous burger.  It was quite good.  As good as Holeman & Finch?  My vote is YES… but it's very close.
The burger is served with house-made herbed french fries and a side of a buttermilk herb sauce.  I'm not a HUGE french fry eater and I could have eaten an entire plate of these.
For dessert we chose a Banana Bread Cake layered with chocolate ganache and cinnamon icing.
We hated it.
______________________________________________________________________________________
Several other bloggers have begun posting recaps of the previous week's workouts.  I love the idea – if for no other selfish reason than to have a reference for myself to look back at.
Workout Recap (6/20-26)
Monday – 4 mile run, 84 push-ups
Tuesday – P90X Ab Ripper X, 84 push-ups
Wednesday – Triceps/Chest, 3.5 mile run
Thursday – 4.5 mile run, 84 push-ups
Friday – P90X Ab Ripper X, 15 mile bike ride, 84 push-ups
Saturday – 5K, softball, 30 mins upper body weights, 84 push-ups
Sunday – Softball, P90X Ab Ripper X, 84 push-ups
***
I never was a cornflake girl…
Was high school a good experience for you?
Do you like when bloggers post workout recaps?