Anyone remember The Martha Stewart Show?
Or am I showing age?  LOL!
Martha used to talk about "today's good thing" on her show each day.  My mom and I thought this was hilarious.  So did Snoop.
This weekend I went shopping.  Nothing fit.  I can't zip dresses over my back.  It was not a fun trip… but I got what I wanted.  I'm do want to keep growing and competing… but it's still hard to swallow.
What does this have to do with today's good thing?  Nothing other than a) I got what I wanted and b) I'm focusing on good things today rather than wallowing.
Good Thing #1
The return of college football.  And Tech won!!!  If you are from the South, you know this is true:
Good Thing #2
Getting a hair cut/color from one of your oldest friends.  When I go see Karen, It's a 4-5 hour deal.  I always bring snacks.  White Chocolate Raspberry Quest bar is my favorite one to eat cold (not baked).
Good Thing #3
When we finished my hair, it was pouring and we were both hungry.  The only logical decision was to grab a bite to eat and continue catching up.  These mussels in saffron cream sauce were some of the best I've ever had.  They were huge and meaty.  #twss
Good Thing #4
I FINALLY broke down and bought a waffle maker.  And I'm pissed and everyone for not tying me down and forcing me to buy one sooner!
For my first go, I made a peanut flour waffle with cherry compote and bacon sprinkles.  I'm still perfecting it… but trust.  The recipes will come ad nausea.  
Good Thing #5
After the ill-fated shopping trip, I went to my comfort place: Whole Foods.  It was there that I found the deliciousness below: Snacks on a Plane gelato from Honeysuckle.  Tell me this isn't the most genius name and flavor combo ever.
Good Thing #6
I did eat more than ice cream for dinner.  While at Whole Paycheck, I picked up some grilled veggies.  I cooked a piece of Haddock from Sizzlefish and ate it over a corn tortilla with the veggies, avocado, and bacon sprinkles.
Tip for the grill-less: Those grilled veggies are great re-crisped under the broiler.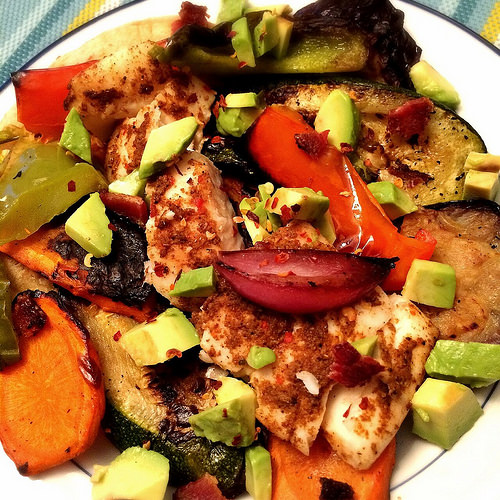 ***
Happy Labor Day!  Hope everyone is having a marvelous, Labor-free day!
What your "good thing" today?
Do you have a waffle maker?  I'd love recipe ideas – feel free to link 'em up!