Who's up reading blogs while watching the incessant Royal Wedding coverage?
I'm up super early to jump on the treadmill… so I can feel productive while rotting my brains out watching the damn wedding.
Update #2 on the new Newton running shoes: I LOVE them.  A lot. I so feel energized and have noticed an increase in speed (this is a big deal on the treadmill – I'm much slower indoors).  I busted out some intervals yesterday like a champ.
Recently I read a couple of interesting items on FitSugar:
Two thirds of consumers call themselves knowledgeable about food. Those aged 25 to 34 are most likely to proclaim themselves foodies.
Gen Y-ers tend to gravitate toward salty snacks, heat-and-eat breakfast, and easy meals — whereas their 50-plus parents are cooking from scratch, three times a day.
Aren't 20-somethings considered part of Gen-Y?  Kind of funny that the "foodies" are also part of the group that gravitates toward packaged breakfast and "easy" meals.
The 50+ parents cooking from scratch surprises me a little.  I feel like I see that generation relying more and more on packaged food and/or dining out as the kids leave home.
_____________________________________________________________________________________
Speaking of "easy" meals… I made my first nut butter!
I had a bag of almonds begging to be toasted.  Toasted nut butter sounds like a flavorful option, no?  Then I decided I wanted to spice things up.  Spiced almonds are good.  Why not spiced almond butter?
Turns out nut butter is fantastic toasted and spiced.  Friday = get nuts and toasted!
This would also be amazing thinned out with almond milk or other liquid and used as a sauce!
_____________________________________________________________________________________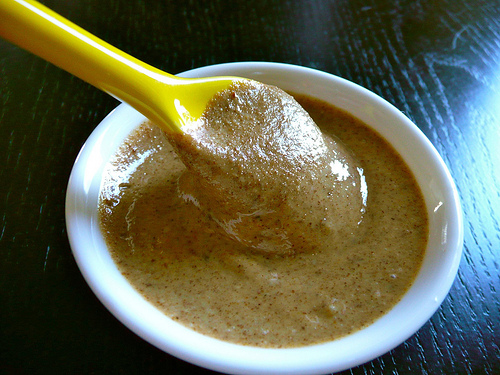 Spiced Almond Butter
1 C almonds
1/2 tsp cumin
1/2 tsp chili powder
1/2 tsp cinnamon
1/4 tsp cayenne
1/4 sea salt
Preheat oven to 350 degrees.
Spread almond evenly on baking sheet and toast in oven for 10 mins, stirring half way through.  Remove from oven and allow to cool completely.
Place almonds into blender and blend until almond begin to turn into a paste.  Scrape down the sides as needed.
Add spices and continue blending until smooth and… butter-like…
Transfer to an airtight container.  Lick bowl.  Store butter in the refrigerator.
***
Clearly I don't fit into the prepackaged, "easy" meal group.
Do you prepare your meals every day?  Do your parents do it?  Your significant other?