Having a gas stove is great.
Until you don't have gas.
Tuesday night we were awakened by a pounding on our door and someone yelling "fire!"  Never a good feeling (as we learned in last April's fire).
The good news is that we all got out safely and no one's living space was harmed.  Unfortunately, our landlady lost her art studio.
Due to the fire, they had to cut off the gas.  So we have no stove, no hot water, and no dryer.  Thank god I learned to use the slow cooker!  Strange circumstances can lead to good food.
This creation was inspired by an open bottle of wine.  What else would you expect anything else from me?
It is truly a "throw everything that needs to be used into the pot" recipe.  I've learned just how easy it is to do this with a slow cooker – a fact that continues to amaze me.
Garlic, onion, rosemary, and wine is a classically delicious combo.  It make me feel French, and you know they're classy.  Carrots are always a good add for a stew too.  The white sweet potato was a bit of a strange add.  Without an oven I can't roast it like I usually do… so slow cooker it is!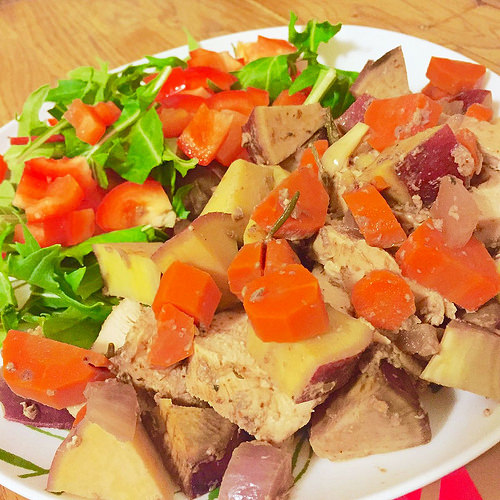 Adjust the veggies based on what you have in your fridge.  This is an easy base for your own creation!
---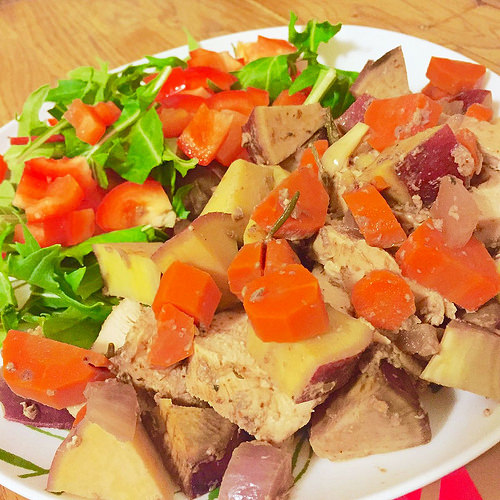 Slow Cooker Sweet Potato and Chicken in Red Wine
1 small red onion, diced
1 medium sweet potato, peeled and cut in 1-inch pieces
2 carrots, chopped
½ C red wine
½ C low sodium chicken broth
2 cloves garlic, halved
2 springs fresh rosemary
1 T dried marjoram
1 tsp ancho chili powder
Slat and papper, to taste
4 boneless chicken breasts (~1 lb)
Coat slow cooker with cooking spray.
Add the onion, sweet potato, carrots, wine, broth, garlic, and rosemary.
Sprinkle chicken evenly with marjoram, chili powder, salt, and pepper.  Place chicken on top of vegetables.
Cook 4 hours on high or 8 hours on low.
Makes 4 servings.
---
How have you enjoyed making co-workers, friends, or family stare with strange but good creations this week?  The link up rules can be found here or by clicking on "Strange But Good" in the menu bar above.  In short, I want to see what concoctions have earned you weird looks from co-workers, family and friends!  Post your Strange But Good creations, grab the logo below for your blog, and link up here.
Remember to use #strangebutgood in any Tweets and Instagrams of your creations. 🙂



***
It could be a week before we have gas and I'm not quite that hearty… we're running away for a long weekend!  
What's the last slow cooker recipe you made?
Do you like "throw everything in a pot" experiments recipes?