What's more exciting than packages?
Chocolate cake.
I came home last night to a delivery from iHerb.  After a massage and a trip to Whole Foods, it was the icing on the chocolate cake.
Use discount code USO924 for $5-10 off your order!
Many of these are new to me – toffee stevia, Walden Farms caramel, and the peanut butter protein powder.  I have been out of tahini and coconut flour for a while, so I'm excited to use those again.  I bet I can use it all together!
Do you think I got enough peanut flour?  I love that stuff.  It's better than the other stuff (ahem… PB2) because it's just the de-fatted nuts.  No added sodium or sugar.
What should you do with your peanut flour?  Allow me to help…
Sweet Potato Peanut Butter Ice Cream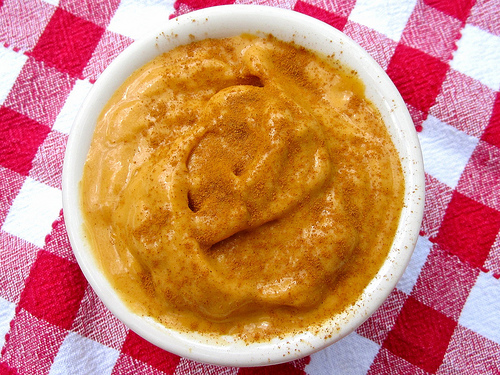 Tofu Noodle Stir Fry with Spicy Peanut Sauce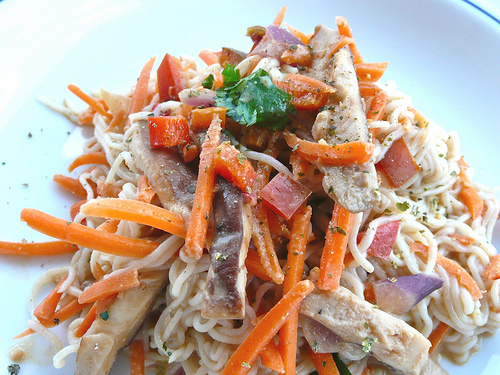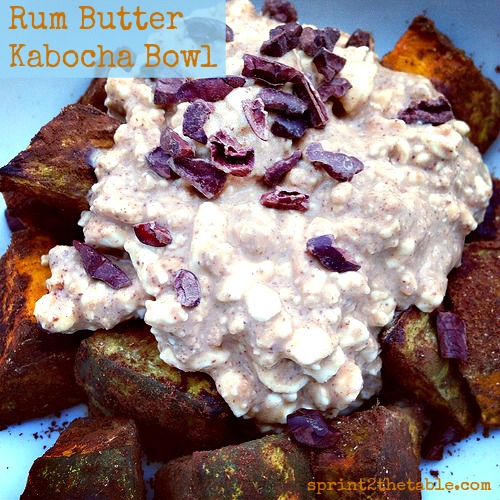 Sweet Potato Scramble with Spiced Maple-Peanut Sauce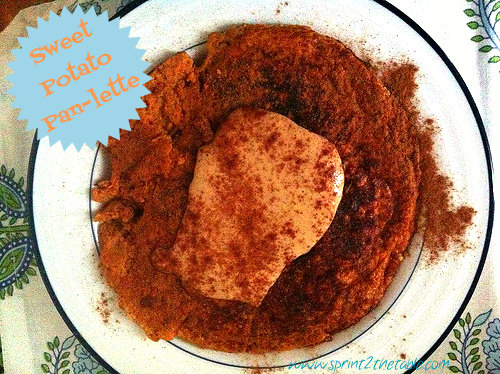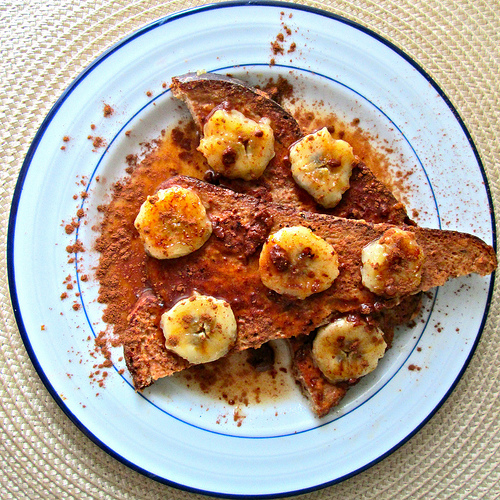 There's a lot more where that came from… check out my Recipage.  I may or may not have an addiction…
________________________________________________________________________________________
This WIAW was a good one.  I was much more prepared this week to stick to my plan.  I'm using more quinoa to help me hit my carbs.  This time I made extra to keep in the freezer for quick access next week too.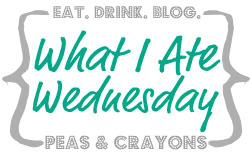 Read on for my food, and then check out Jenn's link up for everyone else's tasty eats.
________________________________________________________________________________________
Breakfast:
Of course I had my morning cocktail (apple cider vinegar, water, Glutamine, and Fitmixer Aminos) to start my day out right.

Then it was on to the #yolkporn.  I made Toad in a Hole with my P28 bread and local eggs.  I ate it with a side of kiwi and cottage cheese mixed with cinnamon.
Mid-Morning Snack:
This was my post-workout refuel.  I made a Chocolate-Beet Protein Smoothie with extra spinach.  Topped with my custom granola and blueberries.
Side note: It drives me insane when people call them "bloobs."  Is that silly?  #sorryimnotsorry
Lunch:
Cod that I baked in marinara sauce and mushrooms with a side of quinoa mixed with hummus, white bell pepper, and broccoli slaw.

It was pungent, so I also had one of the office soft mints. 😉

Afternoon Snack:
Sandwiches aren't a staple in my life, but I'm really liking them lately!  This was turkey made at the local farmer's market on Ezekial bread with local greens and hummus.
The salad was a Quinoa Tabbouleh.  The recipe will come tomorrow!
 This is when the day got awesome.  I left work to get a massage… where I realized exactly how badly I need to get them regularly.  My back was a knot forest.
Kombucha is good for muscle recovery, so naturally I headed to Whole Paycheck Foods to get a one on tap.  And a few other things I didn't really need.
Dinner:
Ripped Recipes shared my Cheese-less Cauliflower Crust recipe on Instagram last night… which sparked a craving.  Pizza time!
I topped mine with marinara, broccoli slaw, baked tofu, and a slice of Daiya Provolone.  I eat cheese, but I actually love Daiya.  I do not; however, think it tastes like real cheese.
I am finally getting smart about making this pizza – I make a few crusts at a time to keep in the freezer for quick week night dinners.  MUCH better than pizza from the freezer section!
Side note: I recently discovered and really like Ripped Recipes as a resource for creative, protein-rich ideas.  Have you guys ever heard of them?
Dessert:
I really, really love carrots.  Hence – once again – my Carrot Cake Protein Batter.  I added some of the protein powder from my iHerb box and used a tiny bit of the Walden Farms caramel.  Both were a little fake.  The custom granola crack and the figs were good!
***
The peanut flour farmers should really pay me.  Or I should at least get a break on my state taxes (it's made here in GA).
Have you ever ordered from iHerb?  What are some of your go-tos?
What are some of your favorite carbs?  Oatmeal?  Quinoa?  Others?