Arizona is a beautiful dessert.
So many odd plants… it's like a Dr. Seuss book. 
We spent the weekend in Tucson and enjoyed so many sights.  Elvis even came along!  Remember him from the cross-country move?
Trekking around Mt. Lemmon was my favorite for the incredible view of the city below.  It looked like it went on for miles!
Elvis took advantage of my distraction and jacked my Solo cup… jerk.
Yep, everything was just beautiful.  The mountain, the sunset views… the TARANTULA!
Tarantula.  I almost stepped on him… naturally, I ran away screaming.  Vegas laughed and laughed.  Then, instead of comforting me, she yelled at our friend to get a camera.
Apparently the fact that their mouths aren't big enough to bite and subsequently poison humans was supposed to comfort me.  Notsomuch.  
They're still making fun of me for screaming "like a girl."
---
Enough spider talk.  I'm hosting Jenn's WIAW again this week!  Check out my day of we-just-got-back-and-have-no-groceries, and join the party in the link up below!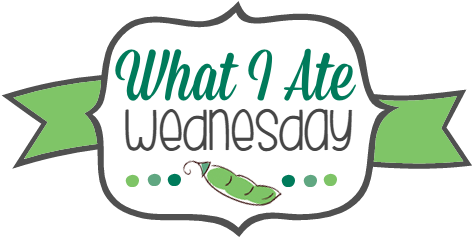 ---
Breakfast:
I had the usual morning cocktail and morning sludge.  Then coffee.  I actually have half a cup almost every day but I never think to picture it.  I don't love coffee; it's just ritual at this point.  What I do love is the quiet time drinking a cup with Vegas before the day truly begins.
Side note: I "borrowed" these mugs with Vegas and some friends on a late night Waffle House trip in Atlanta.  Thats was 5 years before Vegas would ever agree to go out with me.  Life is funny.
Then it was breakfast time.  Egg whites and caramelized onion, bacon, and one of my favorite toast creations.  I smashed up an avocado and slathered it on seed bread, then topped that with slices of local peach and basil. #strangebutgood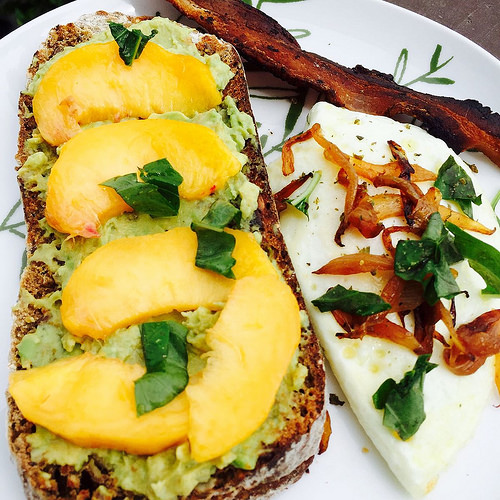 Lunch:
Getting back from Arizona late night means verrrry limited groceries in the fridge.  Which means a yogurt bowl for lunch-ish.  This quick and easy peanut butter bowl is one of my favorites.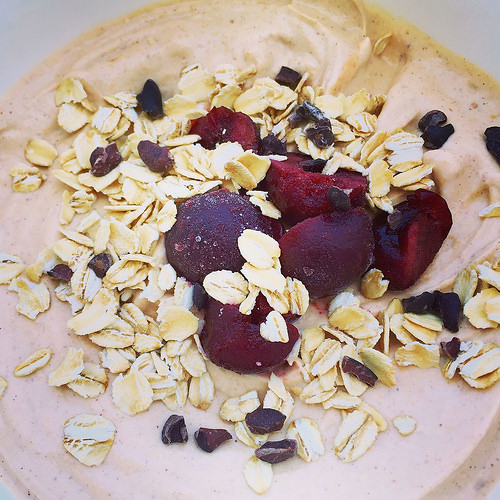 Peanut Butter Yogurt Bowl
1 C Greek yogurt
1/4 C peanut flour*
1/2 tsp cinnamon
5-6 drops vanilla stevia
Mix together, add liquid (milk or water) to thin to desired consistency.
Top as desired.  I used cacao nibs, frozen cherries, and raw oats.
*Note: I order my peanut flour from iHerb.  Use discount code USO924 for $5-10 off your order!
Snack:
More post-workout Grapefruit Sherbet.  I'm addicted.  Vegas loves it too, so you know it was legit good.
Dinner:
We had another dinner with our friend we met on our trip to Greece.  This time we met at a local small bar called… Small Bar.
They have a special on Monday night for a $15 steak with a pint.  It tasted better than you'd think for a $15 steak!  I got some onion rings and a salad on the side.  Because balance. 😉
***
I'm soooooo excited today because my old ATL friend Heather and her hubby are visiting!  Follow our adventures on the Instagram! 🙂
Would you have screamed like a girl over the tarantula?
Are you a coffee drinker?  Do you take cream?
---