Waffles distract me.
Ohhhhh…. sparkles! 
If I'm honest, lots of things distract me.  Having a new toy is just an enabler.  I went on a waffle bender.  However, getting new supplements from Cellucor brought be mack to an old favorite: protein pancakes.  Something about that Peanut Butter Marshmallow protein powder flavor screamed for fluffy pancakes.
These did not disappoint.  Peanut butter marshmallows should be a thing.  They probably are… I'd be shocked if Target didn't have them.  That place is a black hole for my wallet. Much like Whole Paycheck Foods.  See what I mean about distraction?
Anyhow.  These are good.  I'd highly recommend checking out their powder.  I've also been using it for smoothies and "syrup" for my pancakes.
For these 'cakes, I made a quick berry compote by microwaving and mashing up some mixed berries with a bit of cinnamon.
The recipe is below, but I also want to talk about their other supplements.  I've never done a purposeful "stack" before so I was excited to try the Super HD, C4 Pre-Workout, and Alpha Aminos Cellucor sent.  The results have been great – my energy has been through the roof int he gym.  I even hit a few PRs!
I especially like the chia extract and 8 essential Aminos in the Alpha.  They're great for hydration and recovery, and it' makes me feel fancy to drink it in a wine glass.  Before noon.  With my pinky out.  Because I'm a f%@&ing lady.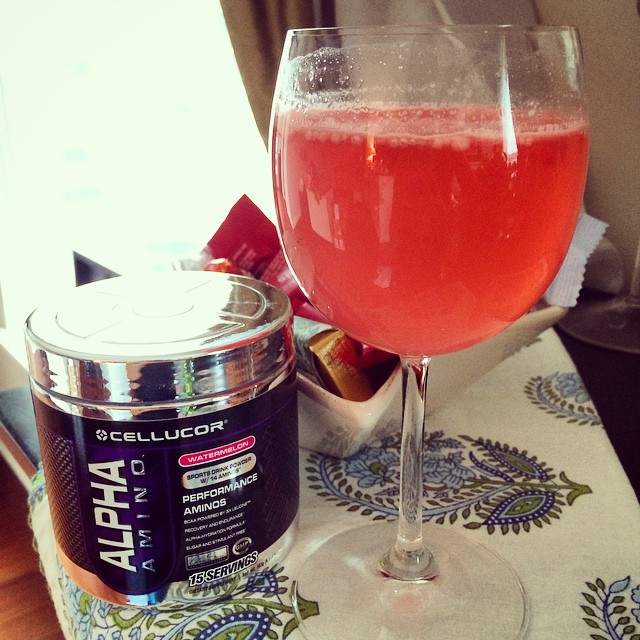 Results aside, the flavors are rocking my world too.  Peach Mango Super HD.  Blue Razz C4.  It's like grown up Koolaid.  My kind of treat this Halloween!
You can use code "CELLUCORFIT" on their website for 25% off.*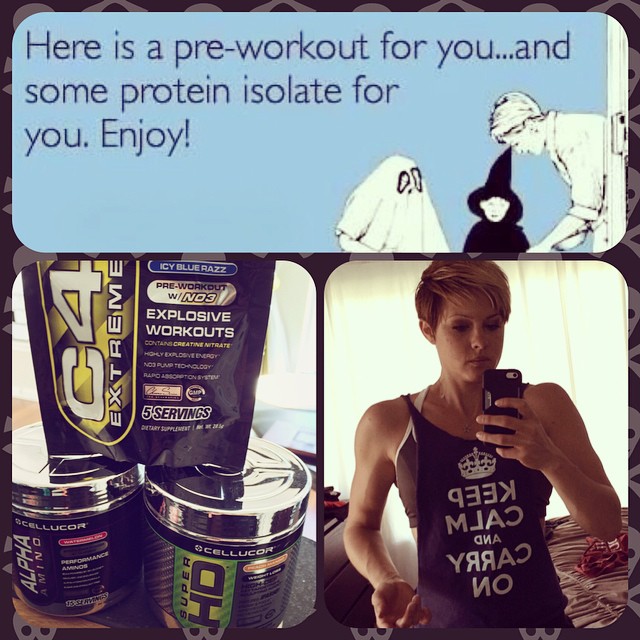 I was provided Cellucor items as part of a Fitfluential campaign.  All opinions are, as always, my own.
Speaking of Halloween… I'm told my halloween costume was distracting…
This was also a good one.
---

Peanut Butter Marshmallow Pancakes
1/2 scoop Peanut Butter Marshmallow Cellucor Protein
1 T spelt flour
1 T ground flax
1/4 tsp cinnamon
1/4 tsp baking powder
1 T Greek yogurt
1/4 C egg whites
Mix the dry ingredients in a small bowl.  Stir in the yogurt and egg.
Cook over med-high heat.  Plate and top as desired.
For my topping, I warmed 1/2 C berries and mashed them up to make a quick "jam" for my PB 'cakes.
***
 Is it really already November?!  October was one marvelous month.
What was the best costume you saw this Halloween?
Do you prefer pancakes or waffles?