Two things make me euphoric: good food and hard workouts.
Yesterday I was on the receiving end of both.  My spreadsheet delivered today!
Breakfast was mind-blowing.  Meal 2 is a new go-to protein source.  Lunch – although it was inhaled – was delish. Meal 4 wasn't exciting, but the GNC Vanilla Whey tastes cake batter-ish when mixed with water.  Dinner… well, if it was legal to marry pizza I would.  Meal 6 was fun and close to being a new staple.  Dessert was a new (to me) recipe from one of my fav bloggers.
On the training front, I had a GREAT workout with my trainer.  I squatted 1.5x my body weight.  That's a HUGE jump in just over a month of training.
During a workout it can be overwhelming to push and go all-in.   That's when you know you're doing it right – when you are out of your comfort zone and breathing hard (provided you are using a good form and common sense).  I hit that point during my 4th drop sets of horizontal leg presses.
I looked up at my trainer and said "I don't know how I'm going to do this."  Then, with his encouragement, I just kept going.
It was HARD, both physically and mentally.  I was careful not to say "can't," but I won't say the thought didn't cross my mind.  I shoved it out of my mind, and after the workout was incredibly proud of myself.
---
Which leads me to the 4th installment of the Fitness-themed What I Ate Wednesday.  If you've been following, I'm aiming to get ~150g of protein each day as I train for a figure competition (hopefully in NOVEMBER!!!).
In an effort to vary my protein sources, I try not to repeat meals throughout the day (ex: I don't want to have 7 protein shakes, or 4 servings of scrambled egg whites).  Today's eats included a whopping 5 different sources of protein!
Check out my vegetarian protein-loaded day below; then click here to Jenn @ Peas and Crayons to see everyone else's fitness foods!
---
Meal 1:
Like I do every morning, I enjoyed a glass of my aminos mixed with ~2T of apple cider vinegar and water. I swear it gives me more energy than a cup of coffee… in fact, I no longer make coffee in the morning.
30 mins later I did enjoy a coffee-laced breakfast parfait:
It was a fabulous as it looks.  No joke.  Recipe tomorrow because I cannot hold this one in much longer.
Meal 2:
A new go-to: Peanut Butter & Jeggs.   I do enjoy savory eggs, but sometimes you just want a PB&J.  Meal 2 doesn't get a carb, and PB&J doesn't pack 20g of protein (the minimum I need at each meal)… so I got creative.
Egg whites, peanut flour, berries… it's not as weird as it sounds.  Really.  Recipe at the bottom.
This might be weird: dose anyone else like the little crunchies left over from scrambles?  They're especially good when they are laced with PB.
Meal 3:
Lunch was wolfed down.  I was slammed at work and running out the door for a lunchtime appointment with my trainer for the afore mentioned leg day.
This was a tasty combo… but I spent the drive to the gym wondering if eating all this so close to a workout would make me hurl.
On my plate:
Thai baked tofu
Spinach
Sweet potato
3 bean mix 
Thankfully, I didn't vom during my workout.
Meal 4:
This is what eating for fuel looks like:
GNC Whey Vanilla Protein I received as part of this Fitfluential protein powder review, mixed with water to form a "pudding."
Followed by a giant carrot when I got home.
Meal 5:
I'm still swooning over this meal.  It's one of the best I've had in recent memory… and that's saying a lot.
Cauliflower pizza perfection (recipe here).
Topped with baby bellas, red onion, garlic, red pepper, French sorrel, and purple basil, and drizzled with nooch "sauce" (1 T nutritional yeast + 1 T water) before placing back in the oven for 15 mins.
Once cooked, I topped it with a balsamic reduction, red pepper flakes, and this KASS vegan grated parm (which is actually really good!):
Meal 6:
After being corrected by Coach last week (seriously… he busted me in the comments section), I did NOT skip meal 6.  This is a new creation… one I'm still working on.  As soon as it's 100% I'll share. 🙂
No coach, these aren't protein macaroons. 
Served with celery sticks and "honey" mustard.  I say "honey" because it's just Dijon with a drop of lemon Stevia.
I read this one someone's blog but now I can't remember where… please claim it if it's your idea.  Sorry!
Meal 7:
Dessert was this Blueberry Protein Microwave Cake I've had bookmarked from my friend Sarena @ The Non-Dairy Queen.
Just a couple of modifications: I left out the oats, reduced the egg whites to 1/4 C, and used just 1/8 tsp  of baking soda.  I added 1/2 tsp cinnamon, and used lemon stevia in the coconut "frosting."  Mine only needed 4 mins in the microwave.
It was friggin' fantastic.
---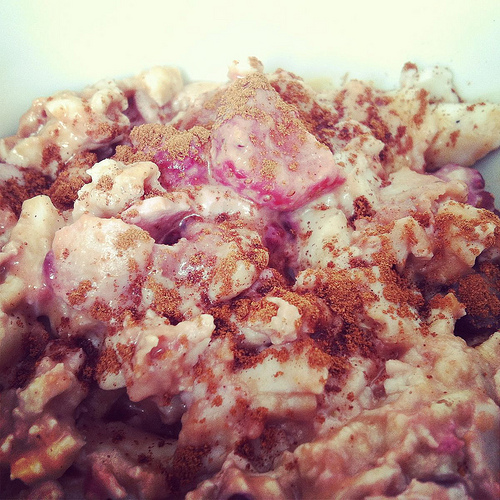 Peanut Butter & Jeggs
1/2 C egg whites
2 T peanut flour
2 T water
1/2 tsp cinnamon
5-6 drops liquid stevia
1/2 C berries
In a greased pan on med heat, scramble egg whites until 3/4 done (still a bit runny, ~2-3 mins).  
Meanwhile, mix together peanut flour, water, cinnamon, and stevia to form your peanut butter (note: you could always use 2 T of your favorite nut butter here).
Add peanut butter and fruit to the eggs.  Scramble together and allow egg whites to complete cooking (~1-2 mins).
Plate and enjoy!
Serves 1.
***
This day of eats was entirely vegetarian, and I managed 156g of protein.  And it included 2 of the best meals ever.  OMG.
Have you made a cauliflower pizza?
Any guesses about what meal 6 is?