The strange breakfasts have continued.
This week was necessity.
Without air conditioning, I became and overnight oat junkie.  Hot food made me nauseous.  "Regular" overnight oats seem too boring… and I was getting sick of oatmeal… so I brought back an old favorite.  TVP!
I also got to try a strange new nut milk (no, I couldn't type that with a straight face): Almond-Cashew-Hazelnut Milk.
It received mixed reviews when I posted the pic on Instagram, but I really liked it!  Almond milk is still my favorite, but this milk from Dream Blends is a good way to change it up.  I've tried coconut, hemp, rice, soy, and sunflower milks, not of which I like as well.
Back to the "oats."
This concoction was a TVP overnight bowl.  Cardamom and orange is one of the best flavor combos… in fact, I remembered after I made this dish that I'd actually done a similar hot version here.
Be careful with the cardamom – a little goes a long way – but a pinch adds an sweet-ish spiciness to dishes.  Perfect with the citrus and the meaty, rich coconut. #thatswhatshesaid
I also used some cacao nibs to top it… because what's not better with chocolate?!
_______________________________________________________________________________________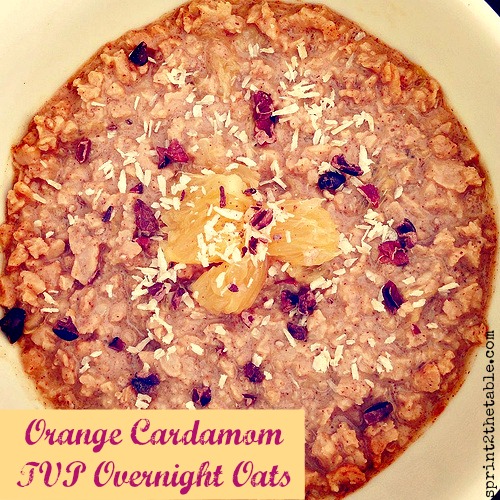 Orange Cardamom TVP Overnight Oats
1/4 C TVP

1/2 scoop (1T) vanilla protein powder
1 tsp chia seeds
1/2 tsp cinnamon
1/4 tsp ginger
1/8 tsp cardamom
1/2-3/4 C milk or water
1/2 orange, sectioned
1/2 tsp coconut extract
Stevia, to taste
Optional toppings: coconut shreds, cacao nibs, more orange
In a small bowl, mix together dry ingredients.  Add wet ingredients, stirring to combine.  Fold in orange sections.
Cover and place in fridge overnight.  Remove from fridge in the morning, stir, and add additional liquid if needed.
Top as desired and enjoy!
________________________________________________________________________________________

How have you enjoyed making co-workers, friends, or family stare with strange but good creations this week?
The link up rules can be found here or by clicking on "Strange But Good" in the menu bar above. In short, I want to see what concoctions have earned you weird looks from co-workers, family and friends!
Post your Strange But Good creations, grab the logo below for your blog, and link up here.
Remember to use #strangebutgood in any Tweets and Instagrams of your creations. 🙂

***
A/C Update: it's FIXEDDDDDDD!!! Thank the sweet baby Jesus.  Best birthday present ever.
Have you tried TVP oats yet?
What is your favorite way to make oatmeal?