This Lightened Up Shrimp & Zucchini Scampi recipe is a quick and easy summer dish.  I incorporate zucchini noodles into gluten-free pasta to keep the carb count low without sacrificing flavor.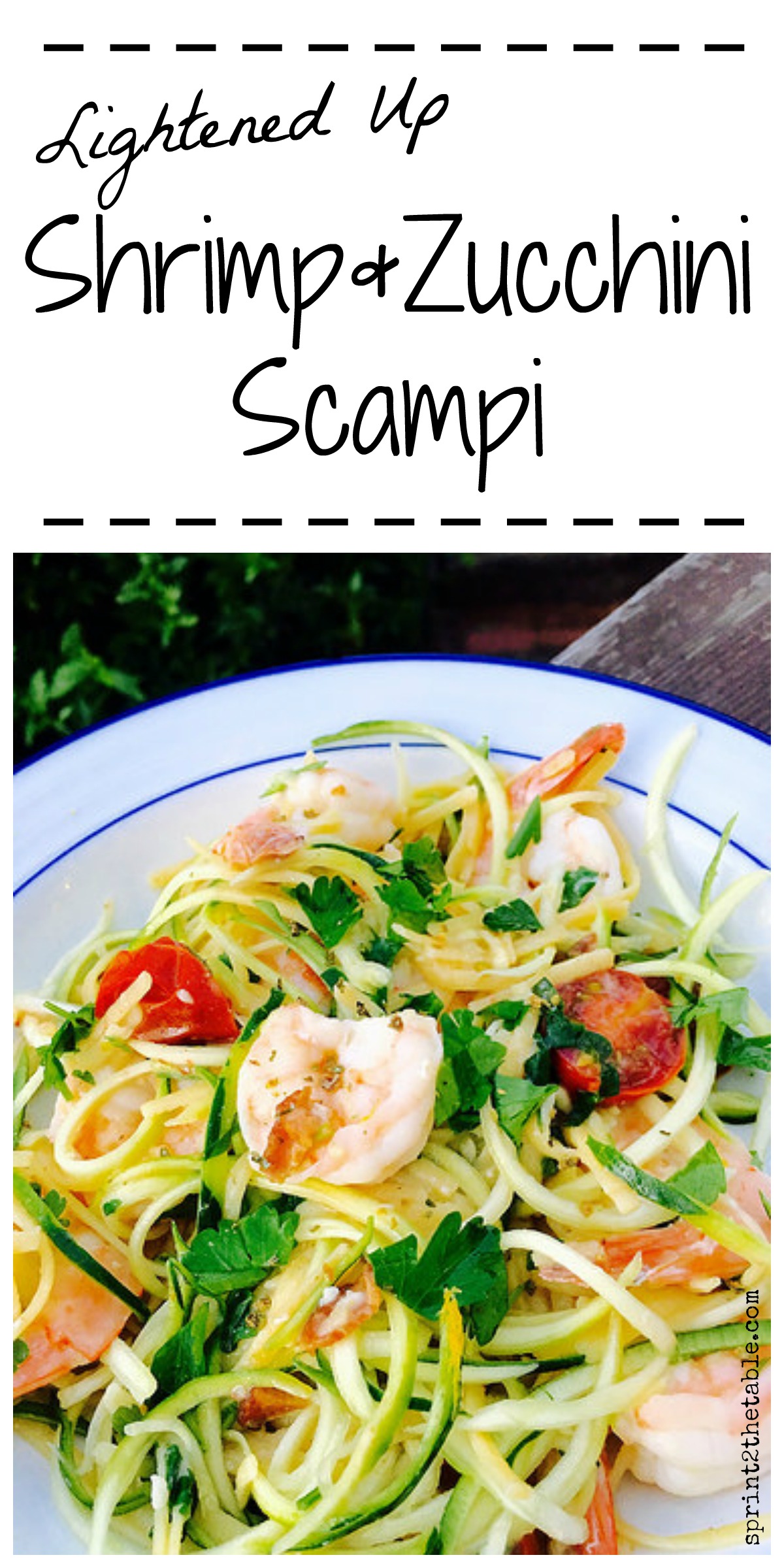 We compromise on meals around here.  Vegas generally turns her nose up at fish, but she IS a fan of shellfish.  In her version of heaven, she'd eat bowls of pasta for ever meal.  I, on the other hand, would rather have my carbs in the form of cake.
Today's Shrimp Scampi recipe is a perfect example of how we compromise.  She think it's a little strange, that I use a half-portion of noodles (gluten-free, no less!) and add zucchini noodles for volume… but I know it's good when our plates are clean!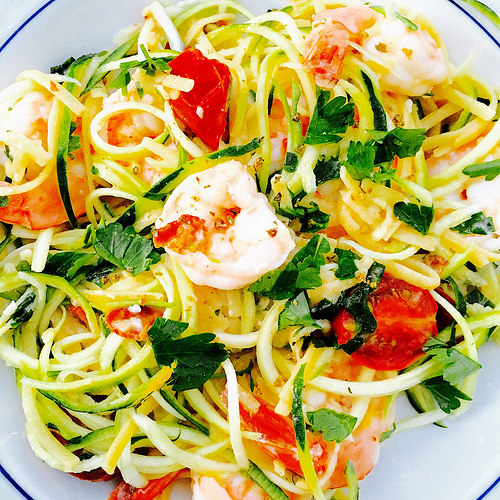 The shrimp I prefer to use is from Sizzlefish.  Their high quality fish is flash frozen before shipping.  This means the fishes retain their fresh taste.  I live at the beach and I eat frozen seafood from the opposite coast… it's that good.
It's also EASY.  Any item you order arrives pre-portioned… no messing around with raw fish required (totally grosses me out).  I take it out of the freezer in the morning, put it in the fridge, and it's ready by dinner.  In a pinch, you can run it under hot water to thaw… takes like 2 minutes.  Simple and quick!

Summer is coming, so that means tons of fresh zucchini.  It was even on sale at Whole Foods!  Color me excited.
To spiralize my zucchini, I used my little handheld spiralizer.  I'm big on minimal clean up, so this thing has been clutch for making perfect zucchini noodles without having to drag a big piece of kitchen equipment out.  So easy.
I used a crisp white wine in here… if you don't have a bottle on hand (god forbid), you could use broth or even more pasta water.
But you should crack open a bottle.  A glass (or two) is fantastic with this dish on a warm spring evening.
---
Lightened Up Shrimp & Zucchini Scampi
3-4SERVINGS
adjust servings
I use a half-portion of noodles (gluten-free, no less!) and add zucchini noodles for volume. A healthy way to get your pasta-fix!
Ingredients
1

T coconut oil

1

pound shrimp, peeled and deveined

3

cloves garlic, thinly sliced

1

tsp red pepper flakes

4

oz dry pasta (I used this quinoa pasta)

1

medium zucchini

1/4

C cooking water reserved

1/2

C chopped parsley

3

T fresh lemon juice

2

T dry white wine

1

T lemon zest

Grated parmesan, to top
Instructions
In skillet, heat oil over medium-high. Add shrimp, garlic, and red pepper flakes. Cook until shrimp is just turning pink (~3 mins). Meanwhile, cook pasta according to package instructions and spiralize zucchini.
Add pasta, parsley, lemon juice, white wine, and as much cooking water as needed to thin. Stir to combine, then slowly toss until a light sauce forms (~4 mins).
Add spiralized zucchini, tossing to combine and warm for ~30 seconds.
Remove from heat and palate the pasta. Garnish with additional parsley, lemon zest, and cheese.
---
How have you enjoyed making co-workers, friends, or family stare with strange but good creations this week? The link up rules can be found here or by clicking on "Strange But Good" in the menu bar above. In short, I want to see what concoctions have earned you weird looks from co-workers, family and friends! Post your Strange But Good creations, grab the logo below for your blog, and link up here.
Remember to use #strangebutgood in any Tweets and Instagrams of your creations. 🙂



***
My favorite compromise to date has been concerts for movies.  Vegas goes to concerts with me (she doesn't like my music) as long as I'll go to movies with her (I think movies are boring).
What compromises occur in your house?
Are you a seafood fan?