Cauliflower is surprisingly versatile.
Or maybe I'm surprisingly strange?
Either way, these are good.  Cauliflower may seem like a strange thing to make pancakes with, but it's one of those veggies (like spinach) that doesn't have a strong taste.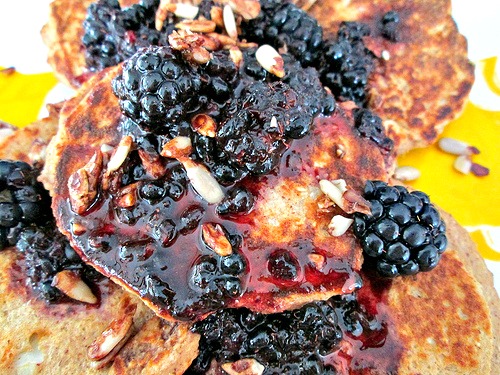 I had to do a few trials, but persistence paid off.  My first trials were without the oats, but it does need that addition to thicken properly.
What results in a super-fluffy pancake hiding a little extra veggie punch that NO ONE will ever guess is in there.  I added a quick blackberry syrup and decorated with some toasted sunflower seeds, which added a nice crunch to every bite.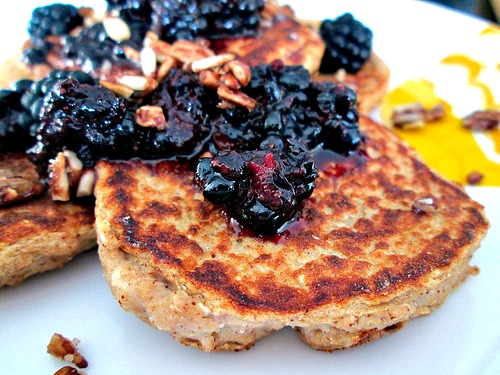 A couple of tips:
Cut the cauliflower into small pieces to so that they will blend smoothly
Make sure to grease the pan well to make flipping easier
Don't touch the pancakes until they are ready to flip.  If you mess with them, it will take away from the fluff factor.


---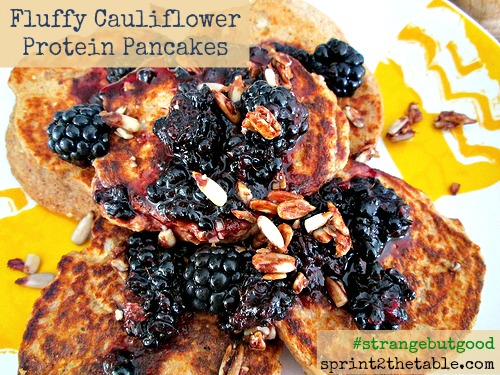 Fluffy Cauliflower Protein Pancakes
For the Pancakes:
2 T oatmeal
100g (~2/3 C) cauliflower
1/4 C egg whites
1 T (1/2 scoop) vanilla protein powder
1/2 tsp cinnamon
1/4 tsp no sodium baking powder
1/2 tsp vanilla extract
1/4 tsp butter extract (optional)
5-6 drops liquid stevia
For the Blackberry Syrup:
1/4 C blackberries, mashed
1 tsp sugar-free syrup
In a blender (I used a Magic Bullet), pulse the oats into a flour.  Place in mixing bowl.
Place cauliflower in the blender cup with egg whites and mix until smooth.  
Add oats back in, along with the remaining ingredients.  Blend until combined.
Cook in a well-greased skillet (I used PAM).
Meanwhile, mix together syrup ingredients in a small bowl.  Place in the microwave for ~10 seconds to warm and "melt" the berries.
Plate the 'cakes and drizzle with syrup.  I also added sunflower seeds as a crunchy garnish.
Serves 1.
---
How have you enjoyed making co-workers, friends, or family stare with strange but good creations this week? The link up rules can be found here or by clicking on "Strange But Good" in the menu bar above. In short, I want to see what concoctions have earned you weird looks from co-workers, family and friends! Post your Strange But Good creations, grab the logo below for your blog, and link up here.
Remember to use #strangebutgood in any Tweets and Instagrams of your creations. 🙂
***
This week has certainly been strange… it's so cool in Atlanta it feels like October!  Normally this would be awesome, but I'm crossing my finger for a little warmth because I'm supposed to try paddle boarding for the first time this weekend!
What is your favorite way to sneak in extra veggies?
Do you like to make pancake breakfasts?  Or are you an oat/egg/yogurt/other person?