Bad smells piss me off.
You know when you're in the gym and someone has offensively bad body odor?  That makes me insane.
I think I was that girl.  With garlic, not BO.  During leg day on Monday with my trainer, he asked what I had eaten that day.  I sheepishly had to admit to have excessive garlic.  He could smell it on my skin!  Is that weird?  I've never noticed that… have you?
On the flip side, there was a guy in the weight room yesterday morning that smelled really good.  I was going to thank him, but I thought maybe that would be creepy.
Speaking of training… no changes in my nutrition plan to report this week.  Yet.  
While I've been obviously gaining muscle, I haven't actually gained weight.I think we're increasing carbs a bit, and adding some addition little more fat.  I'm excited about the increase in fats – I've been craving avocados!  I also get to start doing some sprints.  Apparently sprinters have nice bums… I have no bum.  That asset is an important one in figure competitions.  😉
Lolo may not have earned a medal, but I will admit her body is bootylicious.
---
I'm going to assume you didn't come here to talk about BO and butts… let's move on to the What I Ate Wednesday  goodies.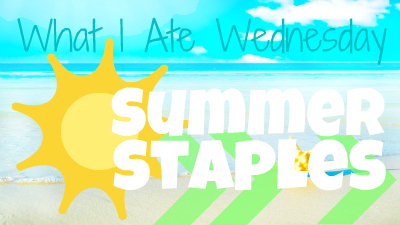 Check out my summertime appropriate eats below, then click here to Jenn @ Peas and Crayons to see everyone else's summer eats!
---
Meal 1:
This is an old pic; I now use Optimum Nutrition Orange Amino Energy mixed with ~2T of apple cider vinegar and water.  Enjoy this first thing, about 30 mins prior to meal one for its benefits related to energy, digestion, and skin.  I don't even drink coffee anymore thanks to this.
I added another treat to my digestive system this week too: Good Belly.
These kind people sent me coupon to try out their probiotic shots.  I was pleased to see that there is a no-sugar-added option!  The taste was good – fairly neutral actually.  Probiotics are known to help keep your body's bacteria in balance, and help the digestive system.  Nothing yet to report on the digestive end (get it?  end?  tee hee!), but I am a believer in the benefits of probiotics.
As I mentioned last week, I'm doing some meal-order-swapping around my workouts.  Since I went to the gym early, I swapped meals 1 and 2, meaning I need a fruit and a protein first thing and my post-workout meal would include my carb.
I'm on a PB & Feggs (fruit + eggs) bender.  Remember these PB & Jeggs?  Or these PB & Aggs?  This week it's PB & Peggs!
I knew it would be good since I liked the others, but I didn't remember exactly how awesome warm peaches are.  I used the now in season donut peaches to make what might be my favorite Feggs creation to date!
PB & Peggs:
1/2 C egg whites
2 T peanut flour
2 T unsweetened vanilla almond milk
1 tsp cinnamon
1 donut peach, cut into ~1/2 in pieces
See this post for detailed instructions.
Meal 2:
Post-workout I felt like a little treat.  I've had Brittany's Sweet Potato Pancakes bookmarked for a while, and had just mashed some sweet potatoes.  Perfect timing.  I followed her recipe closely.  My sweet potato mash was about 1/2 C.  I used just 1/2 a scoop of protein powder and added 2 tsp of chia seeds.  I only needed 1 T of the milk.  Oh, and I was verrrry generous with the cinnamon.
For my topping, I mixed equal parts Sunbutter and coconut flour with enough water to form a paste.  I also threw on some caramelized bananas, using the same method from my French Elvis Toast.
Meal 3:
This lunch packed some color!  I made Lauren's Beet Burgers earlier in the week… only I got too creative with the recipe and they won't hold together.  They did taste fantastic (especially with the extra garlic I added… sorry again to my trainer)!  I used my burger crumbles to top a spinach salad sprinkled with nooch.
My carb and additional protein was a slice of my favorite P28 High Protein Bread with a schemer of artichoke spread sprinkled with red pepper flakes.
Meal 4:
I pride myself in making different meal constantly.  Repeats don't happen often in my kitchen… until recently.  I'm absolutely obsessed with the Capella Cake Batter Flavor Drops I shared here last week.  This and the Carrot Cake Batter Shake happened at least 2x a week these days.  Good thing carrots are so sweet and flavorful this season!
Meal 5:
I was inspired by Heather's field trip to the Asian market to make my own tofu Tofu Spring Rolls.  Heather even sent me this handy tutorial on how to roll them.  Seems easy enough…
Apparently I am not as skilled as my broccoli kissing friend because mine didn't exactly hold together.
At least the sauce was good.  It was a simple spicy peanut sauce made from peanut flour, water, lime juice, and sriracha.
Served with a side of quinoa that I tossed in a very small amount of miso tamari, rice vinegar, avocado oil, and red pepper flakes.  It was healthy fried rice!
Meal 6:
I happened to see on Pinterest that someone pinned my parsnip fries.  It was a great reminder to make them again!
Of course, I couldn't do it the same way twice.  And when I ate this it was 9:30pm, which to me = dessert time.
Cinnamon sticks with a protein frosting dipper.  Holy yum.  I simply tossed my parsnips in a teeny bit of coconut oil and a ton of cinnamon before roasting.  The dip was vanilla protein powder, stevia, a splash of vanilla, and water to mix.  I also added a few drops of the Capella Cake Batter Flavor Drops. Easy and OMG good.
Meal 7:
They say that everyone has a twin somewhere.  I don't know about that, but I certainly have a food twin.  Meg @ A Dash of Meg and I share the same palate.  I've made several of her dishes and am always blown away.  She is a HUGE source of inspiration not only for healthy eating, but also for pushing harder in the gym.
It was her recipe for a Chocolate Brownie and Raspberry Parfait that inspired this lovely creation that I downed like a fat kid at recess.
This Banana Creme Brownie Parfait rocked my socks off.  A couple of my favorite summertime potluck desserts are banana pudding and brownies.  This killed two cravings with one stone.  As I slowly worked my way through the wine glass (that's right – I eat wine parfaits), the creme was soaking into the brownies leaving a decadent, spongy, slightly gooey bedtime snack of champions.
---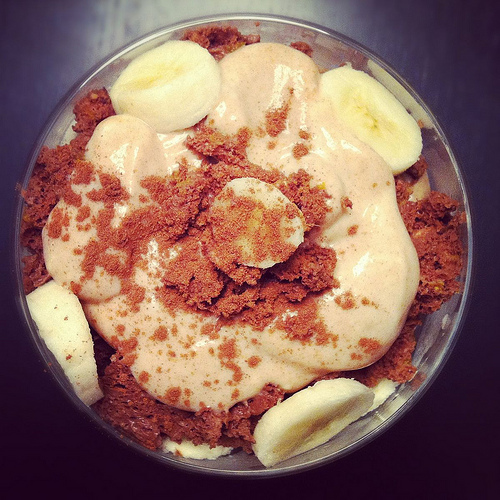 Banana Creme Brownie Parfait
For the Brownie:
For the Creme:
1 C plain greek yogurt
1/4 tsp banana extract
1 tsp cinnamon
Bananas
 Mix the brownie ingredients in a small bowl.  Microwave until just done, ~ 1 min.  
Meanwhile, stir together the yogurt ingredients.
To assemble: layer yogurt, brownie pieces, and bananas in a pretty glass (yes, it must be pretty), alternating until you're out of each.
Enjoy!
***
Are you keeping track?  I managed 158.5g of protein – all vegetarian!
Does body odor make you mad?
What is your favorite way to eat eggs?  Have you tried the PB & Feggs?  Or do you think I'm insane?