Call me Little Miss Muffet…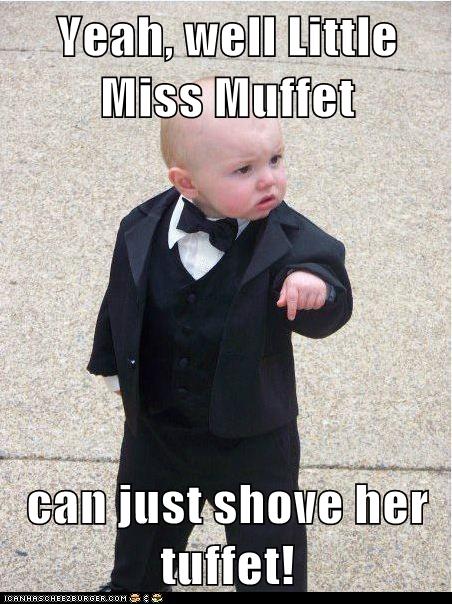 … though I do NOT like to sit on my tuffet.
I do really dig my curds and whey.  Like these curds:
Bloggers everywhere get excited when they have an empty peanut butter jar.  Overnight oats are tasty and exciting – I won't argue that!  I will argue that cottage cheese in an almost empty container is equally good.  The name is more cumbersome…
When I have an almost-empty jar, I swirl up my cottage cheese with mix-ins and take it to go.  Easy mid-morning snack at work!  This container included Sunbutter, cinnamon, a little stevia, nutmeg, and a plum.
______________________________________________________________________________________
Before I get to the whey, I want to share a little happy-excited-nervous news with you guys… I am doing another cooking demo!
This one is at Taste of Atlanta.  Slightly bigger than my gym…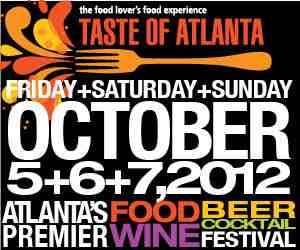 I'll be in the "Family Food Zone" tent with Sweetwater Growers (not to be confused with the brewery).  Sweetwater makes amazing infused olive oils and hydroponic basil.
Apparently it's official because I'm on the website: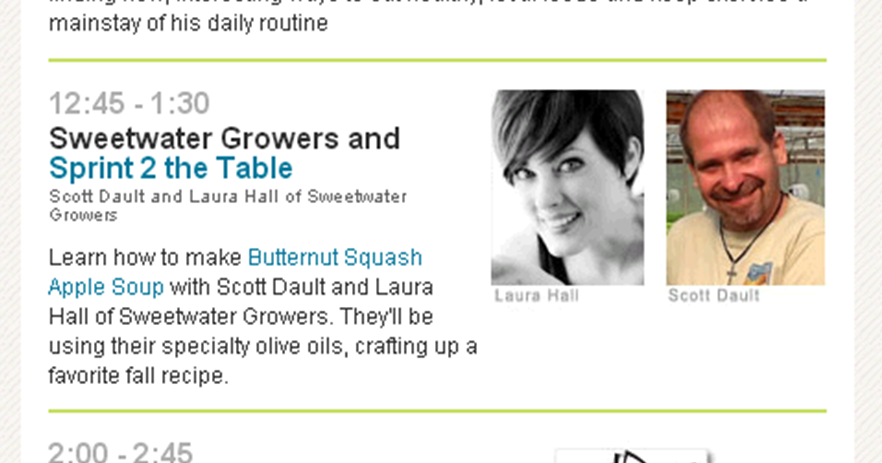 The recipe I'll be sharing is for my (vegan) Butternut Squash-Apple Soup that uses Sweetwater's red pepper-infused oil.  I started making it nearly 2 years ago (around the time of my blog's birth!) and it remains my favorite fall soup to this day.
There is a rich sweetness from the butternut squash and the apple but it's balances out with the rosemary and the bit of heat on the end from the red pepper-infused oil.
No Vitamix will be used, but I do get to play with my immersion blender.  And my nerves.  Did I mention I'm nervous?  What if no one comes?  what if lots of people come?  What if there is awkward silence?  AHHHHHH!
______________________________________________________________________________________
Baking.  Baking calms my nerves. Baking with protein powder calms my nerves AND gives me awesome post-workout treats.
Baking with zucchini also makes me happy… as evidenced by the fact that this is now my third zucchini muffin recipe.  The previous 5 (all low-cal and free of added sugars):
This one is different, I swear!  This recipe is the first one with whey protein, and it is a bit more savory.  More reminiscent of the traditional bread.  I especially love the hint of coconut with a little warm spice from the cinnamon and cardamom.
These muffins are also flourless.  Almond and coconut flours replace "regular" flour here to lend a nutty richness to this muffin.
Super-moist.  Low-carb, high protein.  These are a great pre-workout snack, or a perfect clean addition to your recovery meal.
 ______________________________________________________________________________________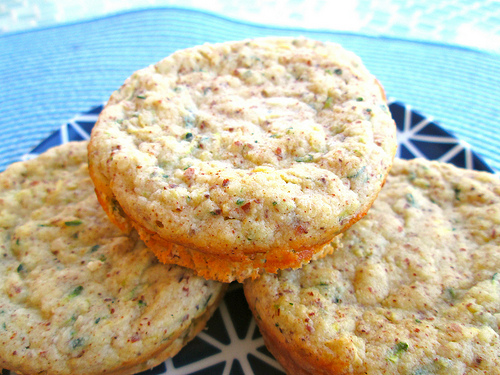 Zucchini Whey Muffins
1 medium zucchini grated finely and moisture squeezed out (~1 C, post squeeze)
1 tsp baking powder
1/2 C almond flour/meal
2 T coconut flour
1/4 C vanilla whey protein (I used GNC)
2 T Xylitol
1 T NuNaturals Fiber Baking Blend
1 tsp cinnamon
1/4 tsp cardamom
1/3 C egg whites
1/2 C unsweetened coconut milk (I used So Delicious)
1/2 tsp coconut extract
Preheat oven to 350 degrees.
Grated my zucchini into a bowl and squeezed out the excess moisture. Set aside.
In a medium bowl combine dry ingredients.  Stir to combine.
Add in liquids, and mix until just combined.  Fold in grated zucchini.
Grease a muffin tine with non-stick cooking spray.  Pour the batter into tins. Baked for 15-20 mins.
Makes 9 muffins.
Approximate nutritionals: 95 calories, 4.2g fat, 45.3mg sodium, 9.2g carbs, 2.1g fiber, 1.4g sugar, 7.5g protein
***
The good news is that I've been so stressed at work that I haven't fully felt the nerves of the demo until now. 😉
How do you calm your nerves and/or relax?
What is your favorite fall soup?