The 2 Week Veg Pledge is over.
At first I was sad and then I realized… I'll still eat a plant-based diet.  I'll probably even keep making an effort to have at least one veggie serving at every meal (breakfast included).
You may have checked out this post where I announced that as part of the Food Buzz Tastemakers program, I was selected to take the Green Giant Veg Pledge.  The pledge was to eat one more cup of vegetables per day.
Over the past couple of weeks I did a pretty good job at keeping up with it.  I even added arugula to my pizza on a less-than-clean dinner out. 🙂  Here are a few of my favorite veggie-based meals over the past couple of weeks: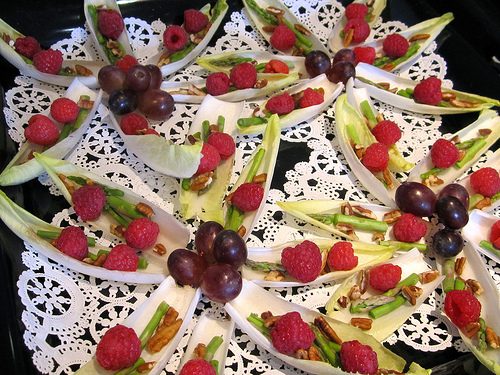 ---
Last but not least I made Zucchini Pasta with Raw Alfredo Sauce.
For years I have resisted making a "cheese" sauce out of cashews.  Partially out of laziness, partially out of the belief that I'd have to eat a full cup of cashews to make enough sauce.
I feel silly now.
Cashews actually get fluffy when blended, FYI.  You won't even need to eat 1/2 a cup of them (not for lack of wanting).
When Janet @ The Taste Space posted this recipe for her Raw Alfredo Sauce with Basil, Cherry Tomatoes, and Zucchini Noodles, I knew I had to try a version of my own.
The lemon-y sauce was fantastic with the fresh zucchini and the sweet heirloom tomato.  Light and summery, I will be making this raw dish over and over again.
The sauce can be used for a number of things!  So far I have added it to smoothies, used it as a sauce for a raw collard taco, and slathered it on a sweet potato fr a snack.
Use your imagination!  And make a double batch.
---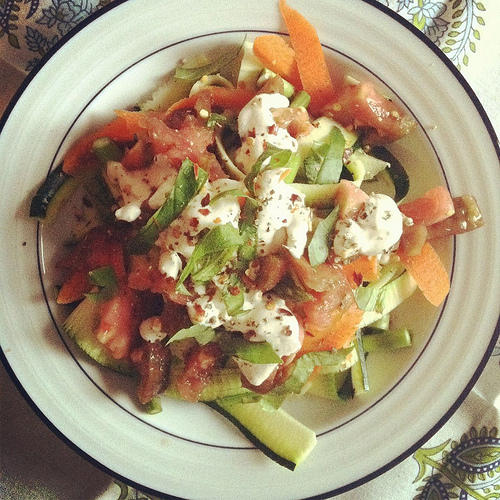 Zucchini Pasta with Raw Alfredo Sauce
1/2 C cashews, soaked for 2-4 hours and drained
Juice of 1/2 large lemon
1-2 drops NuNaturals Lemon Liquid Stevia
1/4 tsp white miso
Water, as needed (~2 T)
2 zucchinis, spiralized (or finely cut with a cheese cutter, as I did)
1/2 carrot, spirialized (or fine cut with same high-tech method above)
6-8 stalks of asparagus, cut into 1/2 in pieces
1 large Heirloom tomato, diced
5-6 basil leaves, chiffonaded
Place the soaked cashews, lemon juice, Stevia, miso, and water in a blender and blend until smooth.
Combine vegetables in bowls and drizzle each with 2-3 T of sauce.
Top with basil, pepper, and red pepper.
Any remaining sauce may be stored in the fridge.
Serves 2.
***
In case you're curious about that NuNaturals Lemon Stevia… check back Monday.  There just might be a give away… 🙂
Have you ever made cashew "cheese?"
What are you looking forward to this weekend?