On Wednesday I thought it was Friday.
That makes for a looooong week.  It's not even a holiday weekend.  We only get 1 day off for the 4th.  Grrrrr…  Let's focus on the good.
It is indeed finally FRIDAY!!!  And I have a cheat day!  After 1 week on the nutrition plan, I'm more than ready.  I'm sure most people look forward to these days so they can have pizza or cookies.  I'm just looking forward to a day where I don't have to eat 7 protein-packed meals.
Vegetables are what I crave.  Raw, leafy delicious vegetables.  In fact I'm going to a vegetarian underground dinner tonight.  I love veggies.  *blissful sigh*
Here are 5 other things I'm feeling love for today:
1. Sunshine and Sunroofs
It may be 100 degrees, but I still love the sunshine.  Also, I love my car.  I couldn't own one that lacks a sunroof!  Smog be damned.
2. Olympus Greek Yogurt
One of the packages I returned home to post-Chile was from Olympus.  They sent me a TON of yogurt to sample, and I am so grateful.  This is one of the best I've had in a long time.  Theirs is directly from its namesake – one of the only Greek yogurts in the US to be imported from Greece.  It's SUPER thick and creamy, and it only has 88 calories (as opposed to the typical ~130).  This leaves plenty of room for me to add my own mix-ins.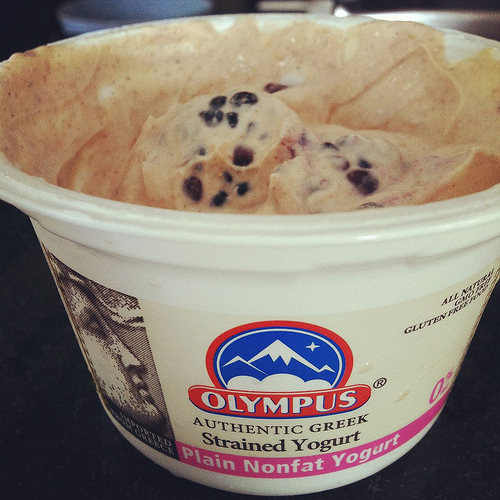 In my bowl:
1 6oz container non-fat Olympus Greek Yogurt
2 T peanut butter flour
2 T unsweetened vanilla almond milk
1/2 C blackberries (cut in half and roughly mashed)
1/2 tsp cinnamon
1/8 tsp cardamom
4-5 drops vanilla liquid stevia
3. Fitmixer
I swear I'm not a product whore.  This stuff has legit been a lifesaver in this first week of heavy weights with my competition training.
The Fitmixer Amino powder has made a big difference in my recovery time and energy level (note: I like the fruit punch much better than the grape flavor), and their chocolate protein powder is actually tasty.
4. Nutty Butter
Ok, I do admit to being Sarah's pimp.  I order my first batch of her Nutty Butter and I am in nut heaven.  Whatever you do, get the Cookie Dough.  The Oatmeal Cookie is a close second.  You really can't go wrong with any of them.
5. Zucchini Bread Smoothie
I came up with this little oddity when trying to find a snack that had 20-25g of protein and a vegetable (Meal 4 of the nutrition plan).  When I threw everything in the blender I was nervous.  This was a weird one even for me.
Miraculously, the combo worked!  Despite the arctic temperature of my office, I slurped down this creamy glass of goodness faster than you can say "protein."
 _______________________________________________________________________________________
Zucchini Bread Smoothie
1 scoop vanilla protein powder
1/2 medium zucchini
1 C spinach
1/4 C 1% cottage cheese
1 tsp cinnamon
1/2 in piece fresh ginger
1/4 tsp nutmeg
1/4 tsp almond extract
7-8 drops vanilla liquid stevia
1/4 tsp guar gum
1/4 C unsweetened vanilla almond milk
Ice, to taste
Place all ingredients into blender and mix until smooth.
***
I might even have a salad for breakfast.
What would/do you crave on a "cheat" day?
What are you loving right now?