Cocktails as a health food?
Could be #strangebutgood…
Yogurt cocktails are apparently a thing.  I can't imagine the texture.  Or how the booze doesn't curdle it… but this looks mighty tasty.
This article claims it "sounds terrible, tastes good.  I'd try it… click through to read them all.  Some are really cool.  You get probiotics and protein.  I'd try it… would you?
I want to make a few of these into a breakfast meal!  Maybe without the booze.  Unless it's Sunday Funday.
Enough of my sober competition diet cravings!  Kat is back this week with a much healthier post about the crazy 100 mile race she did.  This is truly awe-inspiring…
_______________________________________________________________________________________
70/100 Miles, Not Bad!
(A race report…and adventures on my radar)
By: Kat
I ran 70 miles (out of 100) at the Oil Creek 100 (Editor's note: Total slacker).  While it is a DNF (Did Not Finish), I'm not injured, and I'm healing up nicely.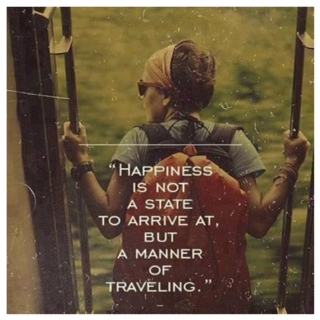 The first 62.2 miles were incredible, and I was right on my expected pace as I crossed in to an aid station, after finishing my first 100K.
I ran a great 70 miles, but a couple of things went wrong in the last 5-6 that caused me to stop, honor my body, and get pumped to try 100 again.  (Editor's note: And this is just one more reason why I admire you.)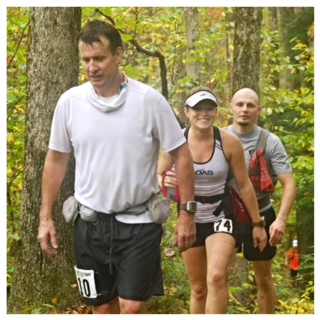 RECAP: 
The race started at 5:00am, and I was off.  It's a race with 3 50K loops (31.1 miles), and then another 7.7 mile loop at the end.  I made it through 2 loops, and another 7-8 miles, totaling 70 miles.  I ran from 5:00am until about 11:15pm.  18 hours on my feet, a new distance record, and an awesome day leaves me feeling so grateful for a healthy, strong, body and mind.
My new friend, Mark, decided we would run it together, so I could help him slow his pace, and he would help me finish.  (Editor's note: Race friends are the best!)  We started together and ran well together for over 40 miles.  My pace was nearly perfect, which allowed me ample time at the Aid Stations where I had my drop bag.  I had plenty of nutrition, was taking care of lubing the places that needed lubing, and really enjoying the day.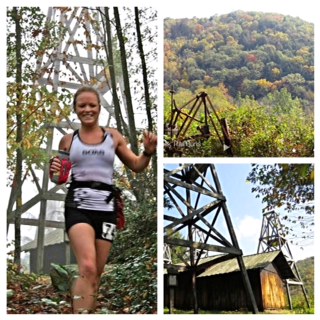 Oil creek was gorgeous!  I ran the first 50-ish miles with my friend Gabe.  It's amazing the things you learn about people on the trails.  We had very intimate conversations about any number of topics from relationships, to food and nutrition, to past experiences, lifestyle, etc.  With Mark as well, we talked about so many things that I feel like I have known both of these men for years and years.
Across ages, socio-economic status, and so many other differences, the trails are a place where you bond with other human beings like you don't in many other situations.
This was the most I had ever run with the same 1-2 people in a race, and it made me feel wonderful!  I literally had a smile on my face 95% of the day.  (Editor's note: That's the first thing I noticed about these pics – you look beautiful and radiant in your element.)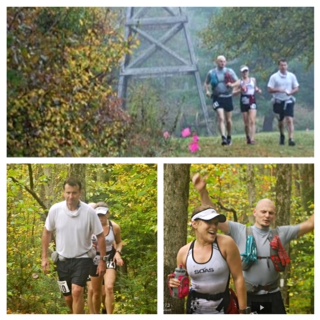 What I learned: 
So a few things went wrong in the last 6 miles.  My shoe laces fell out of my right shoe when I stepped in mud, and my foot got stuck, my headlamp batteries started to die, I forgot to eat enough calories, and I was chafing between my butt cheeks and other nether-regions (Editor's note: Ewwww! 😉 ).  And then I realized I was all alone with 30 miles to go.  I felt a twinge of something in my right hamstring and thought, I will be out here for another 8 hours by myself, through the night, risking injury.
That being said, I decided that I want to run 100 miles, but I need a pacer (someone to run with you, make sure you get food and water, make sure you're not talking yourself out of finishing, helping you with your headlamp and other various things, like lubing your butt).  So, I have decided to run another 100 in the spring.  I have had 3 volunteer pacers and I can't wait to get back at it!  (Editor's note:  I'll pace you.  For 5K.  LOL!)
 In the meantime, I have found a new trail hobby to keep me busy while I heal.  Horseback riding.  I started a few weeks ago, and I am loving getting to know the horses, spend time on trails and be with nature.  I've been riding at Serenbe, a 1,000-acre sustainable living community, just south of Atlanta.  It's beautiful and amazing.  (Editor's note: I have been there a few times and it is the most serene environment!  With good food.)
It's also a great workout that allows me to fly though trails and get some good endorphins flowing while I have myself on running restriction to heal.  I have told myself not to run farther than 6 miles for 3 weeks.  I'm halfway through these weeks!  Horsey-rehab and healing my body!
I have also decided on my next 100 miler, and another fun running-swimming race to do in Sweden next year, ÖTILLÖ, where teams of two race together from island to island (Ö TILL Ö) from Sandhamn to Utö in the Stockholm archipelago. The teams swim between the 26 islands and run on them.
The total distance is 75 kilometers of which 10 km are swimming and 65 km are running!
***
Reading this I now realize why Kat said she'd run with me this weekend.  I'm a short distance pacer.  LOL!
What do you do for rest and recovery after a big race or competition?  Yes.  Waffle House after every competition!
Do you start planning your next adventures right away?  What adventures are on your radar!?