The weather was beautiful for the AIDS Walk & 5K this afternoon.  It wasn't my best time, but I am happy with it given a) how sore I was am and b) how hilly the course was.  I finished in 28:27.
I was really nervous since my entire right leg had been so bad lately – hip, hamstring, knee, and ankle.  Luckily my Yoga for Runners DVD came in the mail this week.
Not one to get into the whole hippie yoga thing, I finally reached a level of pain that made me willing to try anything.  AND I am positive this made my run today possible.  About 2 hours before the race I did the whole DVD (probably overkill, but whatever).  It opened my hips up and stretched out my hamstring enough to move it freely.
I am now a yoga convert. I'll be doing this DVD on the regular!
Of course I ate an awesome breakfast in preparation.
---
The race didn't start until 1:45p, so I ate a massive breakfast at 10a (and a banana about an hour before).  Behold: Pumpkin-Chocolate Overnight Oats.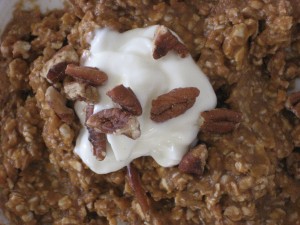 Pumpkin-Chocolate Overnight Oats
1/3 C oats
1/3 C unsweetened almond milk
1/4 C pumpkin puree
1/2 scoop chocolate protein powder
Generous shakes of each cinnamon, ginger, and nutmeg
Toppings:
Atlanta Farm Fresh Greek-style Yogurt
Pecans
Mix all ingredients (except toppings) in a bowl.  Cover and refrigerate over night.  In the morning, stir and add toppings.  Then try not to eat embarrassingly fast 'cause it is soooo good.
---
A 5K didn't stop me from doing Whittle My Middle! It wasn't pretty, but here it is:
Front plank: 60 secs
Side plank:  60 secs each side
Torso twists: 25 reps
Plank ups: 10 reps + 10 with legs on floor
Boat pose: 20 reps
Bicycle: 2 sets of 30 reps
Side plank w/ twists:  10 reps each side