Happy Cinco de Drinko Mayo!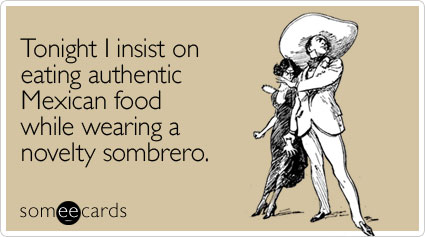 Cinco de Mayo is a day I look forward to every year.  Surprisingly not just because of the margaritas!  (I'll have mine on the rocks with Patron Silver and Cointreau.  No salt!)
What I really love is the excuse to eat Mexican food for every meal.  And the fact that it makes my need to an afternoon siesta totally excusable. 🙂
I'm planning a quick lunchtime bi/back session in the gym, so I'll follow that with a Me-EGG-xican Quesadilla.  Eggs (post-weights protein!) + nooch + salsa + jalapenos + tortilla.
Tonight I'm hopping to get in a 5 mile run and a mani/pedi before hitting up a special Souper Jenny Mexican Grilled Cheese Night.  Rumor has it she's serving up a grilled ham, avocado and mango with monterey jack on a jalapeno cheddar bun.  Can you think of anything more scrumptious???
If you live in the Atlanta area, check Souper Jenny out – she's my favorite lunchtime soup/salad treat!
So… where did that leave me for Mexican breakfast?
__________________________________________________________________________________
This is the reason I'm running late today: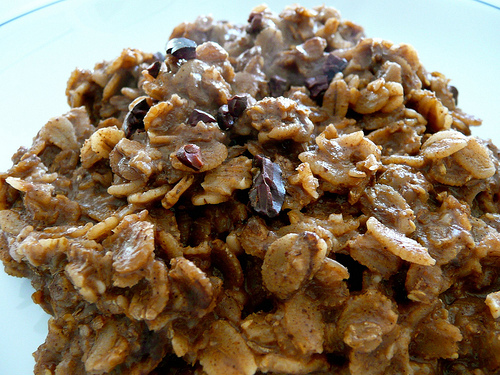 Mexican Oatmeal.  Complete with spices.  All you need are some basics… and a brightly-colored spoon!
Admittedly, I was nervous about adding cayenne to oatmeal.  If you read my blog regularly, you know I love to burn my mouth add some heat to meals.  Oatmeal though?  It seemed risky.  But, I can always make more… so I went for it!
It totally worked! I only added a few shakes (less than 1/8 tsp), but that was just enough to add a teensy kick at the end.  With the cinnamon and cocoa, it was reminiscent of a Mexican Hot Chocolate.
__________________________________________________________________________________
Mexican Oatmeal
1/2 C oatmeal
1 C unsweetened vanilla almond milk
2 tsp cocoa powder
1 tsp cinnamon
1/2 tsp vanilla (more if your milk isn't already vanilla-flavored)
2-3 shakes cayenne pepper
Salt, to taste
Add all of the ingredients to a pot, stir, and cook oatmeal as directed.
Remove from heat, pour into a bowl, and add desired toppings.  I used cacao nibs and honey.  Nuts would have been fantastic too!
***
How are you celebrating Cinco de Mayo?
What's your favorite Mexican dish?