Traveling doesn't have to be hard.
Step 1: Choose your companions wisely.
I'm 3 weeks out from my next competition.  And I'm in Arizona this week.  Trying to get in 7 lean meals a day is NOT an easy thing to do on the road.  As I've described (in greater detail) before, I simply bring my own.
My diet changes this week mean no fat, no sodium, and a more limited list of fruits and veggies (to avoid bloating).  I packed enough food to eat 6 meals per day, and I carried it ALL on.  No checked bags.  The unplanned meal is one I can get at the spa restaurant where we're staying (I called ahead).
And yes, you can make it through security with a lot of unmarked powders. 😉
________________________________________________________________________________________
We left after Meal 2 today, so 5 of my 7 WIAW meals were all eaten on the road.   It was actually fun!  This trip I rocked the desserts.  Hard core.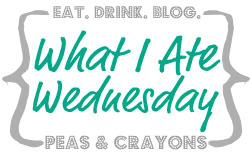 Check out my 7 low fast, low-sodium, protein-filled meals below, and then click here to head over to Jenn @ Peas and Crayons to get to see how more normal people are eating!
_______________________________________________________________________________________
Meal 1:
My morning cocktail (apple cider vinegar, water, Glutamine, and Fitmixer Aminos).  This is the one thing I haven't figured out on the road since ACV is a liquid and that won't fly.  I savored my last one for the week.
Then I rocked a workout in one of my favorite race t-shirts in honor of Boston.  I was a sweaty mess for breakfast, which was a cherry PB & Jeggs… on top of a corn tortilla.  Not gonna lie, it would have been better on an english muffin.
Meal 2:
My last meal at home.  This was straight up awesome – the best sea bass I've ever made.  I don't think it was my preparation so much as it was the freshness of the fish.  I guess they're in season?!
For my side I had a quick salad of cherry tomatoes, raw zucchini, basil, red pepper flakes, and rice vinegar.
Meal 3:
Lunch on a plane.  I packed up my version of a chopped salad – chicken baked in Ethiopian spices,  cauliflower, celery, celery leaves, and cubed sweet potato.
Meal 4:
Bison on a plane!  With cauliflower and snow peas by the light of my laptop.
My mom was staring at me in disbelief.  She even said "I can't believe you were the kid who wouldn't eat anything but bologna every day."  My, how times have changed… and she was jealous because all she'd had time for that day was a shake and a bar.  Bwhahaha!
Meal 5:
We were both famished when we reached the hotel.  Our room wasn't ready, so we enjoyed dinner on the patio looking out at the mountains.
I ordered a simple salad (that dressing wasn't used) and then added my own no-salt turkey and a side of sweet potato.  I wanted to leave the 'tater on the foil… I thought it was funny… but Mom got embarrassed and told me to put it on the plate.  LOL!
Meal 6:
We went for a long walk and checked out the spa (where I'll be all day – OMG their gym is NICE).  On the way back we swung by one of the restaurants at the property where I obtained a plate and silverware.  Eating out of a baggie isn't the end of the world, but if you can have a real plate… well, that's just better.
Mexican baked chicken with cauliflower and snow peas.  I had cauliflower to use, can you tell? 😉
Meal 7:
This is part of my dessert creation success.  I took individual containers of non-fat Greek yogurt and mixed them with oats, a fruit, and various flavors.  Then I cover them in foil and place them in the freezer.  This way, when I pack them, they also act as an ice pack for my other food.
Tonight's selection was mashed blackberries, cinnamon, stevia, and cocoa powder.
Just as good as the creations I make at home, my friends!
***
Sitting on that patio at dinner in that dessert spa atmosphere I wanted a margarita so bad.  I texted my trainer to beg.  He said no and that I would appreciate it on competition day.  He's right… but damn.
Did you #workitout for Boston yesterday?
Have you ever whipped out your own food at a restaurant?  I'm shameless.