The million dollar question.
What is the meaning of life?
The question I get almost daily now is about gaining and/or abs.  How do I gain without getting a tummy?  How do I get better abs?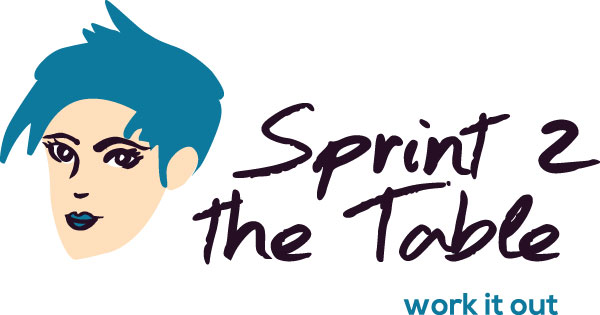 I don't do core work other than leg raises in the captain's chair and crunches.  I don't do cardio beyond walking  (my trainer won't let me while I try to gain).  I focus on weights and lifting heavy.  It sounds crazy, but my abs are sore following a leg day – barbell squats work your whole body!
Without millions of sit ups, here's what my abs looked like for my first competition in October (I'm on the far right):
Please know that "normal" people don't walk around with fitness model abs 365 days a year.   In the pic above I certainly didn't have a ripped 6 pack, and I'd been working hard.  Fitness models and competitors are relentless, but there is a lot of diet/water manipulation (not to mention the occasional photoshopping) that goes into it. Don't put those expectations on yourself!
If you are trying to gain, the extra food will probably go to your stomach at first.  It has to go somewhere before it re-distributes!  As long as you aren't filling it with junk, your body will figure out where to put it.   I tell myself this every day.
So how do you get abs?  I hate to say it… it's true what they say – abs are made in the kitchen.  I wrote a brief post about this when I did my Kitchen Workout.  Based on the questions I got and my personal goals, I wanted to get a little more specific in this post.
The secret is what you put in your mouth.
That's what she said.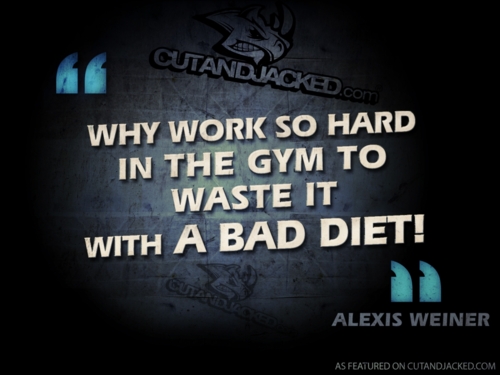 _______________________________________________________________________________________
Fat vs. Carbs
I get asked a lot about the proper balance of fat and carbs.  This really depends on your body type.  Some people do better with more carbs, others more fat, and still others with a balance.  Don't be afraid to experiment and see what works for you.  You'll be able to tell in a week or so.
I'm actually experimenting this week with a higher fat diet.  We'll see how it goes…
Carbohydrates
Switch your simple
(refined)
carbs with
complex carbs
.  Simple carbs are quick to digest and are converted to blood glucose. Glucose in your bloodstream increases after consuming a high-carb meal.  Excess glucose accumulates as body fat, resulting in weight gain.  If you continually create excess glucose, you create a nasty cycle.  As the level of glucose in your blood falls below "normal," you become hungry, which results in consuming even more carbs.  
Read more about complex carbs here
.
Try eating oatmeal for breakfast rather than toast.  Make it interesting – try Zucchini Bread Oats, Strawberries and Cream, or try a Strange But Good take on oatmeal that uses TVP as the base: Pumpkin TVP Oatmeal.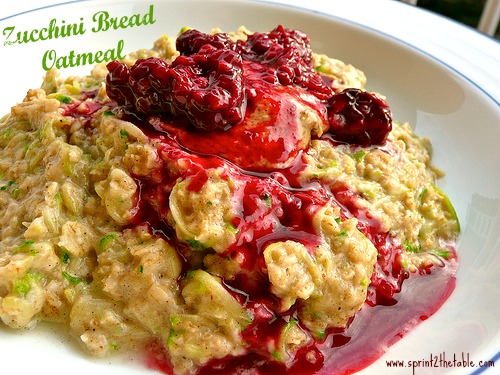 Rather than croutons or a roll with your salad, top it with black beans, white beans, or chickpeas.  My favorite topper is Spiced Roasted Chickpeas – crouton crunch without the salt, butter, or white carbs.
Replace pasta with quinoa or lentils.  I never cared for lentils until I discovered fun ways to flavor them, like in these Lentil "Meat" Balls served over spaghetti squash (another great carb replacer).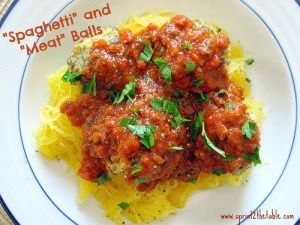 Sugar
Limit your sugar intake.  You would be surprised how it sneaks its way into nearly everything.  Sugar is fat-free; however, if you eat a high sugar diet your body will convert the excess into fatty acids (fat).  This fat is stored wherever you tend to store adipose fat cells… for many of us, this is the stomach, hips, butt, and boobs/moobs.
Avoid candy, sodas, "fancy" coffees, juice, and baked goods.  You probably knew that.  Are a few not-so-obvious items to watch: cereals, breads, canned sauces and soups, flavored yogurt, protein powders, and fruit.  That's right – I said fruit.  It's good for you in moderation (we all need some sugar for energy), but you shouldn't be eating 10 servings a day.  When you eat your fruits, try to have it earlier in the day or surrounding a workout.
Satisfy your sweet tooth with something else…. like my (almost) nightly treat: the 150 Calorie Microwave Cake.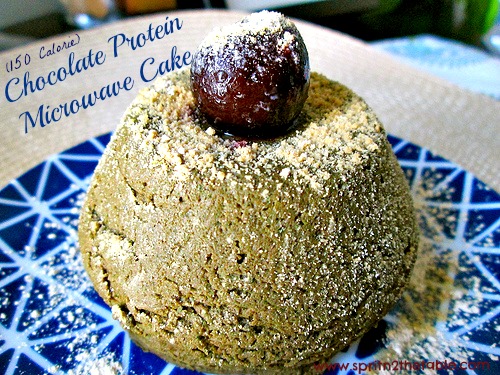 Sodium
Ditch salt.  Stop salting your food.  Unless you want to be bloated.  There are so many other ways to add flavor!
Frozen foods are huge culprits.  Even the "healthy" brands are loaded with sodium.  Also check the sodium in canned soups, pastas, breads (some have more sodium than chips), pretzels and rice cakes, sauces, and cottage cheese (it took some searching, but I did find a no-salt added option).  Check out this post for more info and alternative seasoning ideas.
Diet Foods
"Fat-free" or "low-calorie" items often means "this has a ton of ingredients you can't pronounce."  Avoid packaged diet foods.  They are often worse than their "regular" counterparts because – in order to add flavor – they have more sodium and/or sugar.  Not to mention the additives.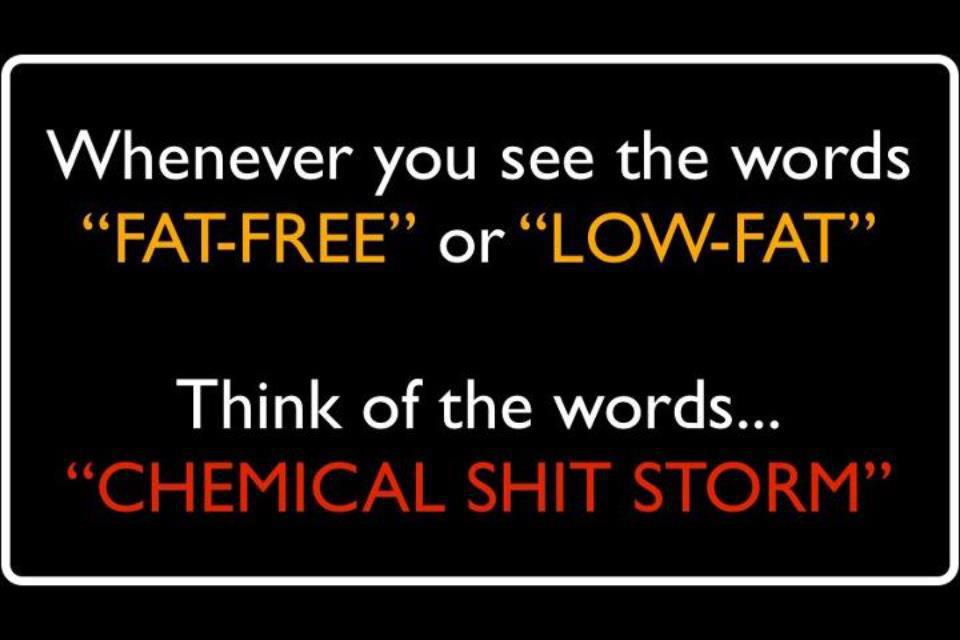 Additional Thoughts
Listen to your mother.  Eat your vegetables.  They are low-calorie and nutrient-rich.  If you are a volume eater (I am!), veggies are a lifesaver.  Try to have 1-2 servings at every meal.  Prepare them with herbs, vinegar, and/or olive oil.  If you are coating you veggies in dressing, cheese, and salty sauces it kind of defeats the purpose.  Click here for tips on adding veggies to you diet.
Always make sure to get enough protein!  20g after you exercise will help build muscle and allow your body to recover.  If you are an athlete, have at least 1 gram of protein per pound of body weight.  Some people will balk at this… but if you want to build muscle, trust me on the protein.
Drink water (at least half your body weight in ounces).  Dehydration slows down the fat-burning process.  Drinking more water can also help reduce muscle and joint soreness when exercising.  And we all know this one: drinking water with a meal may make you feel full sooner and help you not over-eat (or drink other beverages).
Make the way you eat part of your lifestyle, not a diet.  Diets crash.  A lifestyle is a shift in thinking.  Find something that works for you, that you like, and go for it.
**Disclaimer: I have NO formal training.  This is just what I've learned/experienced.  I don't walk around with a 6 pack – it's bulking time!  Don't sue me.  The End.**
***
Something else I didn't realize… not only is my next competition just 11 weeks away, but I am also doing an 8 hour adventure race in less than 2 weeks.  Eek.
Do you have a "flat ab" secret?
Do you consider the way you eat part of your lifestyle?  How did you get to that point?