Sometimes you really need to get in and out of the gym.
In a perfect world, I'd have 4 hours to lift.
The reality of the situation is that we all have responsibilities outside of the gym.  One way to move a little faster through your workout while doing the same amount of work is to superset.  These are also a fabulous way to push through plateaus.
Work It Out, on the double.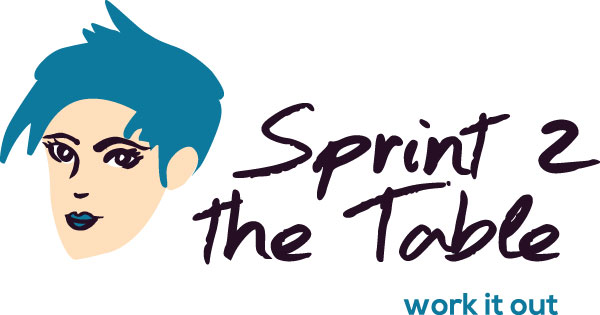 Supersets
Many of you may have heard of this technique before.  Supersetting means doing two exercises with little to no rest in between.
Do your prescribed number of reps (I do 6-10) for one exercise, immediately followed by reps of a second exercise.  Start off performing 2 to 3 sets for each exercise. As you advance, increase sets to 3 to 4 total.
How do you incorporate them?
1. Exercises working the same body part.  
The benefit is that you hit the muscle from different angles but without giving the body part time to recover from the first exercise.  It forces you to work that much harder to complete the second exercise, and can have a big impact if your focus is muscle development.
An example is super-setting Incline Flyes with Flat Dumbbell Bench Press: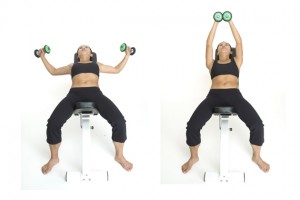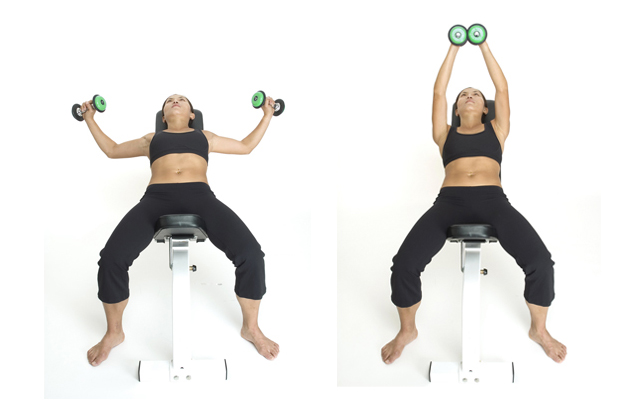 Incline Flyes
Grasp dumbbells using an overhand grip, bringing the dumbbells to the sides of your torso at chest level.  Hold the dumbbells at arm's length and do not lock your elbows.  With palms facing forward, position the dumbbells directly over your upper chest area so that they are touching each other.  Slowly bend your arms and lower the dumbbells until they are at either side of your chest.  Repeat the movement for reps.
Note: The top of the dumbbell should never pass below your lower chest area to avoid strain on your anterior shoulder muscles.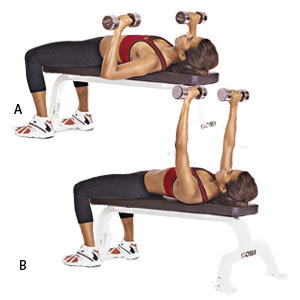 Dumbbell Flat Bench Press
The only difference between this exercise and the flat barbell bench press is that in order to stabilize the dumbbells your body will need to recruit more muscle fibers.
On a flat bench, grip dumbbells in each hand, palms facing each other.  Press up the dumbbells one arm at a time so that you can hold them in front of you at shoulder width and rotate your wrists forward so that the palms of your hands are facing away from you.  (You can use your thighs to help you get the dumbbells up.)  Bring down the weights slowly to your side as you breathe in.  As you breathe out, push the dumbbells up using your pectoral muscles.  Repeat for reps.
2. Exercises working opposing muscle groups.
This is a great way to burn out a whole muscle group!
An example is super-setting standing (or lying) leg curls with leg extensions:
Standing Leg Curls
The standing leg curl strengthens the hamstrings (this is great for runners!).
Start with a lighter weight, as this machine can put some strain on the knees.  Adjust the pads so that they are in a comfortable position around the ankle – you don't want the pads too high up the calf. Grasp the support handles, then lift the pad upward as far as it will go toward the butt.  Lift and lower the leg in a controlled manner to complete one full rep.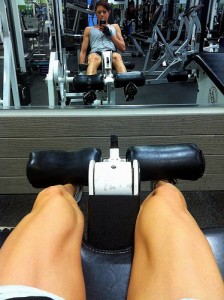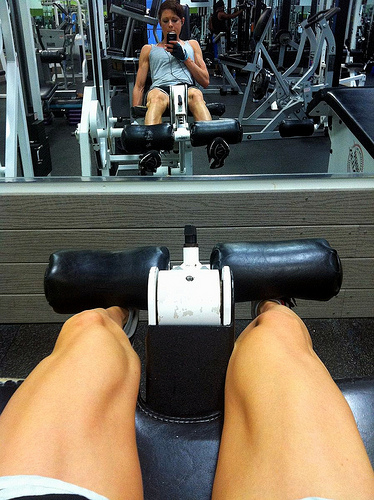 Leg Extensions
The leg extension specifically targets the quadriceps.  Sit on the machine with your legs under the pad, hands holding the side bars.  Using your quadriceps, extend your legs as you exhale.  The rest of the body should remain still on the seat.  Pause a second in the contracted position before lower the weight back to the original position in a controlled motion.
Note: Be sure to adjust the pad so that it falls on top of your lower leg (just above your feet), and make sure that your legs form a 90-degree angle between the lower and upper leg.  If the legs form less than a 90-degree angle, your knee is over your toes and this will creates stress at the knee-joint (which you don't want).
3. My favorite way to super set and save time is to work different body parts.
Before my figure competition last fall, I was doing 15-20 reps of each exercise.  Workouts were taking forever, so I started super-setting body parts.  If I had a back and tricep day, I'd do one chest exercise followed by a bicep exercise.
Studies have shown that the nervous system activation can actually INCREASE strength in the second muscle group when you work an opposing muscle group directly after the original muscle.
An example is super-setting Bent Over Rows with Close Grip Bench Presses: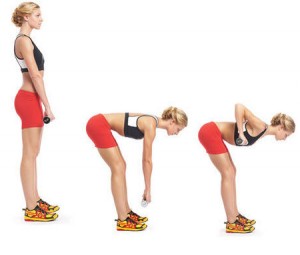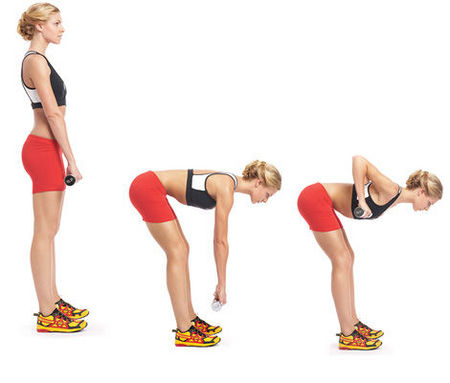 Bent Over Rows
Standing with your feet hip-width apart and knees bent, hold a pair of dumbbells so your palms are facing each other and bend forward from the hips.  Pull your shoulder blades together and row the weights toward your chest. Return to start.  Repeat for reps.
Note: These can also be done with a barbell.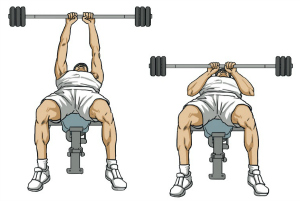 Close Grip Bench Press
Tank top season will be here before you know it – this move will ROCK your triceps.
Lie on a bench press station and grab a barbell with a fist-width overhand grip.  Bend your elbows to lower the weight to your chest.  Straighten them to return the weight to the start and lock your elbows to squeeze your triceps.  Repeat for reps.
Note: Don't grip too close or you'll put too much tension on your wrists and not enough on your triceps.
Why Super Set?
Other than the fact that you will get your workout done in a super speedy time…
Superset workouts burn more calories per minute than the traditional weight training session.  Because you are moving faster, your heart rate stays up and your body is working harder to recover.  Some studies say that you burn as much as 1/3 more calories each minute (both during and AFTER) compared to a typical strength training workout.
They can increase fat loss while building muscle.  This can be attributed to the fact that Supersets increase Lactic Acid production, which helps boost Growth Hormone (GH) levels in the body. GH is a fat loss and muscle-building hormone.
Different Superset combinations can help increase muscle fiber activation.  Essentially, this means you can use specific exercise combinations to increase the intensity of work on a specific muscle, helping to develop it faster.
For those on the road or who don't have access to a variety of weights, these are great because you don't need really heavy weights; you can push your muscles to their limits with a few lighter weights.  Great workout with minimal equipment!
Caution: Supersets aren't to be incorporated into every workout.  Use this method as a tool to change-up your routine and bust through plateaus.  Please don't try to set weight records.  A moderate weight is just fine here, as you are fully exhausting the muscle.
 ***Disclaimer: I'm not certified to do anything.  Use common sense.  Don't sue me if you get sloppy and hurt yourself or if you don't look like Fitness Model Barbie after a workout.***
***
I superset on chest and bicep day with my trainer last week… and was begging someone to come wash my hair because lifting my arms seemed too ambitious.  Hurts so good, my friends.
Have you used supersets before?
How long do you typically spend in the gym?  How long would you like to spend in the gym?