It's no secret that I love weights.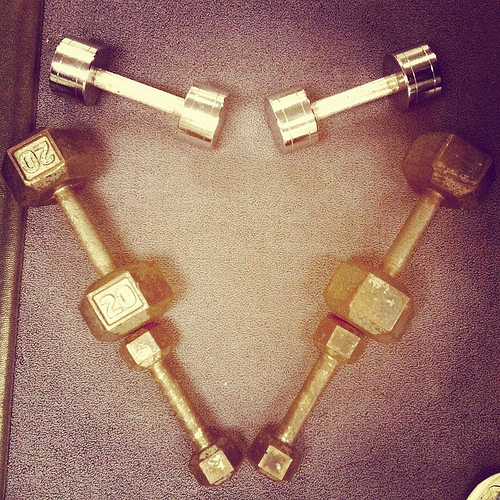 I've been doing a lot of great workouts, but have been slacking on sharing them with you all.  I promise to do better!
To start, I want to share a Leg/Glute/Core routine I wrote last weekend.
Before you get started with any workout, do at least do 5-10 mins of light cardio to warm up.  This is especially important if you workout first thing in the morning before your muscles have a chance to loosen up.  It will go a long way in injury prevention!  It can be anything from a jog to jumping jacks.
Since I did this first thing, I completed 20 mins of intervals on the elliptical.  It was enough to get my heart rate up, loosen my muscles, and get me in the right mindset to tackle this workout.
Throughout this workout, concentrate on keeping your core tight, as if you are bracing to be punched in the stomach. This way you are protecting your back and getting some extra core work!
---
The Workout: Legs, Glutes, and Core
1. Goblet Squat
Hold a dumbbell (or kettleball) to your chest, with your elbows pointed to the floor as pictured.  Do a squat, lowering your butt as close to the ground as possible.  Take care to ensure your knees stay over the center of your feet and your weight stays on your heels.
Pause, then return to the start position.  Repeat 8-10 times for 4 sets, taking a short rest (30-60 secs) in between sets.
2. Elevated Back Foot Weighted Split Squat
Holding a pair of dumbbells at arm's length.*  Stand in a staggered stance, with your back foot on a bench (the higher your foot is, the harder the exercise).  Slowly lower your body as far as you can into a lunge squat.  Pause for a second, then return to start position.  Repeat 10-12 time for each leg, 2 sets each.
*If you are just starting out, try this move without weight first!
3. Single Leg Standing Calf Raise w/ Dumbbell
Stand on a step, or weight plate.  Hold a dumbbell in your right hand and cross your left foot behind your right ankle.  Your right heel will be hanging off a step or on the floor.  Lift that heel as high as you can. Pause for 2 seconds, then lower and repeat.  Do as many reps as you can with your right leg.
Transfer the dumbbell to your left hand, switch feet, and do the same number with your left.
4. Single Leg Bent Knee Calf Raise
Complete this exercise like the one above; however, do so with your knee bent as pictured above.  Hold it that way throughout the exercise.
Do as many reps as you can with your right leg, then repeat with the left.
5. Single Leg Donkey Calf Raise
Place both hands on a wall or bar for support.  Bend over at your hips so that your upper body is parallel with the floor.  Be sure not to round your back!
Do as many reps as you can with your right leg, then repeat with the left.
6. Single Leg Hip Raise w/ Swiss Ball
Laying on your back, place your left heel on a Swiss ball and hold your right leg in the air.*  Engage your glutes and push your hips upward until your body forms a straight line from shoulders to knees (like in the middle pic above).  Keep your core TIGHT!
Roll the ball toward your arse, bending your left knee and pulling the ball with your heel.  Return to the starting position, and repeat 12-15 times.  Switch and repeat with left leg in the air.  Complete 2 sets with each leg.
*If you're just beginning, do this exercise with both feet on the Swiss-ball, or try it using a bench.
7. Plank
Planking is the single most effective this you can do for your abs – better than crunches!!!
With your elbows bent and weight resting on forearms, tighten your core and lift your butt so that your body forms a straight line from shoulders to ankles.  Be sure not to let your hips sag, and that your elbows are directly under your shoulders.
Hold for 60 seconds, rest for 30, and repeat.*
*Too hard?  Hold it for 30 seconds.  Too easy?  Try it with your feet elevated on a bench.
8. Swiss Ball Jack Knife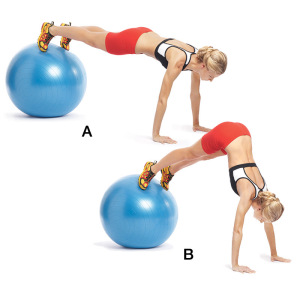 Begin in a push-up position with your toes on a Swiss ball and your arms in push-up position.  Keeping your legs straight, raise your butt toward the ceiling while pulling the ball toward your chest with your feet.  Take care not to round your back.  Pause for 1-2 seconds, and lower your hips to roll back to the start position.
Do 2 sets of 15 reps.
9. Single Leg Side Plank w/ Knee Tuck
Lie on your left side and position your body in a side plank, with your legs straight and your weight resting on your left forearm.  Your body should form a straight line from your head to your ankles.  Be sure to keep your elbow under your shoulder!
Place your right hand on your hip.  Lift your bottom leg so that your foot is next to the inside of your right knee.*  Be sure to keep your core tight without rounding your lower back.
Hold for 30-60 seconds, then repeat on the other side.  Complete 2 sets on each side.
*Too hard?  Keep both feet on the floor.
This whole routine (minus the warm up) took me about 30 minutes.
---
Printable version you can take to the gym: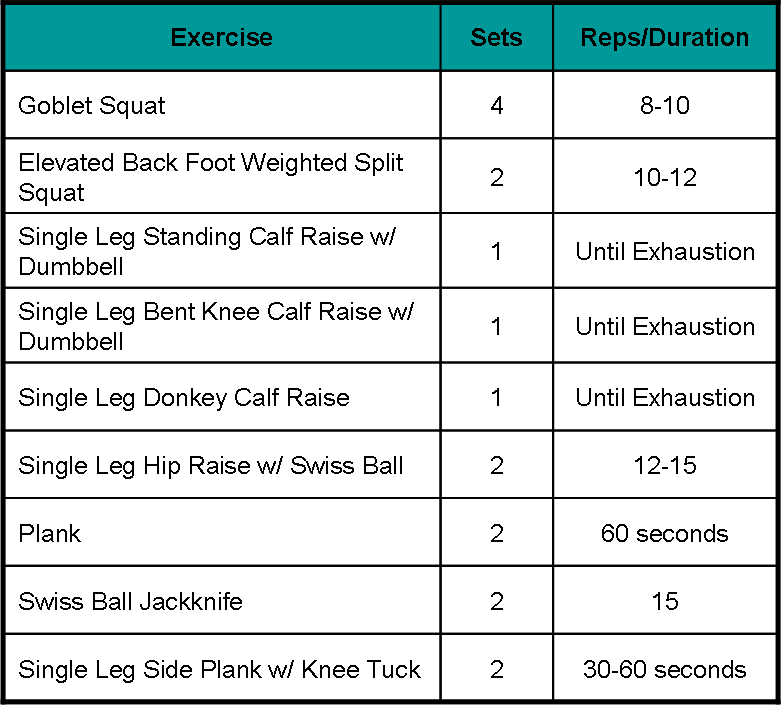 Don't forget your 20g of post-workout protein to aid in recovery and muscle building!

*
*No, it won't result in you looking like She-Man.
INTERESTED IN LEARNING MORE?
I offer personalized online training and nutrition programs!  Check out my philosophy here and fill out the from for more info.
Also, check out my free Macro Calculator, which helps time your meals to get the most out of your workouts!
***
I am not a trainer.  I am not a certified anything.  Don't sue me if you hurt yourself, don't like the workout, or fail to magically have a Kardashian ass after doing this.  I don't have any money anyway.
What is your favorite body part to work?
Where do you get motivation to work on your fitness?  Fergie?