Sometimes I forget to be sensitive.  
Or – more accurately – I don't think.  
I over-simplify.  Or do I?  Today's Work It Out will continue last week's discussion on diet with a guest post from my friend Calee.  (Calee also designed my logo, which I loooove!)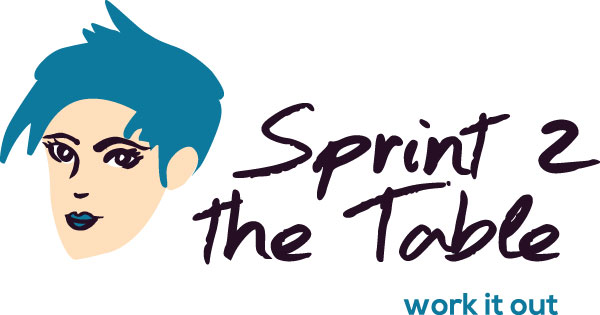 Calee has been on a journey with Intuitive Eating.  My insensitive self I emailed her to ask more about this concept.  To me, it seems like overkill.  I mean… isn't all eating intuitive?  Eat when you're hungry.  Don't eat when you're not.  Prepare tasty, clean foods.
This conversation sparked my "No Shit Diet" post from last week.  It's simple.  All you need to know is this: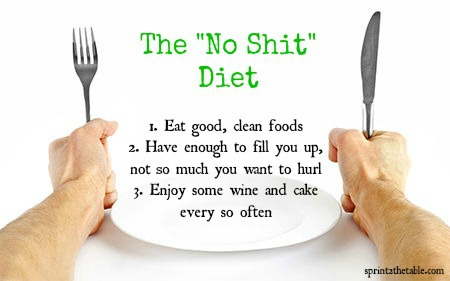 So, without further adieu, my sensitive-self will let Calee explain where she's coming from in regard to Intuitive Eating…. all joking aside, I have learned a lot and hope it will provoke some thoughts for you, too.
_______________________________________________________________________________________
Laura and I have been chatting about Intuitive Eating (IE).  She thinks it's stupid because it seems silly that people need to follow a program to know how to feel hungry and eat until satiated (Editor's note: I don't think I said stupid… I just think it's over-complicating the glory of eating).  So she ended up writing that (amazing) No Shit Diet post last week in response to our conversation.
Laura is a fortunate soul: she's never had body image or food issues.  (Editor's note: That would be a bit generous… I DID go to high school, after all… and after bartending in college I was a chunky monkey.)  I pretty much idolize Laura because she can turn on and off her competition training/eating and not get caught up in dieting.
I went out to eat with her on Saturday — after a few drinks, might I add (Editor's note: Lies!  I never drink.  Hahaha!) — and not once did she fret about anything on the menu, aside from how it might taste.  She's not competing soon, and it was vacation.  She ate what she wanted, which wasn't junk, but wasn't eating asparagus for every meal either (though surprisingly she yelled at me for taking all the asparagus off the plate we shared!).  Laura eats intuitively, intuitively.  We all would, except most of us have been caught in the diet trap.
So what exactly *is* IE?
I can tell you what IE isn't: "I ordered that Fried Reese's Peanut Butter Cheesecake Brownie Ice Cream Bar … and then ate two.  And now I'm going to run 12 miles because I need to — er, I mean I love running."  (Editor's note: is it wrong that I'm now craving Reese's?)
IE is learning to love and trust your body, get past the guilt learned from dieting, and feed yourself a healthy way when you're hungry, but eat only until satiated, not stuffed.  IE is NOT an excuse to eat crap.*
I came to IE after years of dieting, specifically, after one huge failed attempt to lose 5 lbs that made me gain 15 instead.  I couldn't eat any less or workout any more than I was already. And I could (and still can) name calories and macros in just about every food (and non-food).  I lived in the gym.  The scale kept going up.  I saw IE on the shelf, and thought, "why the hell not?"  I never thought it would be life changing, but it was.
I'd heard of IE, but it looked to me (and Laura) like "intuitive eaters" were just eating crap under the guise of "eating intuitively," and that's not what I wanted.  (Editor's note: To clarify – I never thought it was an excuse to eat crap.  Again, it just seemed like slapping a name on common sense to make a millions on a book deal/movement.)
I wanted to be able to eat an avocado or a piece of meat and not have to have celery for dinner or run 10 miles to make up for the calories later.  Oh, and alcohol, sweet, sweet alcohol, had I missed you … But I definitely didn't want to be one of those "you only live once — pass the chocolate cake" goons who blatantly ignore the point of IE: eat food, get past the guilt, and love yourself.  You are definitely NOT loving your body if you're shoving it full of crap all the time.  (Editor's note: Can I get an Amen?!)
There is an IE book, and I think Laura should write a book on the "No Shit Diet" (or I will, and she can put her stamp of approval on it for some royalties). The IE book outlines a plan, which I haven't really followed, but I've been practicing the…
Principles that make the most sense to me:
1. Learn (or re-learn) your hunger signals, trust them, and eat when you're hungry.
2. Figure out what satiated vs. full feels like. Try to eat to satiation, not fullness. Don't feel like you always have to clean your plate. My dog likes me eating intuitively for this reason.
3. Let go of all (non-allergy-related) restrictions.  Everything is on the table.
4. Trust yourself around food.  You are in control.  Food isn't.
5. There are no more "bad" or "good" days based on food, your weight, or your workout.
6. Stop.  Weighing.  Yourself.  (And counting calories/macros/etc.) Unless you are seriously over- or under-weight, then get to a healthy weight before you stop.  Truly eating intuitively and exercising intuitively will lead you to your body's natural weight, and towards health.
7. Health is your main goal. Pick whole, nutrient-dense (or clean —  but I prefer "nutrient-dense" because everybody has a different opinion on what "clean" is), and non-processed foods.
8. Use your dieting knowledge for good instead of evil.  Aim for variety in food groups and nutrients to get what your body needs.  (Editor's note: I think this is my FAVORITE idea.  You're smart – make it a positive!)
9. Eat slowly to enjoy your food and really decide if you like something.  I don't like chicken, come to find out.  And I also don't really like all my "banned" foods from my dieting years.  Donuts are a sugar-coated crusty fried ring of gross.
(Editor's note: I don't like Twinkies, candies like Starburst, or… POP-TARTS!  Except for the vanilla-filled ones)
10. Don't judge: yourself, others, or what you're eating/what activities you do based on what you've already eaten.  Yes, nutrition should be in the back of your mind, but don't eat something "good" because you've eaten something "bad."
Don't ever feel like you don't "deserve" something because you didn't work out.
11. Because I like to turn things up to 11.  Don't. Eat. (only). Crap.  Have some crap from time to time (if you like crap), but if you eat only crap, you'll feel like crap, perform like crap, and you'll probably look like crap too.  But if that's your choice, that's cool with me as long as you are HAPPY.  (Editor's note: Suddenly I have the urge to take a crap…)
I've been practicing these principles since January.  I jokingly tweeted Laura that our butts met in the middle (mine got smaller and hers got bigger), and she asked for pictures.  So I took some.  And some more here.
And after she (and others) said that I looked a lot smaller / more toned, curiosity got the best of me and I stepped on the scale.  I've lost 7 pounds, but I put the scale back, because I know putting it away really let me succeed in finding a healthy relationship with my body and food, and it's really freaking empowering to be in control of yourself and in control of your body again.
Spending time with all my fabulous Blends this weekend cemented my decision to continue my IE journey.  If I have to hear one more person talk about eating a bigger snack or breakfast because we kicked ass at boot camp twice this weekend, I will slap a bitch.  My body and I are starting to find a happy place, and seeing others where I used to be just reminds me how much I don't ever want to be there again.
Where do I go from here? I keep working on it.  And I love Laura's No Shit Diet (anti-)rules — they're a super-simplified version of what I've been working on with IE.
There's another piece to the IE puzzle: intuitive exercising, which I'm just beginning to figure out for myself.  But that's a completely different post for a different day. 

*I wholeheartedly agree with Laura: diet is personal. If you know you have to count calories, watch carbs, or whatever to maintain a HEALTHY weight (not to be supremely hot and skinny!), then IE might not be for you. But I urge everybody to give it a try, if even for a week or two. Or even just read the book because there are principles that everybody can use in the book.
***
I would love to have more conversation about this – I know several of my friends have been on the IE train… please check out Calee's conversation questions below.  Your thoughts on this would be really interesting to us!
Do you follow a specific diet?  
Have you ever tried eating intuitively or dieting?  How have you fared?
Who else thinks Laura should write the "No Shit Diet" book?  (Editor's note: Noooooo!  That over-complicates it!)