Just because I'm lying around on my back doesn't mean YOU get to slack.
Seriously, can some one workout for me?
Today's Work It Out is by one of the most bad-ass ladies I know – Shannon!  This woman is a corporate power house by day and a hard-core fitness instructor and general healthy living role model.  In short, my hero.
Check out her killer core workout (please do it for me!!!), and then her delicious-looking #strangebutgood salad!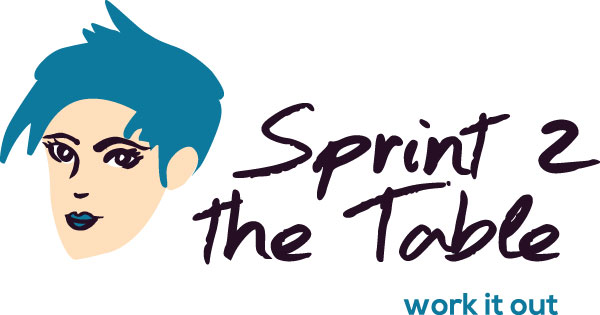 _________________________________________________________________________
Fab Abs: Made in the Kitchen, Sculpted on the Mat
Hello, Sprint readers!  I love Laura's blog as much as all of you, so I am pumped to bring a little Badass Fitness over here!
Laura's figure competitions have got me thinking more seriously than ever about crossing that fitness feat off my bucket list, and I know her focus in training is often that six-pack she wants to show off to the judges.  She's also a master of the eating necessary to compete.
So today's post is all about making fabulous abs and powerful cores in the kitchen…and in the gym, Badass Fitness style!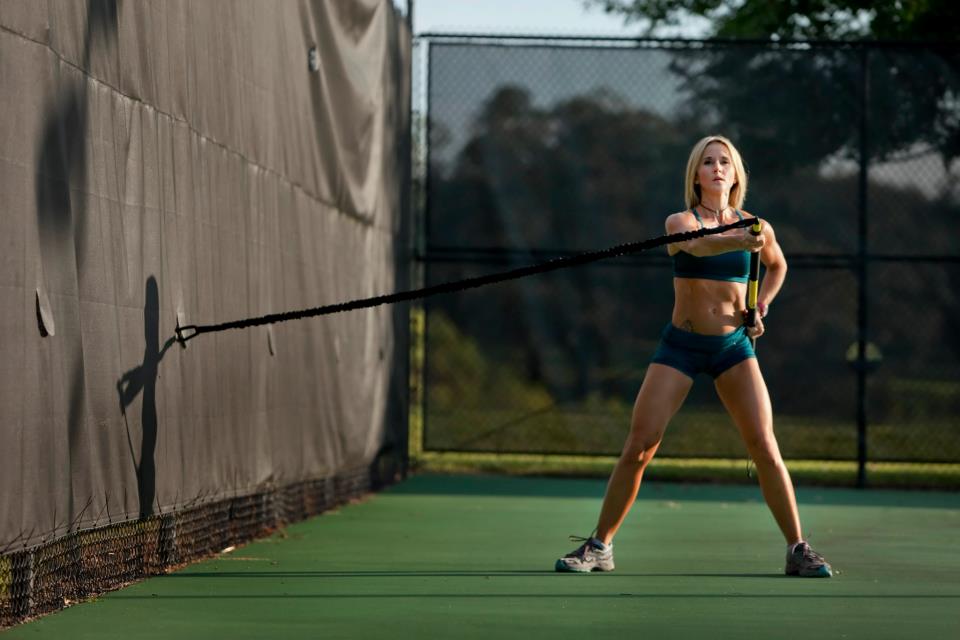 First, we work those bellies. Then we feed them – the HEALTHY way, with a Big-Ass Badass Lunch Bowl that veers into #StrangeButGood territory.
My bootcamps, core classes and personal workouts tend to be fast-paced and intense, making the most of every minute.  But hey, the good news is, they are done before you know it!  And the results rock.
This workout is an intense core routine, with ZERO traditional crunches, which are among the least effective ways to build true core strength and tone.  All you need is a mat, a timer, and a little mojo.  If you're not sure about any of the moves, head over to my YouTube channel for demo videos.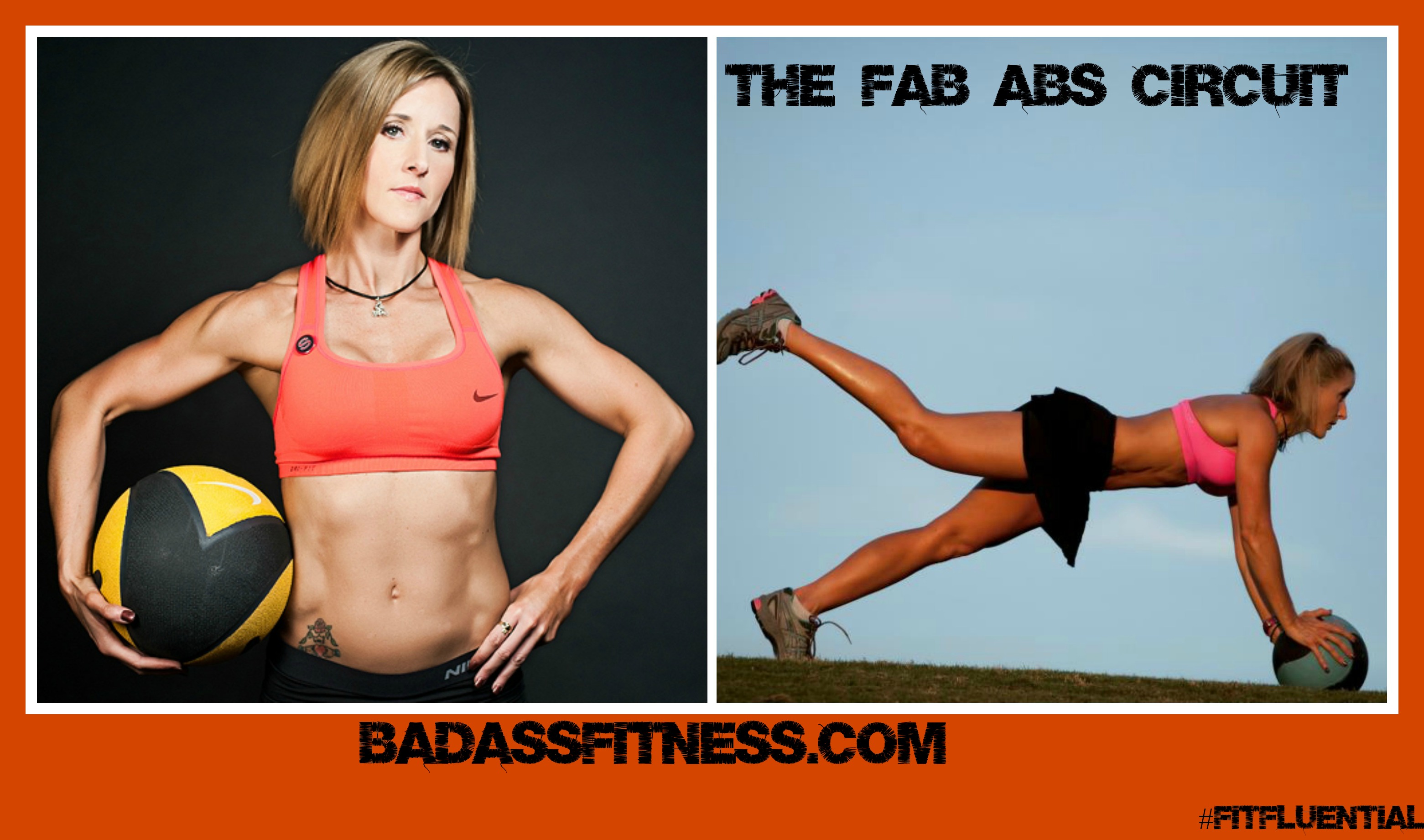 Fab Abs Circuit
(click each for video demos)
**Repeat 1-2 more times! Abs on FIRE!**
 __________________________________________________________________________
Now, let's EAT!
I created this #StrangeButGood egg scramble with several items in my fridge, plus a ripe plantain that begged to be eaten and a Calabaza squash gifted to me by a bootcamp student (they know how to steal my heart, and candy need not apply!). 
I had no idea if this would taste good, but I went for it anyway. It turned out Amaze-Balls, so try it for yourself!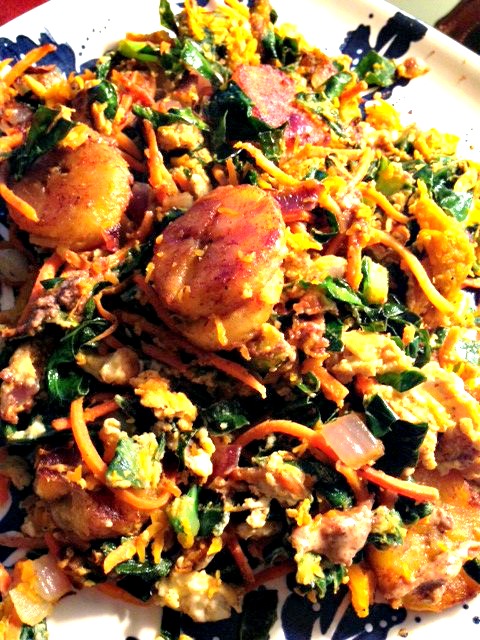 #StrangeButGood Sweet Savory Plantain-Calabaza Egg Scramble
½ ripe plantain, sautéed in 1 Tbsp coconut oil and 1 Tbsp cinnamon
1 cup of cubed Calabaza (or buttercup, kabocha, acorn, etc.) squash, roasted until tender with 1 Tbsp. coconut oil, cinnamon, sea salt
2 cups collard greens, sautéed with minced garlic, ½ of a diced onion, 1 Tbsp. coconut aminos
1 Tbsp. coconut oil
2 eggs, whisked
½ onion, diced
½ cup shredded carrots
1 Tbsp. almond butter
Saute the plantains, set aside.
Ditto the collard greens.
If you haven't yet, roast the squash with the cinnamon, coconut oil and sea salt at 400 degrees for about 20-25 minutes or until golden and tender. Mash the squash a bit and set aside.
Heat the tablespoon of coconut oil over medium-high heat. Add the onions and shredded carrots, sautéing until onions are translucent. Add in the eggs and scramble.
While the eggs are still runny, add in collards, plantains, and squash and keep scrambling it all together until eggs are cooked through.
Top with the almond butter and mix it in, then EAT as you savor the #StrangeButGood!
***
I wish Shannon could come whip me back into shape in a few weeks… 🙂
What is your favorite core move?
What's the strangest recovery bowl you've ever made?