Dropping things is a part of daily life for me.
Years of softball save me most of the time – I knock things off counters but often catch them before they shatter on the ground.
This post isn't bout my klutzy ways.  It's the 3rd in my Work It Out series focusing on changing up your gym routines.  You don't need to write new workouts to keep making forward progress – another approach is to change how you perform the exercise.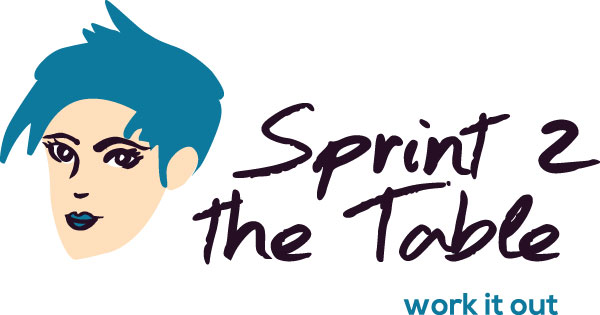 Again with the Disclaimer: I am not a certified anything.  I just workout a lot.  Don't sue me if you hurt yourself or don't look like Jamie Eason after performing these moves.
 ____________________________________________________________________________________
Drop Sets
Drops allow you to continue a set pushing beyond failure.  They help to increase muscle endurance, and build good-quality muscle as a result.  This is what getting lean and toning up is all about!
To use the drop set technique, do 10 reps with a medium-heavy weight (5-10 lbs less than your max).  Once you finish those 10 reps, immediately drop the weight by 10 lbs (or pick up a weight 10 lbs lighter) and do 10 more.  Drop that weight by 10 lbs and perform 10 more reps.
These are easier to do on machines if you are working out alone because you can quickly change the weight yourself.  The amount of rest between drops should be no more than 10 seconds – just enough time to exchange the weight load.  If you use this technique with free weights, be sure to have your 3 sets of weights next to you so you can move through all 3 drops without breaking.
How do you use this technique?
Leg Extensions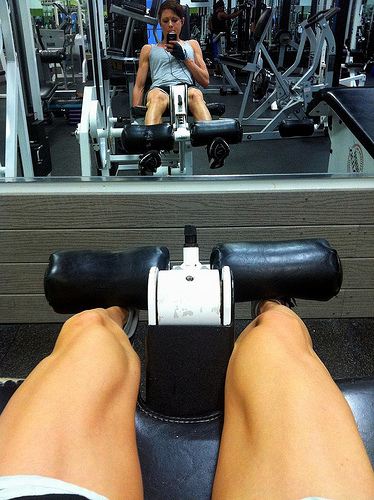 The leg extension specifically targets the quadriceps.  Sit on the machine with your legs under the pad, hands holding the side bars.  Be sure to adjust the pad so that it falls on top of your lower leg (just above your feet), and make sure that your legs form a 90-degree angle between the lower and upper leg.  If the legs form less than a 90-degree angle, your knee is over your toes and this will creates stress at the knee-joint (which you don't want).
Using your quadriceps, extend your legs as you exhale.  The rest of the body should remain still on the seat.  Pause a second in the contracted position before lower the weight back to the original position in a controlled motion.
Note: Depending on how you angle your feet (inward, straight or outward), you can emphasize different muscle fibers on the area.  Toes "in" emphasizes the outer thigh while toes "out" emphasizes the inner.  You can also perform the movement one leg at a time.
Rear Delt Machine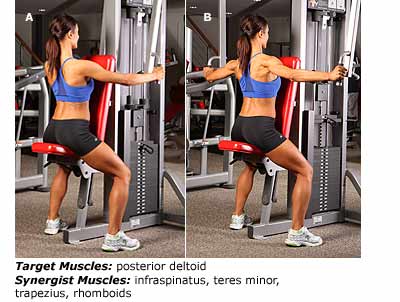 If you want something to really burn your deltoids out, do drop sets on this machine.  It is great for developing the back and the shoulders, and is an especially good exercise to strengthen the muscles that become weak due to long periods of sitting (hello, fellow cube monkeys).
Sit at a pec-deck machine with your chest on the back rest.  Place your feet on the floor and grab the handles with an overhand grip.  Draw belly button in, separate your arms back and squeeze your shoulder blades together.  Slowly return back to start and repeat.
Note: Keep your chin and ribcage lifted so that you are not tempted to lean forward in an attempt to push the handles further back.
Caution: It is easy to "over train" with these modifications.  They challenge your muscles to work much harder than usual, so these moves are not recommended as a long-term regimen.  Avoid doing more than 2-3 of these per muscle group on any given workout.
Check out last week's Fulls and Partials, and then get more fitness ideas, tips, and tricks on my Fitness page!  As always, be sure to get your 20g of protein to help the muscles recover.
***
The hardest exercise for me to do these with are side lat raises with free weights.  Holy failure, Batman.  
Did anyone try last week's Fulls & Partials?  What did you think?
Have you ever done fulls and partials?  What exercises do you apply them to?