Working out detox-style is sometimes necessary.
I don't regret my gluttony but my body is rejecting pig meat after this.
I'm not a fan of diets, as you know from my No Shit Diet.  What I'm talking about here is NOT a diet.  It's being gentle with myself after putting my body through… well… one delicious weekend.  You see, I was feeling a big tired, run down, and downright sluggish after 3 days of throwing my normal way of eating out the window.  It was fun and I am thrilled I got to try all of the foods that I did, but I was excited by the thought of getting back to reality this week!
Today's Work It Out is in the kitchen, with a detox spin.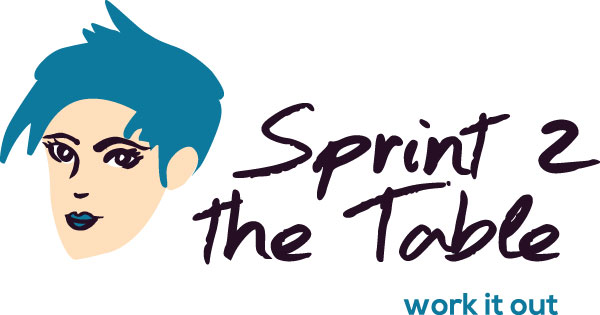 Many detox "diets" eliminate dairy, meat, sugars, caffeine, beans, grains… the list goes on and on.  Never a fan of cutting out foods, I decided to focus on what I needed to ADD to my diet to boost energy and help my body get back on track after last weekend's Food & Wine Festival.
I consulted with my favorite resource – Google.  There are a million sites claiming to know the foods you should eat or special juices to drink.  I'm sure they are all fine, but I settled on the list of foods below for two reasons: they are seasonally appropriate and they all sounded appealing as I was making my list for the farmer's market.
---
Here are some of  the foods I'm making sure to add to my diet this week to reset: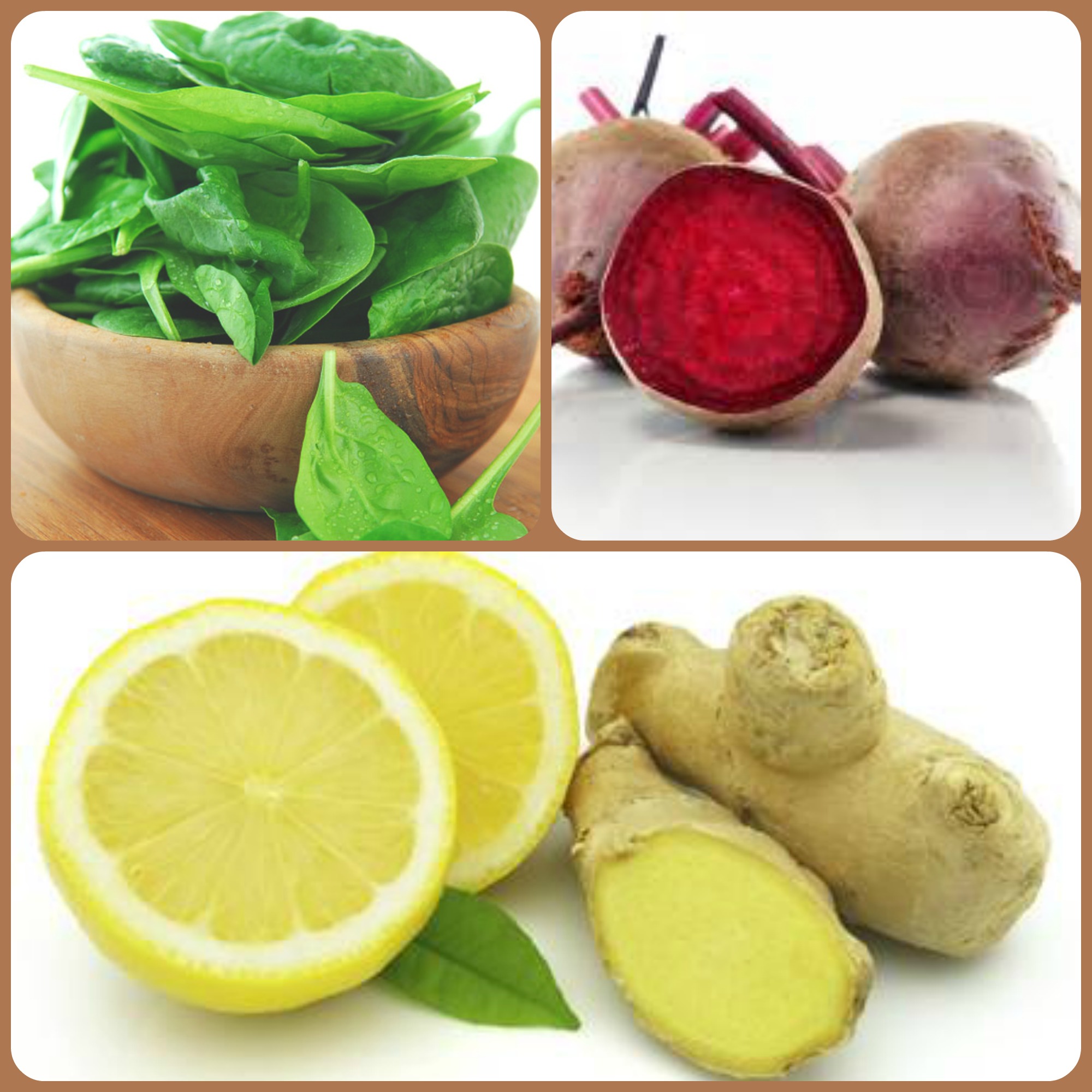 Detox Foods
Basil – It turns out that my favorite herb has anti-bacterial properties, and is full of antioxidants which protect the liver.
Beets – Beets are full of magnesium, iron, zinc and calcium, and help by making sure that toxins actually flush all the way out of your body.  They are also a great source of betacyanin, which has cancer-fighting properties.
Blueberries – The berries I've had this season are some of the most flavorful in recent memory.  A handful of blueberries are a low-calorie way to curb a sweet tooth, while providing you with fiber and vitamin C.  They are consistently ranked at the top when it comes to antioxidant capacity!
Cabbage – This beautiful cruciferous helps your liver and aids in… errr… going to the bathroom (if you know what I mean).  Going #2 expels toxins, leaving you feeling fresh.
Cinnamon – I use cinnamon like most of America uses salt.  It goes on everything in my house because I like everything to taste like cookies.  In addition to making everything taste better, it revs your metabolism and is full of iron, calcium and manganese.  Manganese is great for helping your body process fatty acids and keep blood sugar levels stable.
Cucumber – Cucumbers are 95% water, help flush out toxins and alkalize the body.  I love to snack on slices with a little rice vinegar ans freshly ground pepper.
Garlic – It

keeps vampires away

, but did you know it also boosts up the immune system as well as helps out the liver?  It also helps to add flavor to all you other toxin-eliminating veggies!
Ginger – Like cinnamon, ginger spikes metabolism and flushes out waste. It's also a tummy soother and may help keep your appetite in check.  I like to add fresh ginger to smoothies (like this

Cherry-Ginger

), or just toss a piece in hot water with lemon and a cinnamon stick and Irish whiskey.
Goji berries – These chewy teats boost vitamin C and beta-carotene intake. This is important because vitamin C help remove waste from your body, and beta-carotene improves liver performance.
Hemp Seeds – These chewy, nutty nutritional bombs are an excellent source of omega 3 & 6 fatty acids, are an easily digestible protein, are anti-inflammatories, and aid in elimination.  Try sprinkling them on salads, yogurt, or smoothie bowls!
Lemon – You probably all know that lemon flushes toxins from your body.  See the Ginger note for a great drink, or just squeeze a bunch in water first thing get your digestive system ready for the day.
Onions – Onions have sulfur-containing amino acids, which efficiently detox the liver.  the are best eaten raw to get the most of their health benefits, so I've been tossing them on salads!
Parsley – It's not just a plate garnish!  Parsley is rich in beta-carotene and vitamins A, C, and K which protect your kidneys and bladder.
Sesame Seeds – This one shocked me!  Did you know sesame seeds help protect your liver from alcohol and other toxins?
Spinach – Popeye was on to something.  Spinach (and other greens) is high in fiber and contains high amounts of vitamins A, C,E, iron, beta carotene and calcium.  These are all essential nutrients that aid in the body's natural detoxification process.
Bonus: Don't underestimate the importance of water!  It is important for organ health, and for flushing toxins out of your body.  Especially in these sweaty, exercise-filled summer months it's important to stay hydrated.
---
If you follow me on Instagram, you've seen a lot of the salad creations I've been eating.  I'm still adding protein (duh), but I've been focusing on getting these veggies and seeds in too!
This Ultimate Detox Salad couldn't be healthier if it tried.  It also tastes good.  I'd have eaten it at the Food & Wine Festival! 😉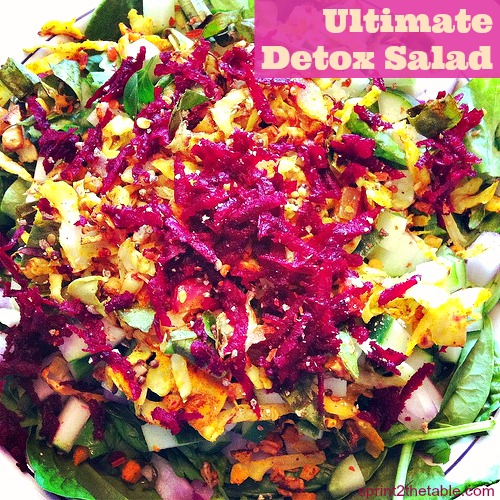 Ultimate Detox Salad
Spinach

Parsley, chopped
Basil, chopped
Red onion, diced
Cucumber, diced
Raw beet, shredded
Sesame seeds
Shredded cabbage
1-2 cloves garlic, minced
1/2 inch piece fresh ginger, minced
1/4 tsp cinnamon
Red pepper flakes, to taste
Juice from 1/2 lemon
 Combine first 6 ingredients in salad bowl.
Toast sesame seeds in a non-stick pan over medium heat, stirring occassionally.  Add remaining ingredients and  saute until tender.
Add cabbage sautee to salad bowl and enjoy!
Note: This is more of a "guideline" recipe.  Salads make it easy to add or remove ingredients, and exact measurements really aren't necessary.
***
I'm actually feeling more normal today.  I'm SO thankful that exercise and a (mostly) healthy diet has left my body fairly resiliant.
Do you ever feel sluggish after eating heavy?
What are your favorite detoxifying/refreshing foods?