Today is dedicated to one of my favorite wines: Barolo.
I didn't know it was one of my favorites until I was able to taste some incredible bottles in Barolo, Italy.
Barolo is a teeny town about 9 miles outside of Alba.  And it is stunningly beautiful.
It's so small that you can walk around from winemaker to winemaker, tasting as you go.  The vineyards are outside the small city center (the best are from Connubi), but the tasting rooms are in the Commune.  (Note: many times in Italy a tasting room is actually someone's living room.)
Our first stop of the day was E. Pira & Figli.  Pira is run by a woman named Chiara – the first female maker of Barolo!  There are now more, but Chiara remains one of the only 2 organic Barolo makers.  They only produce ~12,000 bottles a year.
We were given a tour of the facility by Chiara's sister-in-law (Chiara was being interviewed by a couple of Danish reporters).
Then we tasted!  These wines were nothing like most of the organic varieties we see in America… they were good!
We tasted 4 wines:
Barolo Cannubi
Barolo Via Nuova
Barbera d'Alba
Dolcetto d'Alba (not pictured)
This list is essentially in ranked order, with Barolo Cannubi being the "best."  They were all good though.  Dolcetto is more of a table wine; a light and drinkable juice.  Barbera is more commonly found in America, though the price point here is about what you'd pay for a Barolo in Italy.  It is a good wine – bright and plumy, perfect with pastas and cheeses.
Barolo made from grapes grown on the Cannubi hill are considered to be of the highest quality.  It is aged 2 years in French oak and then an additional year in the bottle.  It is a big, spicy wine with some chewy fruit flavor (big reds are the way to my heart).  Perfect with flavorful dishes of steak or truffles.  Delizioso.
Check out what we found on Chiara's shelves: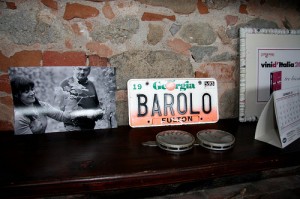 We go all the way to Italy only to find a license plate from the state we live in… seriously?!  I can't make this stuff up.
Chiara came over to speak with us after the reporters left.  She was so sweet and full of energy an passion.  Such an open person… I'm not sure how else to describe her aura than refreshing.
We ate an unremarkable lunch (yes, there were a few) and then set off to the next winemaker: Scarzello.
We tasted 4 wines:
Barolo Cannubi
Barolo Vigna Merenda
Barbera d'Alba Superiore
Nebbiolo (not pictured)
The wines were fantastic, but this experience was especially amazing.  We ended up sitting around their living room table, chatting with the winemaker's wife for a long time.  She was such a sweet women, and we spoke about everything from her son (also a winemaker) to relationships.
We bonded and cheered with a glass of the best.  These pictures are now next to the word "content" in the dictionary.
I didn't want to leave, but we couldn't take up her entire afternoon.  We had some time to kill and went to the town museum.  The museums was, of course, located in a castle.   It had some of the best views we saw on the trip.  I can't say the same for the "museum" quality.
We could have hung out in the commune and tasted all night, but our driver (yes, a driver – clearly we didn't need to drive after crashing these) arrived to take us to Serralunga, another town in the zone.  It seemed unlikely that the day could get any better… but it did!
Our Serralunga tasting was with Anselma Giacomo.  It was conducted by the sweetest women I've ever met, Maria.  Maria is the wife of Franco Anselma, the winemaker.
Maria gave us  lovely tour, showing us the garden she plans to build and telling us some of the history of the old town and winery (founded in early 1900).  We even got to try out an old wine corking "machine."
We tasted 5 wines, but the 3 Barolo were especially excellent, accompanied by Nebbiolo grapes and some great meats and cheeses.
Dolcetto
Nebbiolo
Barbera d'Alba
2006 Barolo
2005 Barolo
2004 Barolo Vigna Rionda Riserva
The velvety, full-bodied Riserva was my favorite.  Maria told us it was a wine to meditate with.  And so I did.  And then I meditated some more when she handed us a bowl of chocolate to taste it with.  OMG.
On to dinner!  Man Woman cannot live on meat and cheese alone.
We had reservations next to the castle at a restaurant called Schiavenza.  They too make wine (not an uncommon story over there), so we had a tasting with dinner.
Remind me again why I came home?!  I want to move here.
***
I'm going to see Sugarland tonight!!!
What are you doing this weekend?  Any races?
Have you ever poured booze over dessert?  Chambord + ice cream is awesome.