Just call me Cookie.  Monster.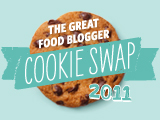 Participating in the 1st Annual Great Food Blogger Cookie Swap, hosted by Lindsay of Love & Olive Oil and Julie of The Little Kitchen turned out to be a genius move.
I received 3 dozen of some of the most delicious cookies of the season.  All I had to do in return was mail out 3 dozen of my own.
The cookie recipe I used was based on my favorite Chocolate Sea salt Cookies.  More on that later.  
Here are the goods I received:
1. Neiman Marcus Cookies
Have you guys ever heard the urban legend about the women who was charged $250 by Neiman Marcus for their cookie recipe?  The story goes the she sought revenge by widely distributing the recipe.
Thank god she did, because the result was my receiving 12 of them from Erin @ Adventures in Pigging Out.  They almost didn't get photographed before my friend and I massacred the bag.
2. Rosemary Shortbread
These herb-y rounds were made for me by Elizabeth @ Big Body, based on a recipe by Heidi Swanson of 101 Cookbooks fame.  These also included candied walnuts on top that not only looked gorgeous, but they also tasted like… errr… candy. 🙂
I was especially excited to try these because I make my own rosemary-lemon cookies, recipe here.  You can bet I'll add nuts as a topping in the next version!
3. Ginger Cookies
Heidi's recipes were popular this year!  The second 101 Cookbooks recipe dozen I received was her Ginger Cookies made by Val @ Tofu Surprise.  These are a chewier cookie due to the molasses in the recipe and not too sweet.  Per Val's suggestion in her note, these were perfect with tea (as well as a holiday-spiced beer).
______________________________________________________________________________________
Now for my contribution.  I took my original Chocolate Sea Salt Cookie recipe and tweaked it, using cashews rather than almonds and subbing toffee for some of the chocolate chips.  I was amazed by how different the end result was.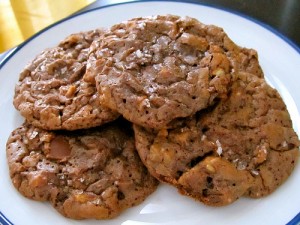 The textures were totally different.  The original is a softer, more fudge-like cookie.  This version produced a chewier version – almost reminiscent of a brownie!  I think the toffee was responsible for the chewiness and the cashews for the fact that they spread more.
I wish I'd had more time to experiment further, but these had to SHIP.  If you like a chewy cookie, you will enjoy this version.  I prefer a cake-y cookie, so if I'm being honest… I like the originals better.
Either way, their sweet + salty combination is unbeatable in my book.  Who doesn't love salt with their cashews?!
_____________________________________________________________________________________
Before I give the recipe… let's talk about how I worked off the bajillion cookies I have been eating last week.  First up I tried something new – Body Rock!  I had been ignoring all the "hype" but now I'm hooked.  In about 10 mins my butt was kicked.
Speaking of kicking, I have re-kindled my love for kickboxing.  I couldn't get enough this week.  Good thing since I've been stead-fast in my commitment to not running.
Workout Recap (12/5 – 12/11)
_____________________________________________________________________________________
Chocolate-Toffee Sea Salt Cookies
1.5 C semi-sweet or dark chocolate chips/chopped bits, divided
1/4 C unsalted butter
3/4 C brown sugar
2 eggs
1 ½ tsp vanilla extract
1/2 C flour
¼ tsp baking powder
1 C crushed cashews
1/2 C toffee pieces
Fleur de sel
Place 1 C of chocolate chunks in a large bowl and melt in microwave (or over a double boiler if you're fancy like that).  Stir in butter.
Whisk together eggs and vanilla extract.  Add brown sugar (take care to ensure there are no clumps), egg and vanilla mixture to the chocolate mixture.  Stir until well-combined.
Sift together flour and baking powder.  Add flour to the chocolate mixture, stirring just until smooth.
Fold in remaining 1 C of chocolate and almonds.  Refrigerate at least 2 hours or overnight.  Or place in freezer for 30 mins if you're impatient like me.
Preheat oven to 350 degrees.  With a spoon, scoop a heaping tablespoon of the dough on to a parchment-lined baking sheet.  If desired, gently flatten with the palm of your hand (I like mine better in "globs").  Sprinkle with fleur de sel, patting lightly.
Bake for ~12-13 mins.  Allow to cool as best you can before devouring with an icy glass of milk.
***
This week is sure to involve a LOT more cookies cooking – I'm catering a party for 40 this weekend!
What is your "go to" cookie?
Have you tried Body Rock?  What's your favorite one?