Food is my favorite topic.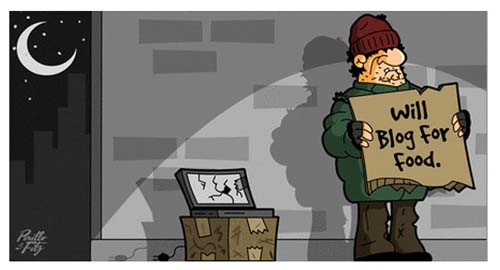 When I was my friend Parita @ My Inner Shakti post this quiz about her food preferences… well, I was a little too jazzed to fill it out.  Honestly, I probably would have completed it even if I wasn't going to share it on the blog.
***Warning: there are a lot of yummy junk food-related questions.  Do not fill this out late at night near a plate of brownies.  Not that I would know anything about that.***
________________________________________________________________________________________
Coke or Pepsi?  I quit drinking soda at least 8 years ago… but Coke is far superior to Pepsi.
Lemonade or Fruit Punch?  I don't drink a lot of juice either, but I do love homemade lemonade on a hot day.
Carmel Apple or Cotton Candy?  It's been years since I've had either!  I have to say the caramel apple wins – that used to be a "treat" for us as kids when my parents took us to the mountains.
Butterfinger or Snickers?  Really tough… but I'm going with Snickers.  Especially if it's frozen.
Pudding and Jell-O?  No contest – chocolate pudding.  I cannot stand jell-o (sorry, Bill Cosby).
Turkey or Chicken?  I haven't had either since Janurary-ish, but I always preferred chicken to turkey.  Turkey is always dry!
American or Provolone Cheese?  Neither?  I like stronger cheeses such as goat, gouda, and really funky blues.
Crackers or Cookies?  Silly survey.  Cookies > Crackers.  Particularly if they are homemade and chocolate.  Like these Chocolate Sea Salt Cookies: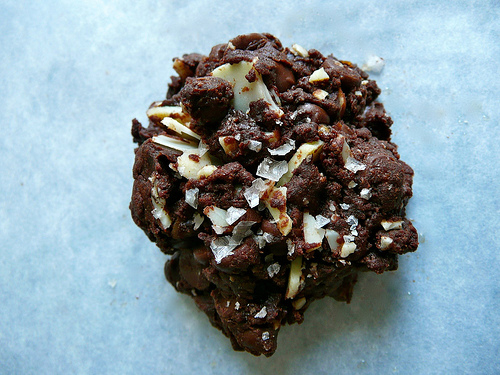 Pretzels or Chips?  Chips – but they have to be the fancy kind from places like Whole Foods – Sweet Potato or Salt & Pepper flavors are my favorite.  No Lays here!
Mexican food or Japanese food?  Yet another silly question.  I love Mexican.  The hotter the better.  I even eat it for breakfast in this Raw Mexican Bulgur Bowl: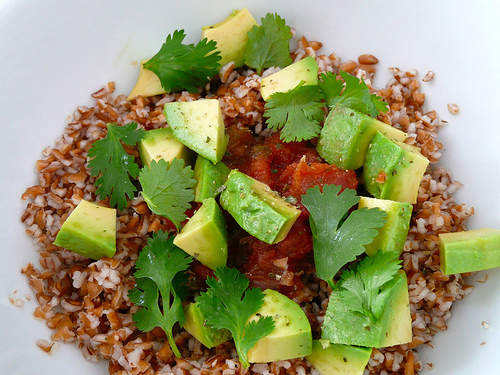 Chinese food or Italian food?  Italian food.  In Italy.  Did you check out my food and wine tour back in October?
Pie or Cake?  Cake.  The chocolate kind.  Though one of my favorite quotes is about pie: "When you die, if you get a choice between going to regular heaven or pie heaven, choose pie heaven. It might be a trick, but if it's not, mmmmmmmm, boy." – Jack Handy
Ice Cream or Cookies?  It's seasonal – I love a fresh-baked cookie, but on a hot summer day ice cream wins every time.  Either way, it must involve chocolate. 🙂
Pasta or Pizza?  Pizza – but it must be "real" Italian-style pizza.  No Pizza Hut here.
Soda or Juice?  Kombucha!!!
Chocolate Bars or Chocolate Truffles?  Truffles.  Dark chocolate and filled with something boozy like whiskey ganache.  This quiz is making me HUNGRY.
Apples or Bananas?  Apples!  I love them as a pre-workout snack.
Salad or Soup?  Salad… unless it's really cold outside.  Then I want this Butternut-Apple Soup:
Cauliflower or Broccoli?  Just a year ago I would have said neither.  However, with all of the fun cauliflower recipes floating around the blog-world lately, I've caved.  I love cauliflower.  Still won't touch the cooked broccoli (raw is ok).
Onion Rings or French Fries?  Onion rings of they aren't too greasy.  Fries if they are sweet potato and have a kick to them.
Blizzard or McFlurry?  Blizzard!  With Snickers.  I've never even had a McFlurry.
Fried or Poached Eggs?  Fried eggs – cooked perfectly and over an english muffin with truffle salt.
Crepes or Pancakes? Pancakes!  Can't beat a fluffy stack covered in syrup green slime protein icing and blueberry sauce: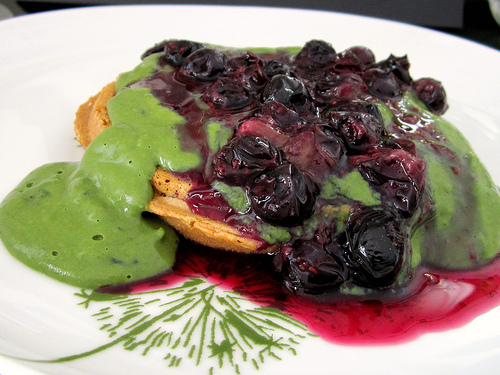 Hashbrowns or Roasted Potatoes?  I don't actually like potatoes, so I'm going with hashbrowns "well-done" (so you can't tell they are potatoes) with onions and jalapeno.
Oatmeal or Cereal?  Oatmeal.  No contest!
***
Don't forget to enter my NuNaturals giveaway – there are 4 chances to win the new NuNaturals Orange and Lemon Liquid Stevias!  Click here to enter.
How about you?  Pick a couple and tell me more about what you love to eat!
Did anyone else watch Dancing with the Stars last night?  It's so weird to see Urkel all grown up!