Starting the week 3 hours behind is weird.
I woke up Monday morning in Denver, CO.
The Good

: I woke up super early because I was on East Coast time

The Bad

: By the end of the day I was pooped

The Weird, cont.

: Now I'm in Chicago… in another time zone
Have you guys ever been in the Denver airport?  Having a massive airplane inside the airport gives it extra cool points.
I checked into the Hampton Inn (which was surprisingly well-kept/updated) and discovered that they had little pictures outside each guest room.  Pretty cool – they were all different!
However… don't you think mine was a little risque?!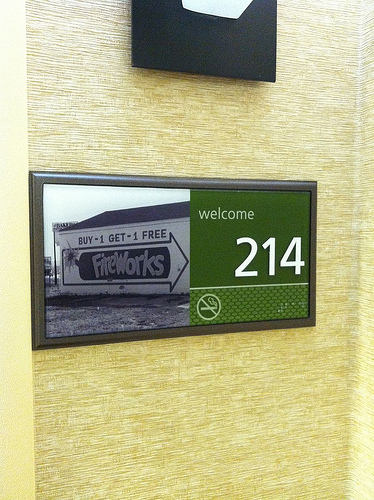 I swear I'm not running a prostitution business out of my hotel room.
Waking up super early meant I got in a couple of good workouts.  Hooray for hotel gyms!  Note the motivational sign across the mirror.
The WIAW part of my week is… weak…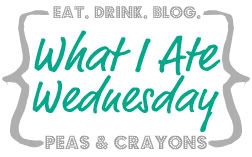 Don't kick me out, Jenn!
_____________________________________________________________________________
Breakfast:
Luke-warm hotel instant oatmeal.  Made with water.  Eaten out of a styro-foam bowl with a plastic spoon.  Thank god for peanut butter.
Instead, let's pretend I ate some of this: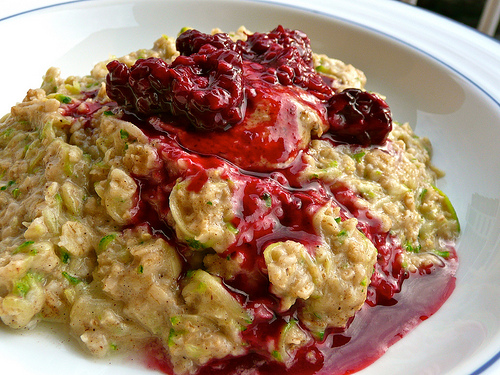 Zucchini Bread Oatmeal with homemade quick blueberry "jam" was one of my better ideas.
I may stop for zucchini on my way back from the airport Friday…
Lunch:
How one conference could offer SO MUCH bad food is beyond me.
This was some sort of attempt at enchiladas.  I picked out the chicken and made a salad with the shredded lettuce.  Maybe one of those tortilla chips was eaten – they were ridiculously salty (even for a generic brand).
Snacks:
Not pictured, but these items were key to my survival:
Apple taken from the hotel breakfast bar
Peanuts I saved from my flight
Chocolate-Toffee Think Thin bar from home
Plus copious amount of tea to keep warm in the very well-air conditioned room and remain heavily caffeinated.
Dinner:
Again, not worthy of a picture.  It was an airport salad with 2 cucumbers and 2 tomatoes (not kidding).  I did manage to convince them to give me some hummus then regretted it.
This would have been much more delicious:
A big salad with hummus dressing (basil hummus mixed with a bit of apple cider  vinaigrette) and a side of roasted brussel sprouts (coated with herbed dijon mustard and olive oil).
Served with 1/2 a Food for Life Sprouted Grain and Seed English muffin and a big 'ol scoop of my new favorite oil-free, vegan condiment:
You should try the pesto.  No need to like beets.  Guaranteed.
***
For a whole slew of eats MUCH better than mine, please hop over to Peas and Crayons. 
Do you prefer East Coast time?  West?  Somewhere in between or far away?
Let me live vicariously through you – what deliciousness are you eating this week?