Beautiful comes in all forms.
Much like diet, it's personal!
There's no right or wrong definition.  When I heard about Under Armour's What's Beautiful competition aimed at getting women to set epic goals and prove themselves, I was really excited.  You goal, your definition of what beauty is, is totally customized!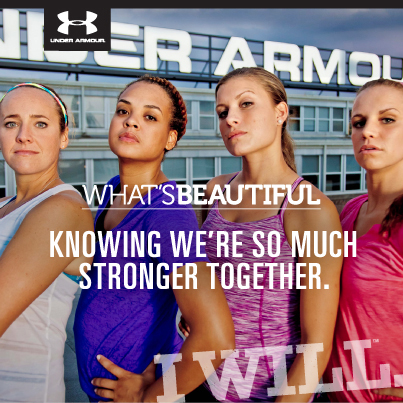 I immediately signed up, and I hope you will too!  All you need to do is click here and enter some basic info, including what fitness goal you WILL accomplish.  You can customize the top pic (like your Facebook header), join teams, and follow/encourage others!
To me, beautiful is embodied by spirits unwilling to settle for less than they are.  Strong woman are beautiful to me, so of course that's what my goal involves. 🙂
Check out my goal and challenges thus far here:

The competition is 100% personalized for you.  There are mini-challenges you can participate in along the way, but you can choose those that apply to you.
You don't have to do the challenges… but you might want to because there are prizes along the way (read: Under Armour schwag bags) and one BIG reward at the end: a trip to Costa Rica to attend a four-day yoga and surf retreat, complete with massages, spa treatments and healthy, locally sourced meals prepared by personal chefs!!!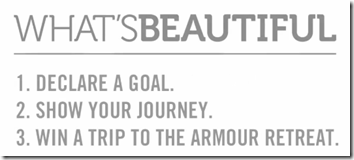 Once you create your profile, I'd love it if you'd join my team: Team Fabulously Fit!  There are four of us FitFluential Ambassadors headed it up.  We have some diverse goals, but the underlying theme is healthy and fitness.  We are super excited to cheer for you and motivate each other!
Our team includes: Lindsay @ Itz Linz, Melissa @ Treats With A Twist, Lindsay @ Cotter Crunch, and me!

The competition will be using the hashtags #whatsbeautiful and #iwill. Follow along both hashtags on Instagram, Twitter, and Pinterest to stay motivated and dedicated to achieving YOUR goal!
________________________________________________________________________________________
Don't worry – we're still going to talk about food today!  My WIAW meals were right in line with the No Shit Diet principles.  Including a little dinner indulgence.  🙂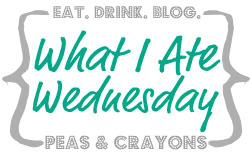 Check out my eats and treats below, and then click here to head over to Jenn @ Peas and Crayons to get to see what delicious foods everyone else is enjoying!
_______________________________________________________________________________________
Breakfast:
Per usual, I started my day with a cocktail (apple cider vinegar, water, Glutamine, and Fitmixer Aminos).
Breakfast was a 2 course event today:
Atlanta Farm Fresh Greek yogurt is the best ever.  I don't know if you can get it outside of the Southeast, but you can check out their website and see!  In Atlanta, you can find it in Whole Foods and Kroger.
Their plain is really good (I normally only eat plain Greek), but I couldn't resist this in lieu of a fruit this morning: Strawberry Basil Balsamic.  It's as good as it sounds.
Part 2 was Toad in a Hole.  Made with one of my local eggs and a slice of P28 protein bread.  Topped with fresh basil, pepper, and red pepper flakes. #yolkporn
Post-Workout:
All of that deliciousness fueled one helluva spin class.  Did I mention I don't spin?  This was my 3rd class ever.  It kicked my butt.  By the time I got home I was ready to eat ALL the foods.
I settled for a Carrot Cake Batter Shake:  This is one of my favorites – it was the first time I'd used tofu in a smoothie, but not the last.  Gives it the perfect texture!
Lunch-ish:
I saw Janet's post about Black Bean Tostadas and knew I had to make them immediately.  I made a single serving, eliminated the salt, and added onion powder, turmeric, cilantro, lime juice, red bell pepper, and jalapeno.
It fell apart (probably due to the pepper), but it was delicious!  I just ate it as crackers alongside my sea bass and broccoli slaw.
Then I had "dessert."  Roasted kabocha squash with coconut oil, cinnamon, ginger, cayenne, and maple extract.  Topped with a peanut sauce made from peanut flour, cinnamon, ginger, maple extract, water, and stevia.
Dinner:
I got my tickets.  To the Gunshow!  Chef Kevin Gillespie lead one of my favorite Atlanta restaurants, but recently left to do his own thing.  Last night I got to try it out for the first time.  The fact that it's called Gunshow was just the icing on the cake.
This is an entirely new format for a restaurant – there are no servers and the kitchen and dining room are one.  Everything is made fresh.  There is no set menu, they aren't concept-driven.  The food served that day is based on what's available locally and what they're in the mood to cook.  The kitchen brings the food out dim sum-style on a cart or tray as they finish the dish.  The chef that made your food is also delivering it to your table and describing the dish.  How cool is that?!  One thing I love about cooking is seeing the reaction people have.  That must be hard for a chef in a restaurant who's trapped in a kitchen all night.
Our group of 10 ordered one of everything.  And it was all amazing.
My top 3 dishes: a goat cheese ball rolled in burnt bread crumbs with a house made strawberry jam, the braised short ribs, and the spring vegetables and ramps with bee pollen.
The great part was that after splitting all this among 10 people, we weren't over-stuffed.  Don't get me wrong – I was full – but it was a happy amount of indulgence.
My friend Jessica had the description of the night:
The food spans such a spectrum and I love that [Kevin Gillespie] doesn't box himself, or the other folks in the kitchen, into a defined style.  I told someone tonight that it reminded me of a first date.  Perhaps he was trying to impress and over time we may learn each other and reach a warmness and familiarity.  I was impressed and even more excited that we have somewhere else to discover that is different, although not better
Dessert:
We had to try the desserts too!  I would be hard-pressed to choose between the strawberry cheesecake (top pic) and Kevin's great grandmother's banana pudding (bottom right).
***
Obviously #iwill be hitting the gym hard today! 🙂  Join our team by clicking here: Fabulously Fit, or just leave me your email in the comments and I can send invite to our team!
What's your fitness goal?  What WILL you accomplish?
What's the best thing you've eaten this week?  Anything #strangebutgood?