So. Much. Food.
Atlanta's Food & Wine Festival may be pricey, but you definitely get your money's worth.  3 days of education followed by tasting tents.
What's more is that the restaurants rotate – so all 3 days of tasting are different!  Gluttony ensued.  Seriously – I still had a food baby until this morning.
It's only natural that I do a final (maybe… there's so much to share!) recap of the festival for What I Ate Wednesday this week.
Though it might be shorter to write a "what I didn't eat" post. 😉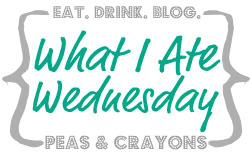 Check out my eats below; then click here to hope on over to our host – Jenn @ Peas and Crayons – to see the tasty treats everyone else in blog-land has been noshing on lately.
---
Tasting Tents, Day 1:
Clockwise, from the top left:
Clockwise, from the top left:
Tasting Tents, Day 2:
I woke up still full after the tents and the Pig Out dinner… but I powered through like a fat kid champ.
Clockwise, from the top left:
Canoe was up first with scallops over an edamame corn salad (the first scallop I have ever liked!)
I wish I could remember whose this was – the tuna tartar was perfect with that sauce and foam
Crook's Corner from Chapel Hill, NC surprised me with a schnitzel with a

perfectly

crisp yet cheesy crust; the tamale wasn't the best I've had, but certainly the prettiest
The star of the day – a terrine smorgasbord from Kevin Outzs and The Spotted Trotter (this alone made a temporary return to meat-eating worth it).
Update: I found Kevin's list of the 7 terrines served on their site: (1) ChiChili Pork Belly with Calabrian Pancetta; (2) Rabbit and Pork Belly with Lardo and Pistachios with Aspic Blanc d'Apple; (3) Leek with Rabbit and Pork Belly & Black & Pink Pepper Creme; (4) Pork Belly with Mayhaw and Mayhaw Aspic; (5) Pork Belly and Rabbit with Apple and Fresh Sage; (6) Pork Belly Champagne Wrapped in Coppa; and (7) Cheeky Belly ~ Beef Cheek with Pork Belly and Rabbit Liver. #2 was my fav – nom.
Tasting Tents, Day 3:
By now I had slowed down a lot.  Mom and I went together for Mother's Day… the thought of food was almost too much to take so I did a tasting of her tastes.  In fact, I didn't take a single picture until we were half way through.
Clockwise, from the top left
Sliders from Bocado (this place serves the best burger in ATL)
Some sort of ham deliciousness served with socca (I've never seen that out of a Southern cook before!)
Bistro AIX from Jacksonville, FL offered a Moroccan spice-rubbed pork shoulder with harissa-marinated watermelon salad and crispy pappadam (this may sound weird, but that flavorful cracker was one of the best things I ate that day)
A rare find – white wine that I loved
Crispy pig ears from The Spotted Trotter (really good, but I was too freaked out to take more than a bite).
And…
…scene:
***
And that, my friends, is how you become impregnated with a 3 day food baby.
Would you have tried the crispy pig's ear?
Has anyone else had a 3 day food baby?  Moderation who?!