Jenn @ Peas and Crayons hosts a weekly event called "What I Ate Wednesday."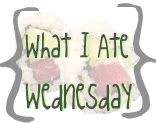 Basically, you post the foods you ate any day of the week.  It's a fun way to see what others are creating and share your own concoctions!
Below is what I ate Tuesday (obviously not today since it's barely Wednesday).  It was a fun day… one of my snacks involved picking out my mom's Mother's Day gift!  Mamma occasionally stops by the blog, so that will have to remain the "mystery snack" for now! 🙂
Breakfast:
Mocha-Banana Shake
1/2 dark chocolate EAS (protein drink – you could sub milk + cocoa or chocolate milk)
1 scoop cookies & cream protein powder (GNC)
1 tsp maca
1/2 C coffee
Banana
1 C spinach
1/2 tsp cinnamon
Sprinkle of guar gum
Blend and slurp it up!  Topped it with a chocolate-carrot muffin mini that I'm still working on perfecting.
I'm definitely doing this again – it was the first time I used my leftover coffee in a shake and I loved the addition!
Lunch:
I made this Big Green Salad a few weeks ago and didn't post it – arugula, spinach, and cucumber with oven-roasted shallots, asparagus, artichokes, and edamame.
What I actually had was a blah salad from the work cafeteria topped with over-cooked grilled chicken.  It was over-riced and not worth a pic.
Snacks:
I love these Think Thin mini-bars.  They are a great mid-afternoon chocolate-fix with 6g protein and 0g sugar.
A handful of walnuts…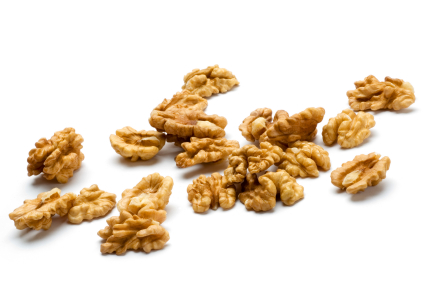 dipped in …
Doesn't everyone dip their nuts in nut butter?!  My walnuts went fabulously with my homemade Spiced Almond Butter.
***Insert mystery snack here***
Dinner:
Mexican Scramble
1/2 C egg whites
2/3 C Mexican Smart Ground "beef"
2 T shallots
1 small jalapeno
Cumin, coriander, S+P (to taste)
Saute the shallots and jalapeno.  Add "beef" to pan and saute 5-6 mins.  Season to taste, remove from pan, and set aside.  Place egg whites in pan and cook halfway (~1-2 mins on med heat).  Add "beef" mixture back to pan, stir into egg, and continue cooking until eggs are just done.
My scramble was served over a bed of spinach and topped with Mamma Pea's aptly-named Mmmm Sauce.  With a side of carrot sticks.
"Fake" meat can be hit or miss.  I definitely eat it on occasion, and have tried out many different brands.  This one was pretty good!
Late-Night Snack:
I had a sample package of Cascadian Farm's Cinnamon Crunch cereal from a race give-away that was calling my name.  It was a tasty dessert-snack with unsweetened almond milk.
Nightcap:
Yogi's Kombucha Hot Tea.  Delish!
_______________________________________________________________________________________
What did all this tastiness fuel?
30 mins of leg work this morning
1 crazy work day
40 mins of intervals this evening
75 push ups
***
What did YOU eat?
Have you gotten your mom a Mother's Day present yet?
Better not forget!