Let's talk protein powder.  
I use it a lot.
Looking at my restaurant food pics, you'd think I was a bigger meat eater.  However, at home I rarely eat meat.  My diet is more plant-based.  This means I have to work hard to get in the protein I need.
The usual suspects are all staples in my diet: tempeh, tofu, lentils, quinoa, eggs, greek yogurt, etc.
I also lift weights 4 times a week.
After a weight workout it's generally recommend that you get 20g of protein within 30 minutes in order to help build muscle and aid in recovery.  Sometimes that's hard to do on the go, so I use protein powder. You can add it to virtually anything!
Tonight I'm trying a new (to me) form of protein: Casein Protein Powder.
More on Casein:
It makes up 80 percent of the protein in cow's milk

Helps further build muscle mass
Moves through the digestive tract slower than whey protein
Is ideally taken before bed since the majority of muscle repair/regrowth happens when you're asleep (slooooow release of protein thru the night –> better muscle recovery)
Many women balk at the phrase "build muscle."  Truth be told, most women have to work very, very hard to build muscle.  Lifting weights and taking in some extra protein isn't going to make you look like this.*
*Not that there is anything wrong with wanting to look like this.  To each their own.
AND an extra pound of muscle can burn 50-100 calories per day!
---
On to the brilliant Peas and Crayons' What I Ate Wednesday! Eats from Tuesday.  And yes, it involves protein powder. 🙂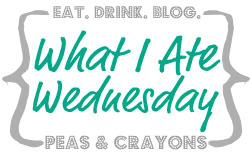 Breakfast:
This was a quick, protein-filled, late-to-work-and-eaten-in-the-car breakfast.  It tasted like banana pudding on bread.  For real.
Banana Pudding Bread
2 slices Ezekiel bread
1 banana
1 scoop vanilla protein powder
1 T unsweetened vanilla almond milk
Toast the bread.  While toasting bread, mush up your banana and mix with protein powder and milk (you can adjust liquid depending on your consistency preference).
Spread the banana deliciousness on your toast and enjoy!
Lunch:
I really love when there's just the right amount of spinach left to make a salad right in the container.  So.  Easy.
In my salad:
Spinach
Cucumber
Black beans
Radishes
Carrots
Sprouts
Salsa
Dinner: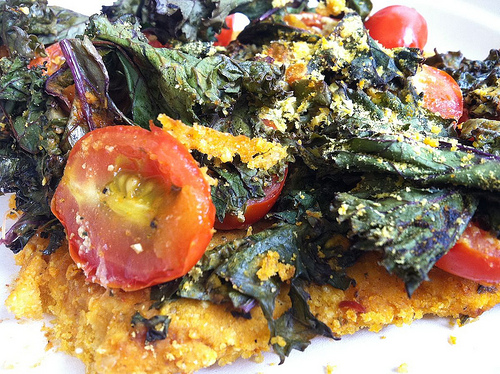 This Sweet Potato Kale Pizza was one I bookmarked to try months ago. It was worth the wait.
My modifications were few:
Halved the recipe to make one big pizza
Instead of massaging the kale with the EVOO mix, I used Madras sauce
Cherry tomatoes instead of slicing a large one (roasted them on the pizza perfectly!)

Parmesan rather than "raw" parm
This was ridiculously filling satisfying.  I'll be doing this again and experimenting with other toppings!  (I'm thinking coconut butter and garam masla next.)
Check out the recipe by Callie @ Rawxy here.
Snacks:
Items I forgot to take pics of include…
Chocolate Toffee Think Thin Bar
Celery + Hummus
Blueberries
Almond milk
Apparently I'm in the mood to list things today…
***
Do you use protein powder?  Have you ever tried Casein?
How else do you get your protein?