Birthdays should be drawn out.
I'm celebrating mine for a solid week.
Today I leave for a fabulous birthday trip with two of my best wine-os friend: Lisa and Heather.  At 21 we celebrated with cheap shots and beer, at 30 we spend too much money on fine wine and taking mud baths.  I choose 30.
The celebration have been on going though!  Later in the post are some birthday eats, but I wanted to share my favorite treats first.  My actual birth DAY was fabulous – I was totally overwhelmed by the comments on this post and on Instagram.  If you get a chance, look back at everyone's "lessons learned" in the post comments.  So much wisdom!
I had a wonderful dinner with my family, including my best friend who is basically my sister.  We missed my Portland sister though!
Mom nailed the gift department – I told her not to buy clothes or anything.  There's not much I need… but I wouldn't turn down a little Napa spending money.  She made that happen in a rockstar way.
Nothing says "I love you" like cash credit!
Just when I thought the night couldn't get better, I received this gem from Lauren.  Lauren's fur babies, to be more precise.
Does it get any cuter?!
________________________________________________________________________________________
This WIAW is actually what I ate on my birthday.  I had some favorites, and some indulgences.  It was exactly as it should be on one's 30th  birthday.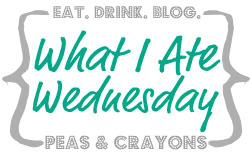 Read on for my celebration eats, and then check out Jenn's link up for everyone else's delicious days.
________________________________________________________________________________________
Breakfast:
My morning cocktail (apple cider vinegar, water, Glutamine, and Fitmixer Aminos) was served martini-style in honor of my birthday.  Who doesn't want to start their 30th year out with a draaaank?
This is an old favorite.  I don't know why it's been so long since I've made PB & Ceggs, but it's what I wanted for my birthday.  This is the perfect time of year to make it because the carrots are so sweet and juicy!
This is the version with an egg scramble, not the tofu in the linked recipe.  It's good both ways though!  Even better with sprinkles:
Lunch:
This was a desperation meal.  I leave for Napa today and I knew I'd be eating out for a couple of meals due to birthday celebrations so I didn't do my usual grocery trip.  Bring on the canned tuna!
This mix is tuna, nutritional yeast, cayenne, cumin, pepper, herbs de provence, turmeric, and balsamic vinegar.  I tossed it with the end of a bag of spinach and ate it with a slice of P28 protein bread… on a ZooPals plate to preserve my youthfulness. 😉
Dinner:
Finally time for my birthday meal!  My mom treated baby sister, my best friend, and me to dinner at Seed Kitchen & Bar.  I was really excited because I got to try a new-to-me fish: Wreckfish.  Wreckfish is like a cross between Sea Bass (my favorite!) and Halibut.
We did have to send my dish back (wayyyy overcooked), but on the second round it was perfection.  Our server was nice enough to give me the sides from another special, so I was able to have caramelized brussels and roasted cauliflower on my birthday.  It was a giant plate of my favorite things!
Dessert:
Simple and delicious.  As my "cake," I ordered a fresh-baked and slightly undercooked chocolate chunk skillet cookie a la mode.  Mom and baby sis were allowed one bite each. 😉
***
I forgot to take a picture of the 3 cards I received at dinner.  All were related to boobs.  Way to go, Family! 😉
Have you ever tried Wreckfish?
What is your favorite thing to eat on your birthday?