If you made it through Monday's long post, congratulations.
My apologies if this one gets just as long.
After my adventures in poker and another late night, I spent the next morning repenting at the gym.  I had an unpictured Oatmeal Chocolate Chip Quest bar, which is my favorite flavor for breakfast.  They are lifesavers on the road!
I was really excited to be able to incorporate some VERY light weight glute work into my workout.  Progress!  It's so good to be able to activate those muscles again.
Then it was time for date night.  That's right.  I ate only a Quest bar, worked out, and went to date night.  That should tell you something about how late I slept.  LOL!
We started our evening at an old school Vegas steakhouse off the Strip called Golden Steer.  I'm talking rat pack old school.  I wish I could have gotten a picture of the exterior, but it was raining when we pulled up (it never rains in Vegas – what's with this bizarre weather?!).
It looks like a dive bar – it's marked by a tacky gold sign in a strip mall.  Then you walk in to this quiet, high-end steakhouse that is quintessential Vegas.  There are waiters in bowties, a whole page of the menu is dedicated to steaks, Caesar salads are done table-side… and there are video poker machines at the bar.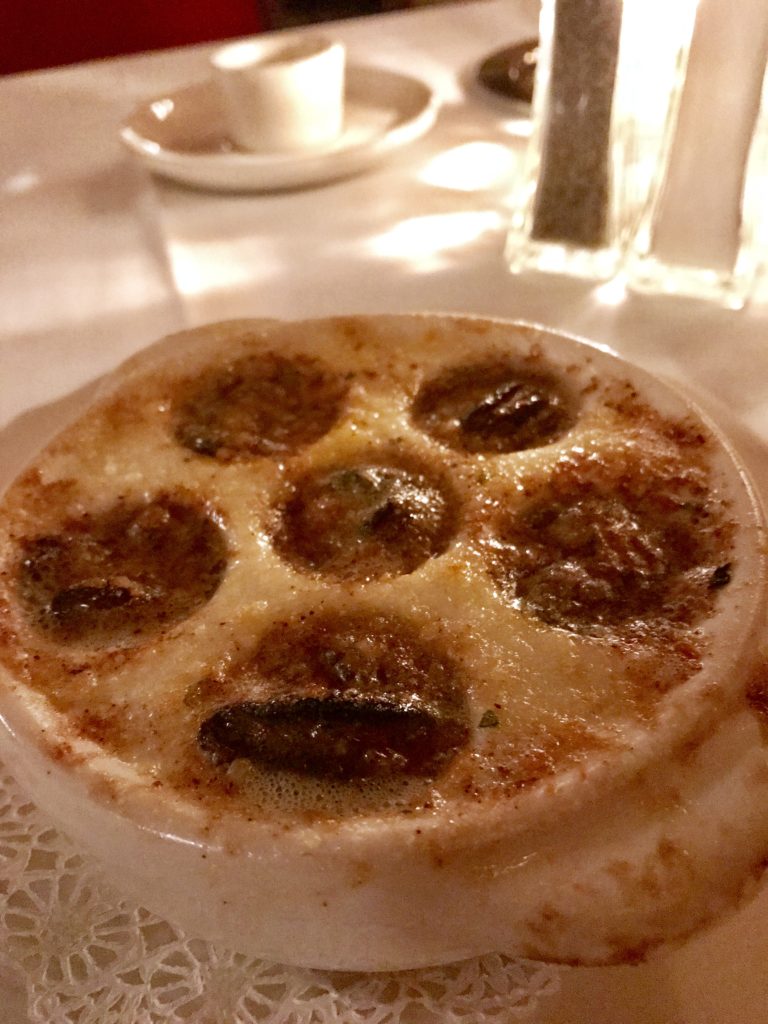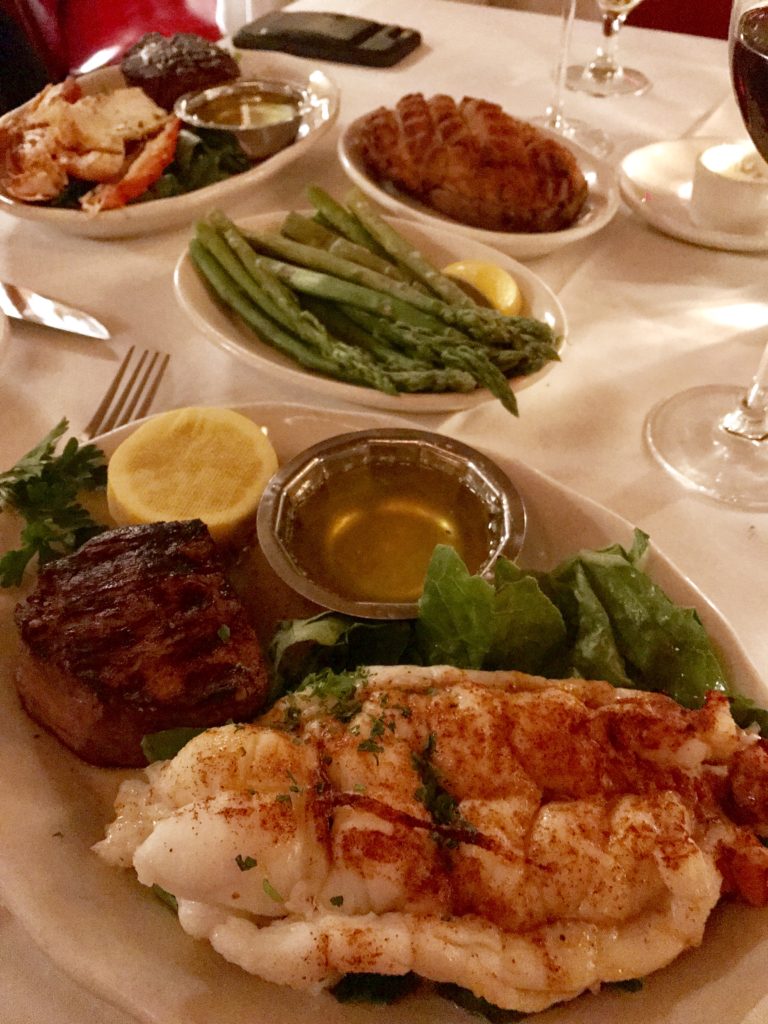 We ordered the escargot to start, which was amazing.  I chose the steak and lobster as my entrée, Vegas went with steak and crab.  Plus asparagus and a baked potato.  We barely touched our respective sides.  There was so much food!  We didn't leave any wine behind though. 😉
Then we were off to the Wynn to see Le Rêve!  Here's a rare shot of the two of us wearing real clothes: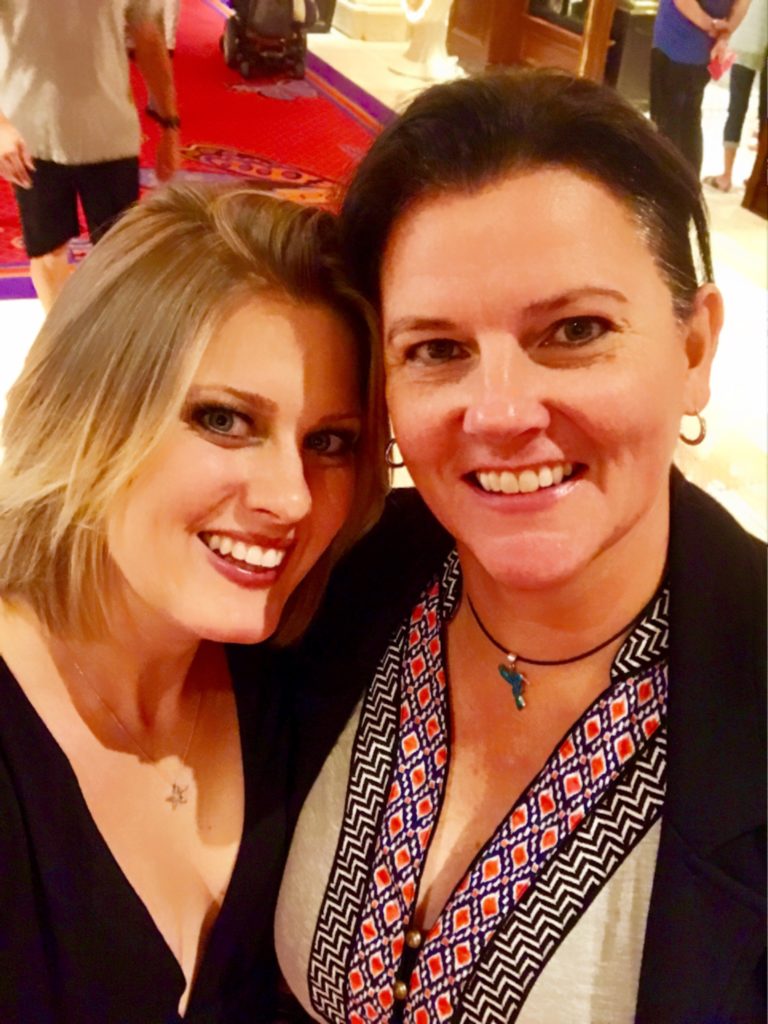 If you're ever in Vegas, definitely check out Le Rêve.  It's a Cirque show, done on an aquatic stage with a one million-gallon water capacity.  None of the seats are more than 40 feet from the pool-stage.
A solid stage moved in and out of the pool for different scenes.  Sometimes the performers are swimming, sometimes they're on platforms.  It's the craziest thing!  I can't imagine what production is like.
Throughout the show, actors are diving from god knows how many feet up, synchronized swimming in red heels, and changing costumes faster than I can imagine.  Seeing as how I can barely swim, I was blown away.
The next morning we packed up to leave early enough to stop for brunch at Giada's.  It's a must if you are ever in Vegas.  We've had dinner there 3 or 4 times, but this was our first breakfast.  It will not be our last!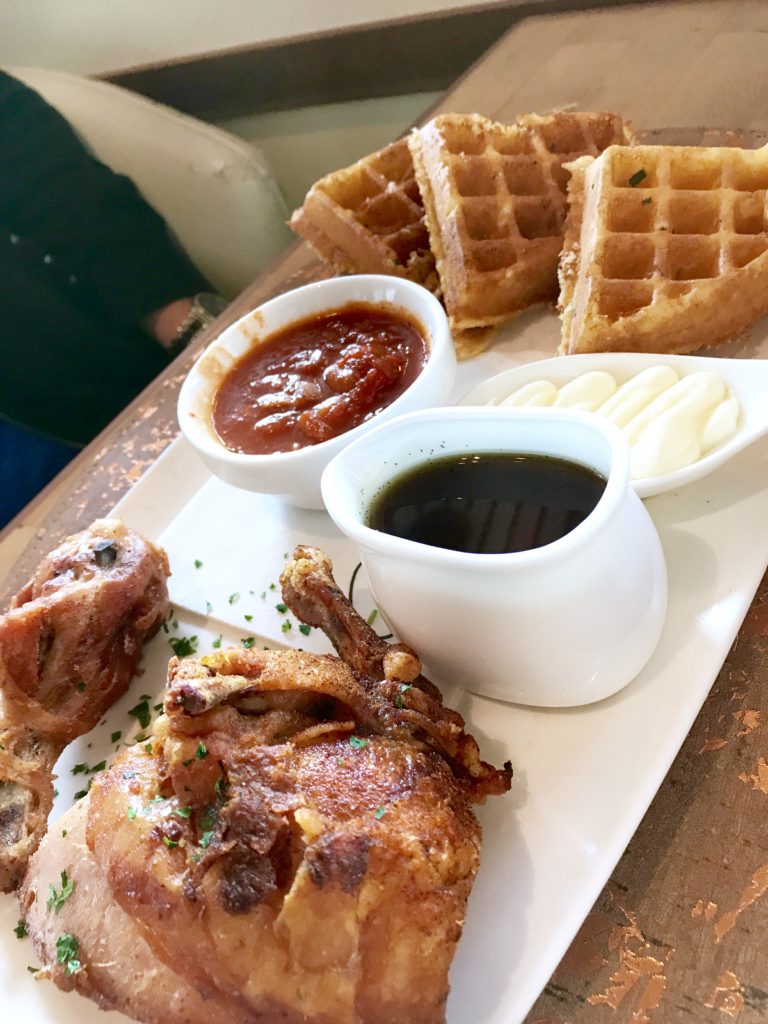 Vegas ordered the chicken and waffles.  They didn't try to copy a classic southern friend chicken.  Instead, they did something all their own.  It was fabulous, especially with the chive waffle and whipped lemon butter.  There may have been a finger or two dipped directly in said butter.
I never – and I mean never – order waffles.  Those are reserved only for my love, Waffle House.  For Giada, I made an exception.  The #yolkporn on top of the Sunrise Waffles sold me (and people think I'm weird for topping MY waffle with an egg!).
Not to worry – we had brunch beverages.  Vegas had sparkling rosé and I had a sort of tequila-based mimosa called "The Destroyer."  A bold move at 11 am, but I'm a beast like that.  This drink was a delicious mix of tequila, fresh tangerine juice, and basil.
Because we are truly gluttons (and because Vegas' meal came with it), we had dessert.  The limoncello soufflé with its buttermilk pour over was everything it should be.  So light a fluffy it almost felt like eating air.  *Almost*
Needless to say, Vegas and I have been eating muuuuuch lighter this week.  It sure was fun though!


***
This weekend we're having a "glamping" adventure.  Follow along in Instagram!
Have you ever eaten escargot?  They're really good – pinky swear!
Who's your favorite Food Network star?  I learned to cook watching Giada's show!