Road food can be scary.
Opossum, McDonald's, gas station dinners…
If you do frequent gas stations for dinner on the road, you might be excited by this news… Lay's is testing some new flavors: Chicken & Waffles, Cheesy Garlic Bread, and Sriracha.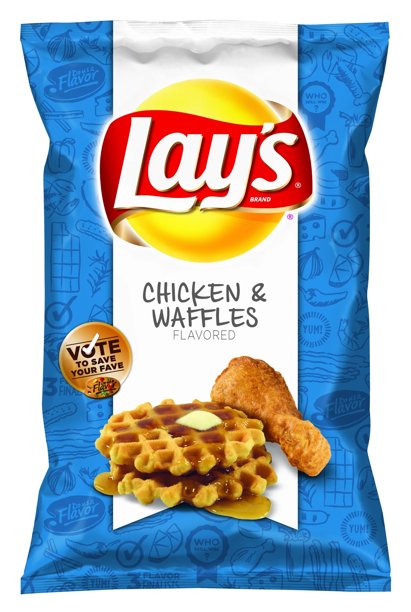 Apparently you'll be able to find all 3 flavors in the next week or so.  Lay's is then offering customers a chance to vote for their favorite in May.  The flavor with the most votes stays, the other 2 are voted off the island discontinued.
I don't even need to taste them.  I vote for Sriracha.  It could be Strange But Good… or it could be nasty.
________________________________________________________________________________________
I assure you, I avoided Lay's on my business trip.  Remember last WIAW when I was packing all my food to-go?  This week we left earlier, so you get to see all that food in action.  I've been whipping out my prepared meals (and iPhone camera) with pride!  Ohio doesn't know what to think of me.
Check out this post for a super-detailed explanation and tips for traveling with healthy foods!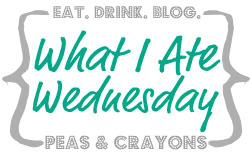 Check out my 7 meals below, and then click here to head over to Jenn @ Peas and Crayons to get to see how others dined this week!
________________________________________________________________________________________
Meal 1:
My hotel stay hasn't stopped me from my morning cocktail.  I have had to change the mix a bit – liquids are the one thing I can't pack with me, so rather than using apple cider vinegar in the mix I asked the hotel to give me a lemon to add.  I juiced half the lemon to mix with my water, Glutamine, and Fitmixer Aminos in a recycled Fiji bottle.
One gripe: the hotel actually CHARGED me for the lemon.  Thank you, Cambria Suites.
I've been rocking my Caffeinated Protein Oatmeal.  The hotel has been giving me cinnamon to add, which I love.  I also grab a side of fruit – today was pineapple and honeydew.
This morning's oats consisted of :
Oatmeal (pre-made at the continental breakfast bar)
Vanilla protein powder
Cinnamon
Coffee
Bacon (just a little crumbled on top. 🙂 )
Meal 2:
I am loving my no-salt turkey deli meat.  It's a great option to pack up and take anywhere.  It's also not too heavy, making it a tasty snack at 10:30am.  Enjoyed with pumpkin seeds and an apple.  There was also a lot of coffee and water involved.
Meal 3:
Lunch was two parts.  Our client was having a Fat Tuesday lunch and invited us to join the potluck.  I took small bites of the best stuff… including a littttttle bit crock pot lava cake (OMG it was fabulous).  Added to my plate was a turkey burger I brought from home.
Then I hit the cafeteria salad bar:
Meal 4:
I have really been loving the Balsamic Grilled Chicken from Trader Joe's.  It only has 65g of sodium and it isn't dry in the least.  I cut it into strips for easy-eating in conference rooms.  Eaten with carrot sticks, also pre-cut and brought from home.

There was a mid-afternoon sweet tooth satisfier: Extra's Lemon Square dessert gum.  I'm so glad I finally found this flavor.  It's 2nd only to the Apple Pie!
Meal 5:
My co-worker and I hit the gym before dinner last night.  This was a treat because we've been going after… not ideal to lift on a full tummy.
The downside was that we were starving by the time we finished and settled for dinner in the hotel.  We both ordered the salmon over green chili grits and a side of steamed spinach and mushrooms.  It wasn't bad… but quite salty!
Meal 6:
I was actually hungry but not for this.  I miss eggs.  The powdered eggs on the breakfast bar don't cut it.  Whatever.  I ate a turkey burger and pretended it was topped with a runny egg.  The zucchini and cauliflower with it were really good.  Cauliflower is a new road-snack for me.  It holds up well!
Here's what to do when you don't have a plate: cut up the burger and microwave it in a hotel glass.  Then stack your veggies on top so you can get it all in one picture. 
Meal 7:
Another yogurt creation!  I looked forward to My Strawberry-Cinnamon Fro-Yo all day.
This was a single serving plain Greek yogurt and mixed with mashed strawberries, cinnamon, ginger, vanilla extract, and a couple of stevia drops.  Then I froze it at home to take with me, and then turned the hotel fridge to the max to keep it pretty frozen here.  Two days later, this was the perfect texture – half-frozen like fro-yo!
***
The protein count for the day: 163.1g.  One more day and I'm hoooooome!
Which Lay's flavor would you try?  Any?
Have you tried the Dessert gum yet?  I resisted at first, but have declared it Strange But Good.