Travel can be an adventure in eating.
It can also be an adventure in finding workspaces with outlets, tables, cell phone signals… yesterday I worked all afternoon in a flatbread pizza place.
Barnes & Noble was closed for MLK (WTF?!  That's like Starbucks closing – it just doesn't happen!).  This meant that Starbucks was even more crowded than usual.  Flatbread it was.  I left the store having been cured of craving pizza for a while and smelling like an Italian mamma.
At least I had a wonderful dinner recommendation from Kimberly @ Grubarazzi to look forward to – Woodberry Kitchen.  They even celebrate Meatless Monday!
Side note: check out her blog – she makes some rockstar dishes!  
Woodberry Kitchen in Baltimore is incredible.  It was a little dark for pics (I was ill-prepared in the camera department), but everything was delicious.  Don't skip the Goldeneye drink.  It was stellar.  Say hi to Conner the bartender for me.
If you ever go, DO NOT skimp the CMP for dessert.  Malted ice cream, chocolate sauce, marshmallow fluff, and wet peanuts.  All house-made.  It was one of those "moment of silence" desserts.
_____________________________________________________________________________________
This is What I Ate Wednesday, not what I drank Monday.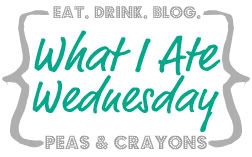 Breakfast:
An adventure in hotel icky oatmeal.
I grabbed some of the hotel's runny, mucus-like oatmeal and made it edible with a few mix-ins:
Double vanilla ice cream-flavored protein powder from home (really good, btw)
Peanut butter
Apple
Coffee
It was not Sweet Potato Pie Oatmeal, but by the time I got done with it these oats were not too shabby!
Lunch:
We ate at a burger place.  I had a salad and a sweet potato.  It was underwhelming… this is what was left when I remembered to take a pic:
Dinner:
I don't care what Hollywood says, the Grubarazzi won't lead you astray.  Thanks to another of her recommendations we dined like A-listers in a Vietnamese restaurant located in a strip mall.
The Saigon Noodle House doesn't look like much from the outside, but their summer rolls and pho were ah-mazing.
Verdict:  Do NOT miss the summer rolls and the pho.  I could to skipped the other two dishes, but – to be fair – I picked around all the seafood/meat and didn't get the full effect.
Snacks:
B&N-Starbucks-style.  Raspberry Oolong tea and the best KIND bar I've had to date – Dark Chocolate Cherry Cashew.
There was also some late-night chocolate that had to be eaten. 😉
***
I made the FoodBuzz Top 9 today with these Chewy (Vegan) Granola Cookies!!!  Thanks to everyone for the BUZZ and welcome to any new visitors!  Check out the Top 9 by clicking here.
Have you ever had pho?
What's the best "bar" you've tried lately?  Have you had a KIND bar?