Everyone in a while you meet total strangers who aren't.
I swear that made sense in my head…
I hope I'm not the only one that feel like they "know" bloggers.  So many of the fabulous ladies I met at Blend this past weekend are bloggers I've been reading for so long that I felt like they were my "real" friends already!
First, I have to say a huge THANK YOU to Janetha, Lindsay (with credits for the following pic), and Katie for putting together another life-changing weekend!
Second, I owe a big thanks to Growing Naturals for sponsoring me at the retreat.  These guys are truly a great example of a small business offering good, clean products.
I was so thrilled to share their pea and rice protein powders and their protein drink mixes with my friends.  More on their products here.
I know Bonnie was extra-excited to try this after the 9 mile run they did in the chilly Park CIty rain!
My friend Heather already used hers and shared a pic on Instagram:
It was also the start of my first post-workout recovery meal.
The vanilla rice protein was fabulous in my green smoothie (extra spinach!) topped with Muesli Fusion: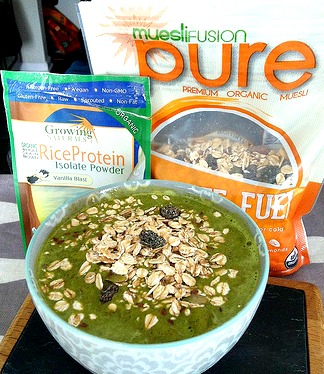 Stay tuned – this fall they are coming out with a new addition to their protein/supplement line – yummy greens to throw into shakes!!!
________________________________________________________________________________________
Rather than a "traditional" WIAW post, today is all about What I Ate at Blend!  We were totally spoiled all weekend, and I'm still enjoying all the tasty schwag-bag selections at home. 🙂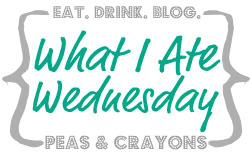 Check out my eats with my Blends below, and then click here to head over to Jenn @ Peas and Crayons to get to see what delicious foods everyone else is enjoying!
________________________________________________________________________________________
Friday:
We arrived at the hotel excited and famished from travel.  Famished.  The schwag gods were smiling though… check out all the goodies we had to munch on: protein from Vega, Zevia, SoyJoys, a Lara Bar, muesli and granola from Bob's Red Mill, Attune Foods chocolates, Healthy Bites (so in love)…. and more!
After a photo ops, we gabbed, snacked… and headed to event #1: a pre-happy hour with Justin's Nut Butter!  I was careful to sample everything, but stopped for a pic with one of the lovely organizers – Katie!
My top butters were: Maple Peanut and Chocolate Hazelnut.  They were even better on Attune Foods graham crackers.  All I needed was some apple juice.
The kind folks at Silk must have wanted to make absolutely sure the Blends were happy, so they set up a Happy Hour where we could unwind from travel and begin the photo-taking frenzy.  Heather was patient enough to take a gorgeous pic of her ginger-Silk drink.
There was also an amazing buffet of black bean cakes, veggie summer rolls, and cute veggie sticks in jars (how did they know bloggers like Mason jars?!).  Let's pretend like I didn't attack this… the temptation was too tasty and I couldn't wait until dinner!  Plus, we all know it's bad to drink on an empty tummy. 😉
Dinner itself was off the chain.  It was a buffet… but a good buffet.  Normally I'm anti due to the rogue dirty hands and food sitting out too long.  That didn't happen here.  My Blends were nice and clean, and the hotel staff couldn't have done a better job and keeping the food refreshed.
There were salad options, quinoa patties, roasted veggies, chicken breasts, and lemon-y fish filets.  There was literally something for everyone!  And it was all good!
No dinner is complete without dessert!  there was Chobani panna cotta, apple pie, and berry tarts.
A few of us decided to split all 3… which I graciously finished off.  Starving kinds in Africa, you know.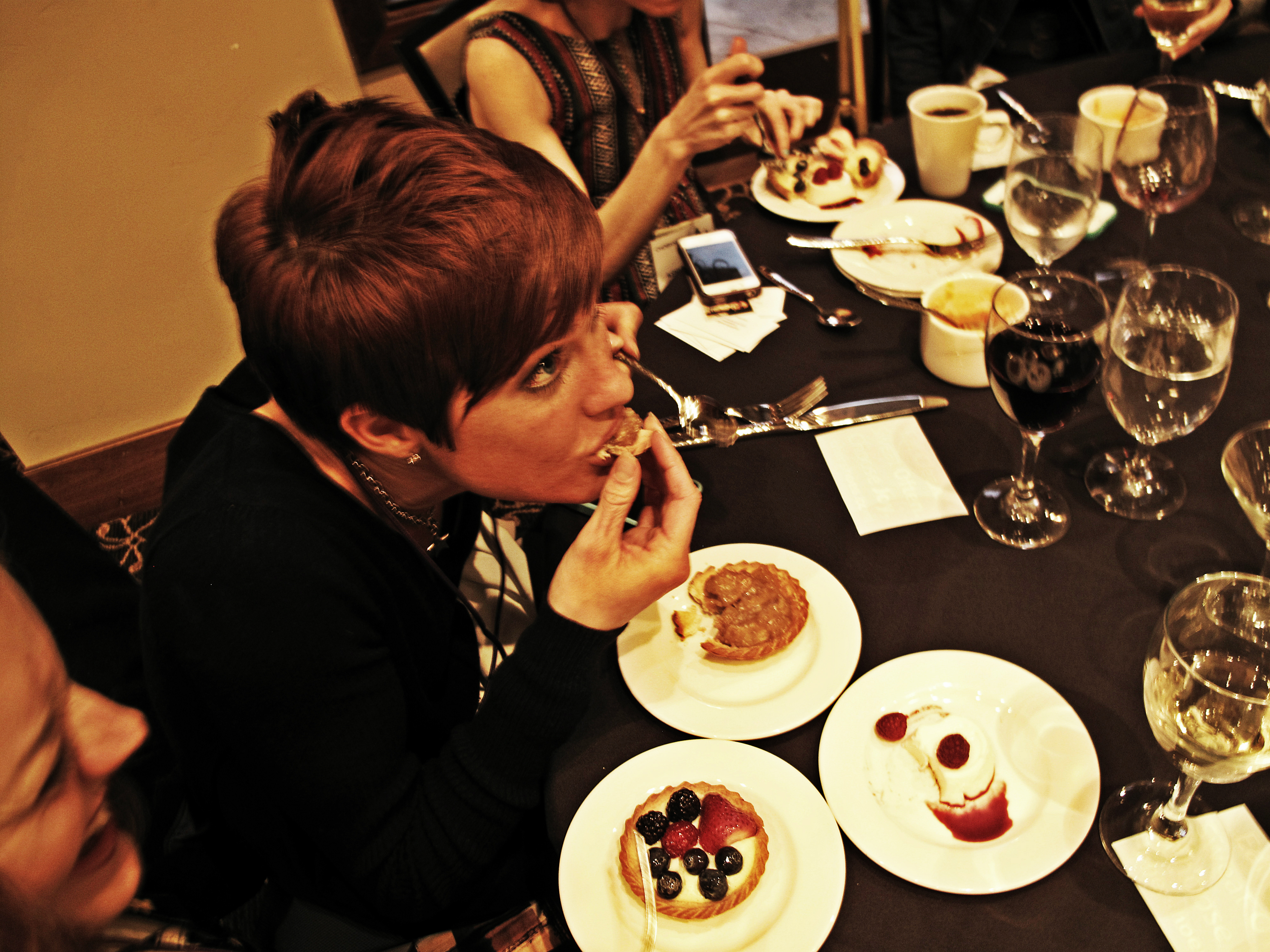 Thanks to Lindsay for this artful photo.
Saturday:
One would think that after all that I'd still be full… well, GPP Fitness fixed that with a little workout that left me waddling.  More on that tomorrow but let me just say 200 burpees (I did refuse to yell "Yay burpees!" after each rep as instructed) is a certain cure for lack of appetite.
The highlight of breakfast for me was getting to try a new granola – Muesli Fusion.  They have an "Athlete's Fuel" mix that rocks my socks off.  NO added sugar or sodium, and 7g of protein per serving.  It's like they designed it for me.  I poured my unsweetened Silk all over that!  There was a ton of fresh fruit (holy pineapple deliciousness), and a fabulously strong brew from Green Mountain coffee.
Then we had another workout!  Zoomba.  I'll spare you the pics of this white girl shaking her thang… until tomorrow. 😉  Following that we did what any normal blogger does – we went to Whole Foods.  I totally failed at life and didn't take a pic.
I DID take a pic of the snack break that followed – Onnit provided us with some amazing chocolate-banana hemp protein smoothies and rice cakes with cashew-walnut butter (totally crave-worthy). What's better than these blogger staples?  Getting them handed to you by Miss United States!  Whitney is one of the sweetest girls I've ever met.  How cute is she?!
And then there was dinner.  Calee, Michelle, Heather, Heather, Heather (that's not a typo – there were 3 beautiful Heathers) found an amazing restaurant on Main St. in Park City called Riverhorse.  The food was incredible.
We started with a great Pinot Noir, chosen by fellow-wine lover Michelle (who I will gush about meeting later) and a beet salad served with micro greens, brie cheese, and a potato crisp with tarragon vinaigrette.  Calee and I split the Trio of Wild Game for our entrée.  It came with buffalo, venison chop, and elk over broccolini and asparagus with a port wine and huckleberry reduction.
I was nice and full… but when I saw the dessert menus I had to place one more order.  Peanut Butter Bread Pudding with caramelized bananas and a chocolate drizzle.  Can you blame me? 🙂
Every dish was near perfection.  Lucky because our server was terrible.  I swear I have the worst luck.  She basically ignored us all night, added 20% gratuity (for a party of 6 who was clearly spending money… WTF?!), and when Heather asked about the charge (there was NO warning note on the menu) she snatched the bill out of Heather's hand and stalked off.  We tipped the man refilling our waters in cash on the side and spoke to the manager on the way out.
Like I said, the food was great.  That combined with the fantastic company made for a great evening and we laughed about our crazy experience all the way back to the hotel (the cab driver was thoroughly entertained).
Sunday:
Holy breakfast heaven.  This was the best breakfast out of any Blend Retreat.  They had an omelette station!!!  Protein at breakfast?!  Color me happy.  Thank you for this sponsored deliciousness, Chobani!
I got an egg white omelette with mushrooms, garlic, onions, and spinach.  And a Chobani yogurt pancake.  And fruit.  I wanted ALL the foods! 😉
Be sure to check the #blend2013 hashtag on Twitter and Instagram for more action from the weekend!
***
I snacked my way back to ATL with schwag bag goodies, and (obv) hit the Whole Foods hot bar immediatly after getting home. 😉
Soooo… are you all going to come to Blend next year with me?
Have you ever tried any of these fun products?  What are you loving right now?