40% of the items in a grocery store are new each year.
According to what Michael Pollen found in his research.  I doubted this until I realized that new flavors and formulas count.  Think about all the variations done on Oreos – peanut butter, mint, 100 calorie packets… it's endless.
An article on So Good Blog called out food-makers for going too far on the holiday variations.  Specifically cited is Chocolate Eggnog (agreed – but I don't like nog) and Pumpkin Cream Cheese (he's crazy… pumpkin was practically born on a bagel).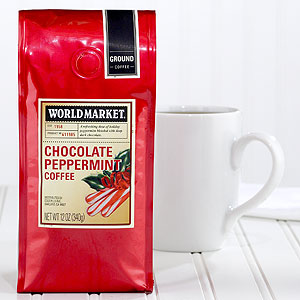 On my list is peppermint-flavored items.  I like peppermints, but please don't add the flavor to perfectly good food.  Like coffee.
---
Enough about bad foods.  It's What I Ate Wednesday!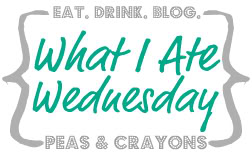 ---
Pre-Workout Breakfast:
When I workout first thing in the morning I usually don't eat anything more than a nibble of peanut butter or a date.  That is unless I wake up STARVING!  After the killer workout yesterday I must have been burning food like a mad man woman in my sleep!
I heated a Van's Organic Blueberry Waffle in the oven and topped it with banana, cinnamon, and sugar-free syrup.
Perfect for my needs… I did a solid hour with some heavy weights.
Post-workout snack:
Since the pre-workout was only a waffle, I was ready for more after I finished in the gym.  My post-workout 20g of protein (must-have to build muscle!) came in the form of a (green) sweet potato protein shake.
Sweet Potato Protein Shake
3 T sweet potato puree
1 C spinach
3/4 C unsweetened vanilla coconut milk (a la So Delicious)
1 scoop vanilla protein powder
2 tsp ground flax seeds
1 tsp maca
1/4 tsp cinnamon
Pinch of guar gum (to thicken)
Shake of salt
Ice + water, to taste
*Normally I add Stevia or banana to sweeten my shakes, but the So Delicious and the sweet potato provided enough sweetness on their own!
Lunch:
If you read my post yesterday you may have seen a lovely salad.  So lovely that I had a repeat for lunch today.
Those carrot patties are really incredible (hot or cold) and I love having my Basil Walnut Pesto creation (also on yesterday's post) in the salad mix.  The sweet bursts from the pomegranate seeds make for a fun salad.  (Read: Trying to avoid staining the shirt I wore to work.)
Dinner:
This barley-based "risotto" was even better than I expected!
This recipe will come tomorrow, along with a special feature –
I scored an interview with Chef Cindi Avilia, who works in recipe development for Lightlife!
Snacks:
I had a little biscuit-baking fail… and snacked on my misery while deciding that yes, they really were un-servable (is that a word?).
There was also a citrus Kombucha involved.  I love Kombucha.
I made 100 Sparkling Cake Balls (cake balls made with sparkling wine, in case you missed it) for orders received (so exciting – people are BUYING my food!)… which called for a little pairing experiment. 😉
***
Head over to Peas and Crayons to celebrated the Humpty-Hump on Jenn's What I Ate Wednesday.
Have you seen any crazy holiday flavors?  Which ones do you like or dislike?
What's your best holiday baking fail?