I get behind in my over-sharing.
Thank god for Instagram!
There has been a lot going on lately that I've just run out of time to blog about!  Hump Day seems the perfect time for a download.
I've been getting some good runs in (between all the summer storms).  This is taken on the GA Tech campus.  Saturday marked 5 years since my dad died.  Without intention, I found myself heading to his alma mater for a run.
It was nice to run by all the places we used to walk past on game days and relive some of my own memories from grad school.  The rain didn't hold off for long – about 5 mins after I took this pic the sky turned black and it started pouring.
Sunday I met some of my favorite Atlanta bloggers for lunch at Dough Bakery, my favorite local vegan spot.  That's (very pregnant) Alayna, Tina, Lee, me, and Heather.  Heather is former Atlanta blogger… she left us for Colorado. 😛
I always have so much fun with these ladies.  We talked and ate for a long time before I had to run back home to get ready for dinner.  That's right  – I said run.  I ran a total of 6.65 miles there and back thanks to Atlanta's new Beltline trail!  I'm lucky my friends would be seen with me sweaty and dressed like a bum.
The dinner I was running home to was at one of Atlanta's best new restaurants: King + Duke.  I'm too lazy to write  full review, but let me just say… if you are in ATL or are coming to visit make a reservation.  So.  Good.
Their wine program is excellent, which you know makes me happy, and the food is even better.  Don't skip the roasted beet and carrots with feta and harissa, the roasted bone marrow with smoked mushrooms, blackberries, and short rib marmalade, and the "Dates & Ale" (a fantastic sticky toffee pudding with Sweetwater IPA cream).
________________________________________________________________________________________
This WIAW was less indulgent than this weekend.  Thank god.  I love going out to eat, but whoa.  I was dragging on Monday after eating half my meals out over the weekend.  I jumped back on the healthy eating train with reckless abandon.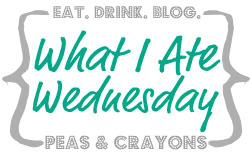 Read on for my eats, and then check out Jenn's link up for everyone else's delicious days.
________________________________________________________________________________________
Breakfast:
My morning cocktail (apple cider vinegar, water, Glutamine, and Fitmixer Aminos) was of course the start to my day.
If you follow me on Instagram you saw that I have a mini crisis: my air conditioning quit working.  I live in the South.  It is HOT.  I was really glad I thought ahead and made a nice, cool breakfast: overnight oats!
This bowl is a little different because I combined a few protein sources.  The oats, cottage cheese, and protein powder made for the most deliciously creamy bowl of cheesecake-like oats I've ever had!
Blueberry Cheesecake Overnight Oats
1/4 C oats (I use Bob's Red Mill GF)
1/4 C cottage cheese
1/2 scoop vanilla protein powder
1 T peanut flour
1 tsp chia seeds
1/2 tsp cinnamon
1/4 tsp ginger
1/2 tsp vanilla extract
Blueberries
Stevia, to taste
1/2 C almond milk (or other liquid)
Combine everything in a bowl, cover, and place in fridge overnight.
Remove from fridge in morning.  You may need to add additional liquid, especially if you choose to heat it.
Top as desired and enjoy!
Note: I order my peanut flour from iHerb – I like it better than PB2 because it is less processed and doesn't have the added sugar and sodium.  Use my discount code – USO924 – for $5-10 off your order!
Mid-Morning Snack:
I love making random mixes with no salt deli turkey.  Often I do fruit, but today I had some celery to use up.  I broke up the turkey and mixed it with nutritional yeast, cayenne, pepper, herbs de provence, and apple cider vinegar.  Then I chopped up my celery (and some of the celery leaves) and stirred that in.
Lunch:
I'm getting low on groceries, so I had to bust out the emergency veggie burger.  If you're going to eat frozen food, the Lightlife burgers are pretty tasty.
Eaten with spinach salad, celery, kabocha, and a quick dressing made from spinach hummus, apple cider vinegar, cumin, and red pepper flakes.  Yes, I spent time "plating" this at work.  People stared.
Mid-Afternoon Snack:
This was fancy-looking, but I'd made it the day before.  Baked swordfish in a foil pocket with veggies and Indian spices.  It was fast and the clean up was easy – just throw away the foil!
I posted the recipe here on Facebook if you're interested.
Dinner:
Did I mention my A/C is broken?  It was 85 degrees and humid in my condo.  I couldn't think of a single thing to eat for dinner because I was SO hot.  So I got creative.
Egg pizza.  The idea was to cook the egg in a big pan so it would be thin like a pizza crust, then top it and finish in the oven under the broiler.  It would have been perfect had a greased the middle of the pan a little better.  It stuck.  No worries… I just ate it out of the pan.  Less dishes to wash!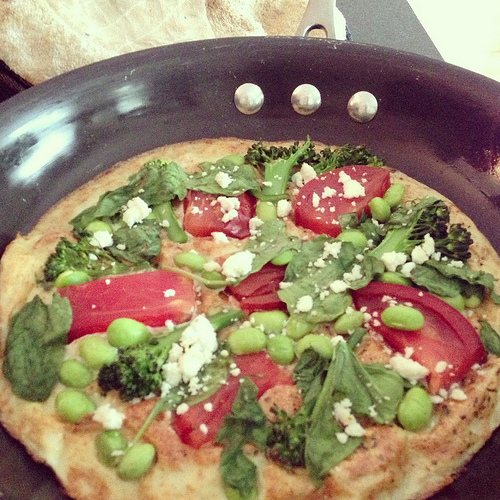 My toppings: broccolini, edamame, tomato, spinach, and ricotta salata.  It was really good!  Will try it again, this time properly greased to get onto a plate.
Midnight Snack:
I ate some snacks at my mom's… she made a quiche and had these yummy chocolate-salted nut things from Trader Joes… but it was just bites and when I got home I still needed a little something.
Despite the heat, I wanted cake (when do I NOT want cake?).  I made my favorite 150 Calorie Chocolate Microwave Cake, topped it with a peanut flour "icing," and served it with a side of cookies and cream Arctic Zero.  And a little Stevia-sweetened Smuckers strawberry jam… it went really well with the peanut butter icing!
***
In less than I week I turn 30.  And I identify with just about all of these 30 Signs You're Almost 30.  My mom likes to remind me of #19.
What do you eat when it's too hot to eat?
Do you make and effort to have your food look pretty at work?  It's so much nicer than eating out of tupperware!  This should probably be added to the signs you're almost 30…