We all know about what happens in Vegas.
That's never actually worked for me.
What happens in Vegas typically stays with me.  I marry it, Instagram it, or post about it.
And that leads me to my very first submission to Meghan's Week In Review.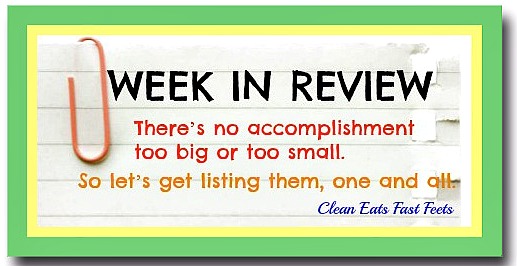 Vegas and I spent a long weekend in Vegas.  It started a little something like this:
I'm a sucker for a Manhattan.  Or two. 
We proceeded to play slots for a bit before deciding we should probably eat dinner.  We hit up Mesa Grill by Bobby Flay in Caesar's Palace.
You know how  pork can either be disgustingly tough and dry or perfect?  Bobby's New Mexican spice-rubbed pork tenderloin with bourbon-ancho chile sauce and a sweet potato tamale with pecan butter did not disappoint.  I let Vegas have like 2 bites, and she agreed.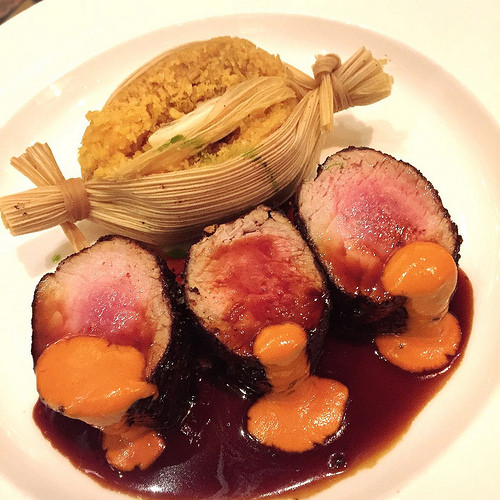 Lest you think all we ever do is eat and drink, we woke up the next day and did some work before playtime.
I got done before Vegas, so I hit the gym and then went exploring.  The new machinery and ESPN commentary were entertaining enough to get me through come cardio before lifting.
I decided against the ferris wheel this trip.  There's just too much to do!
I did manage to see some flamingos though.  Who know the Flamingo had ACTUAL flamingos?
Vegas as tired, but I managed to rally her to enlist her help.  I placed my very first sports bet!  I have no idea how any of this works, but Vegas knows the ropes.  She talked me through it and then watched the game with me while we sat at the bar and played video cards (read: free drinks).
I lost $20 on Black Jack, she won $20 on poker, and I won $90 on a basketball game!  I can see how this gets addicting…
Feeling celebratory, we enjoyed a glass of bubbly at Fizz, Elton John's champagne bar.
Because I'm super classy, I orchestrated a photo shoot that took like 5 minutes to get our heads perfectly aligned in the mirror art across the bar.
At this point it was well-past dinner time.  We walked over the the Bellagio to check out the restaurants there.
We settled on Yellowtail, and for the first time in my life I heard Vegas say "I don't feel like red meat."  After I recovered from the shock, we ate a ton of sushi.  The favorite was this salmon "pizza" with truffle oil:
The REAL reason for heading to the Bellagio was to see the conservatory.  They have this beautiful space that they change out seasonally with living art.
There were faces in trees, 900+ lb pumpkins, carved pumpkins, pumpkins made of flowers… it was stunning.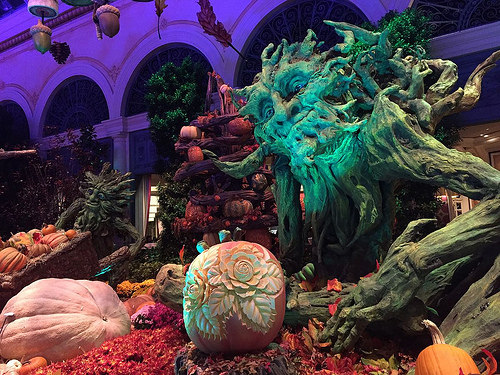 We were walking out… and then we passed a unicorn penny slot.  I had to stop.  I just wanted a dollar to play, but Vegas made me throw in $20.
She was right about playing that $20…
We slept like babies.  I think I hit 20,000 steps wandering all over the Vegas strip that day!
The next morning we were headed to Big Bear.  We wanted to check it out before ski season starts.  San Diego is only 3 hours away, so we plan on becoming ski bunnies this winter.
We got in around dinner time and found a cute, old-school steak house.  Captain's Anchorage is something of a landmark in Big Bear.   It even has a ghost name George!  We didn't see George, but we did see a steak (Vegas' red meat appetite returned) and a pound of crab legs.
The next day we woke up ready to explore The Village at Big Bear Lake.
Remember when Elvis moved across the country with us?  He continues to pop up on road trips.
It's such a cute little town.  I can't believe we hadn't been up there yet!  We will take advantage of the skiing once the snow comes.  Vegas has her heart set on learning to snow board, but I'm a purest.
We were also pleasantly surprised by the food.  We found brunch Nottingham's, a hole-in-the-wall tavern restaurant that's part of a hotel.  It looked a little sketch, but it was really good!  I got huevos rancheros with sweet potato tots and Vegas got a steak eggs benedict with hash browns.
Today we're back home and I'm typing this post before dragging myself to the gym.  I have some things to sweat out, but it was a marvelous mini-break!
***
I'd wake up in Vegas with Vegas any day.
Have you ever been to Vegas?  Ever placed a bet?
Will you skiing or snow board this winter?