Baby showers require games.
Party games typically aren't my forte, but I received a brilliant suggestion for a baby shower game:
Guess What the Baby Ate
Yep, I went there.
The game is to line up diapers filled with mushed up candy bars, then have party guests try to guess what candy is in each.
Tip: soften each a bit in the microwave and use the food processor to mix.
Our diapers contained:
Butterfinger
Mounds
Peppermint Patty
Reeses
Snickers.
The game got competitive!  Guests took to taste-testing in order to win.  Baby Ruthless.
I will never look at my favorite candy bars the same way.
---
On to more visually appealing foods!
Of the items I made, one of the favorites was a watermelon salad.  (I just realized that between the Strawberry Chantilly and the watermelon there's a bit of a pink theme to this baby boy's a shower!)
If you glance at much  of what I eat, you'll notice that I love a salty-sweet combo.  Watermelon is no different!
This watermelon salad gets it's saltiness from Cotija cheese.
Cotija a salty, crumbly cow's milk cheese.  Basically, it is Mexico's answer to feta.
It is great as a garnish on salads, tacos, enchiladas, or simply crumbled on a good tomato with cilantro and pepper. It is also delish on watermelon salad.  🙂
---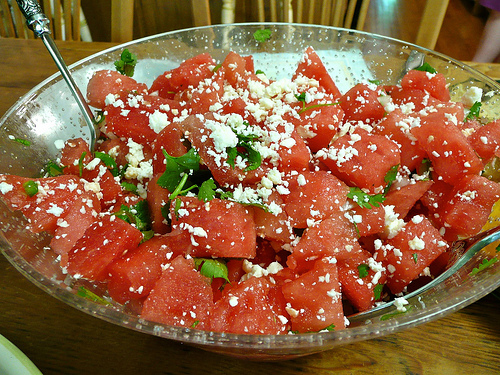 Watermelon Cotija Salad
1/2 medium sized watermelon, chopped into 1-inch pieces (~6 C)
1/3 C chopped red onion
Juice from 1 lime
3-4 oz cotija cheese, crumbled
1 jalapeño, seeded and minced
1/2 C cilantro, chopped
S+P, to taste
Combine all ingredients into a large bowl and serve immediately.
***
Do you typically play "games" at bridal shower or baby showers?
What are your favorites?