It's pretty hot and humid right now in San Diego.
Feels like my Atlanta hometown!
We've had hot soup since Vegas has had a cold, but in the middle of the day there's no way I could stomach it.  I thought of making tomato gazpacho, but I had half a watermelon in the fridge that needed to be used.  My gazpacho took a strange (but REALLY good) twist and went tropical.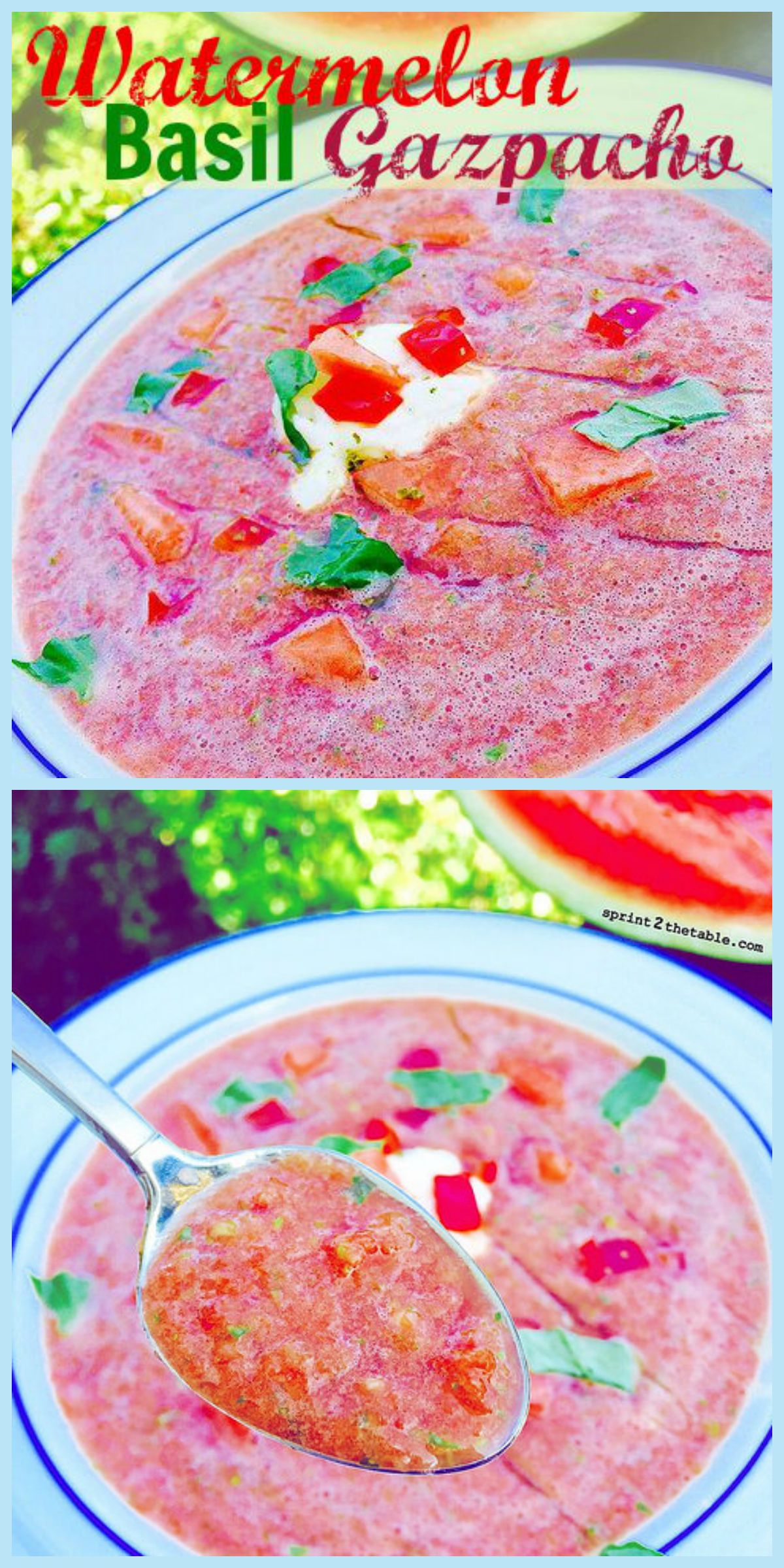 This was one of the sweetest watermelons I'd ever tasted.  The first half was eaten plain and in one sitting.
Ok, I didn't actually bother to sit down.  I ate it with my fingers standing over the counter.
For the second half I decided to exercise some restraint and get a little creative.
I pureed the watermelon and added some more savory ingredients to balance the sweetness.  Red bell pepper, jalapeño, and apple cider vinegar gave it some depth, and a bit of salt complimented both the sweet and the spicy.
The cucumber and basil* lightened it up, ensuring that this chilled soup remained a refreshing meal on a warm summer day.
(*Note: Cilantro would be good here too, but Vegas has that genetic thing where it tastes like soap to her.)
We ate this for breakfast one morning with a dollop of Greek yogurt, but this would be great at anytime of day.  Make it a patio happy hour dish by adding shrimp and pairing it with a dry Riesling!
---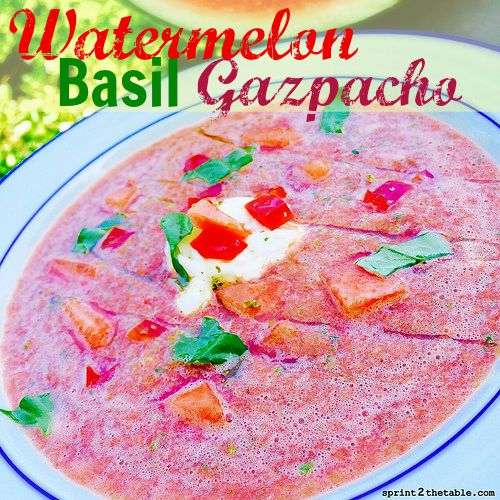 Watermelon Basil Gazpacho
8 C seedless watermelon
1/2 medium cucumber, peeled and seeded
1/2 red bell pepper
1/2 C fresh basil
1 T  yellow onion
1/2 jalapeno
2 T apple cider vinegar
Salt, to taste
Greek yogurt, to garnish
Roughly chop watermelon and veggies.  Place watermelon into a blender (FYI – 8 C is a full Vitamix) and blend until liquified.  
Add remaining ingredients and mix until smooth.  You may leave some bits depending on your texture preference (I did).
Spoon into soup bowls and garnish as desired.  I used more chopped red pepper, watermelon, basil, and Greek yogurt.  Serve chilled.
Makes 4 servings.
---
How have you enjoyed making co-workers, friends, or family stare with strange but good creations this week? The link up rules can be found here or by clicking on "Strange But Good" in the menu bar above. In short, I want to see what concoctions have earned you weird looks from co-workers, family and friends! Post your Strange But Good creations, grab the logo below for your blog, and link up here.
Remember to use #strangebutgood in any Tweets and Instagrams of your creations. 🙂

***
This makes me want to do my Peach Gazpacho again.  Hope I didn't wait too late in the season!
Do you like gazpacho?
What is your favorite summer cool down meal?