We're big pizza fans.
But who isn't?!
When I saw that this month's Recipe Redux topic was to celebrate another ReDuxer, I knew immediately I was going with the pesto flatbread from the walnut round up.
At least once a week some form of pizza happens in my house.  Vegas would eat if for every meal if I let her!  Pizza, flatbread… same difference, no?  I added my own #strangebutgood twist by making it a Walnut Pesto & Shrimp Cauliflower Crust Flatbread.
First let's talk about the creator of the walnut pesto recipe, Rebecca at Twisted Nutrition.  I discovered her blog through the Redux community.  Rebecca is an RD living in New Orleans, so you know she has some amazing healthy twists on Southern favorites!
Now for the pizza.  I LOVED her walnut twist on pesto.  It made for a creamy, heart-healthy "sauce" on our flatbread pizzas.  I did opt to use the traditional basil instead of arugula, mostly because Vegas grew 3 GIANT basil plants for me.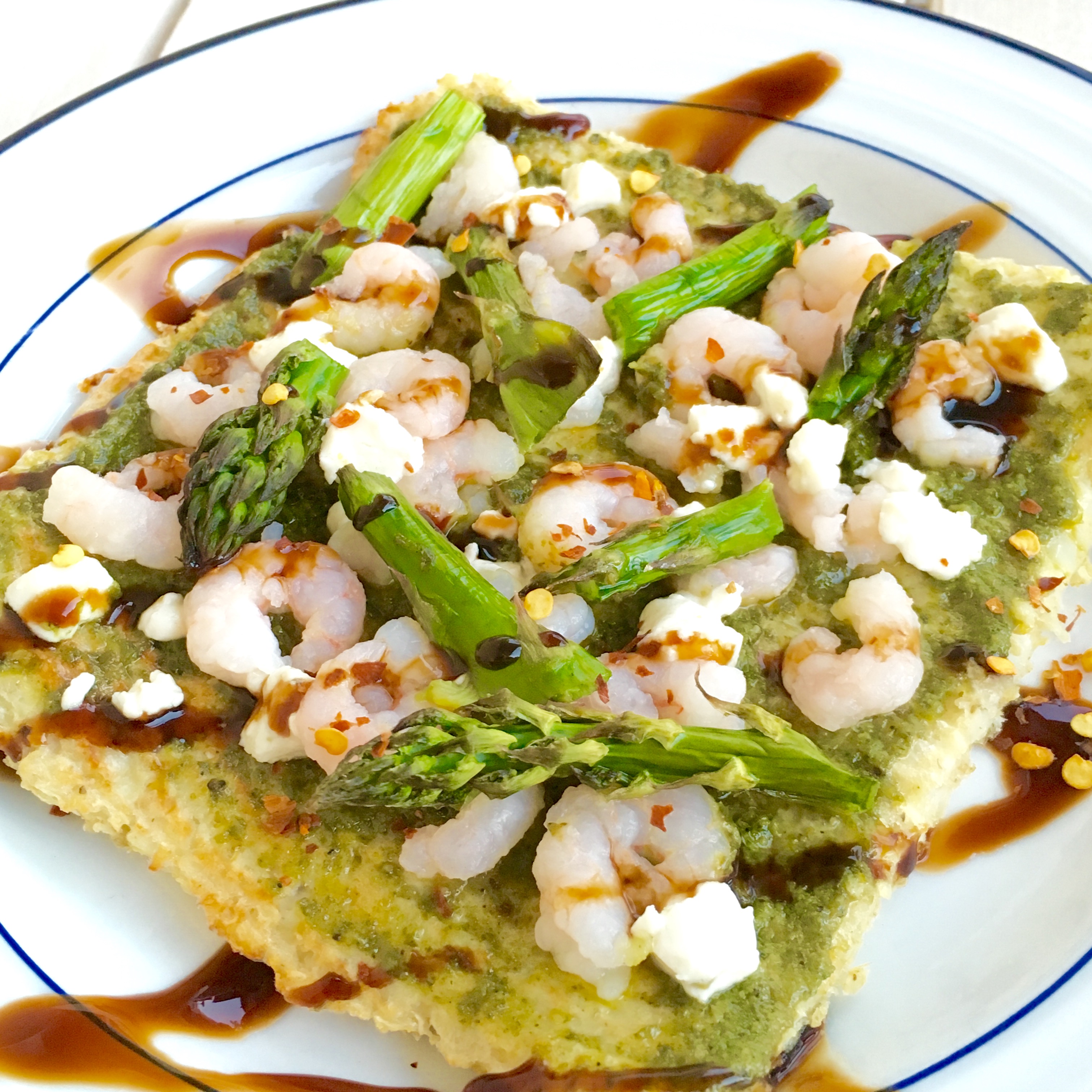 The rest of the toppings included: asparagus (remember what that's good for! 😉 ) roasted in the oven with garlic-infused coconut oil, bay shrimps, and Purple Haze Chevre from Cypress Grove.
I used was my go-to cauliflower crust as the base.  I can't recommend it enough.  One might even say I'm… ♪ all about that base.  ♫  😉
Unlike most recipes, this cauliflower crust doesn't have cheese in it.  I especially love that because it means more room for toppings.  It's also delicious.  If you don't believe me, believe the pizza-loving love of my life.  Vegas requested that I make more to have on hand for lunches.  For this meal, I made 2 batches and divided the batter into squares.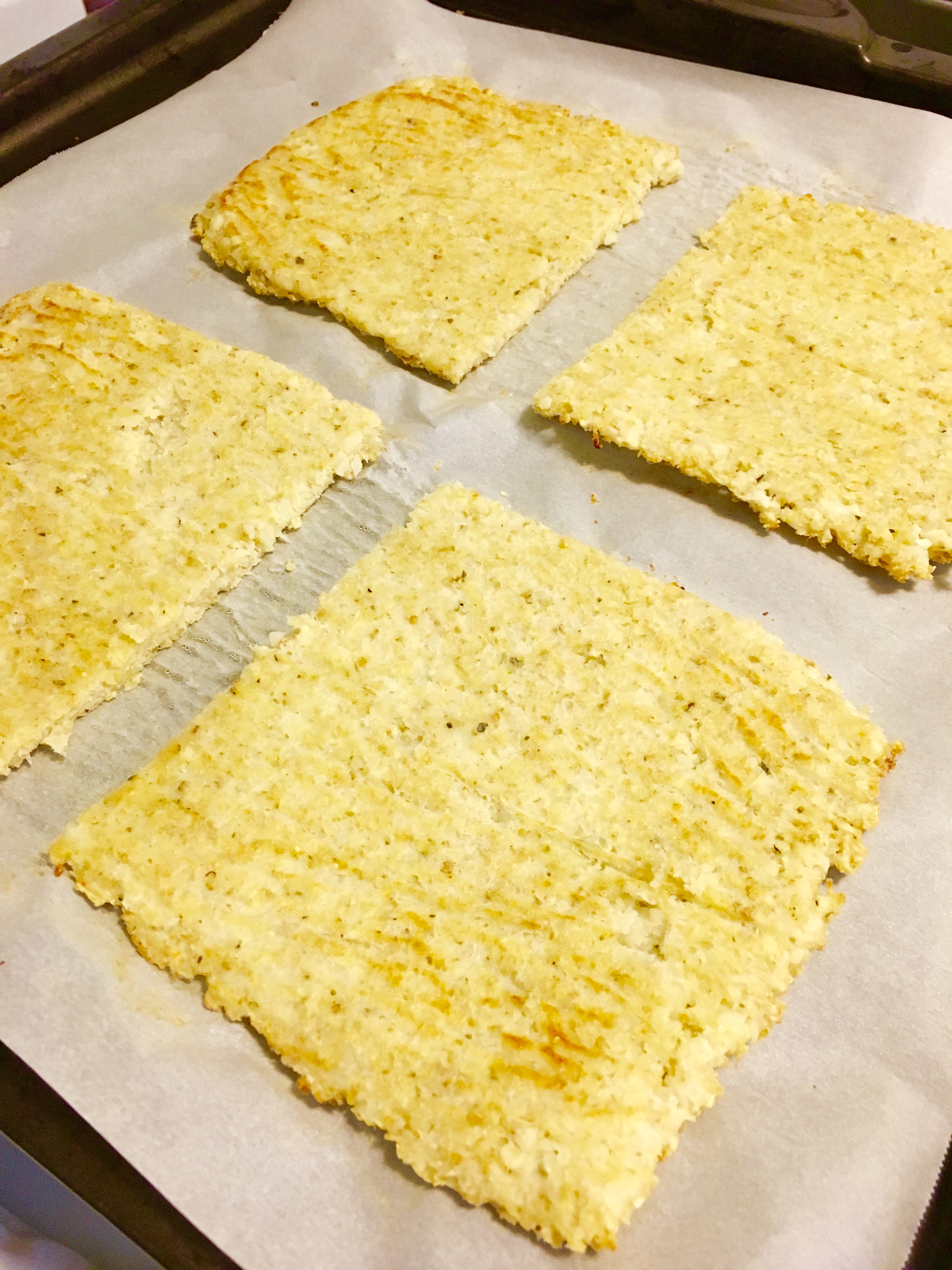 Pro Tip: make a few at a time and keep them in the freezer for "frozen pizza" dinner nights.
---

Walnut Pesto with Shrimp & Asparagus Cauliflower Flatbread
2 oz pre-cooked bay shrimp
1/2 C cooked asparagus, chopped
1 T goat cheese
Prepare crust and pesto according to instructions.
Place your crust on a pan or pizza stone.  Spread the pesto over the crust.  Top the pizza with shrimps, asparagus, and cheese.  
Place in oven under the broiler until warmed through, about 5 minutes.
Transfer to plate and enjoy!
---
Read on for my whole day of eats (including – but not limited to – pizza), and link up to Jenn's WIAW baby over at Arman's today!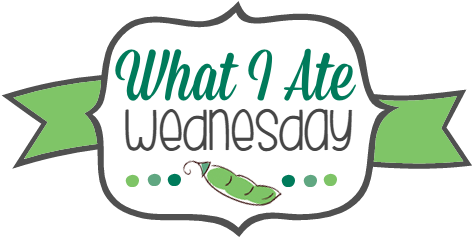 ---
Breakfast:
The usual morning cocktail followed by the matcha sludge.
This was going to be an omelet… but I suck at making omelets.  It's a scramlet.  With a side of toast – one with jelly and one with smashed avocado and hemp hearts.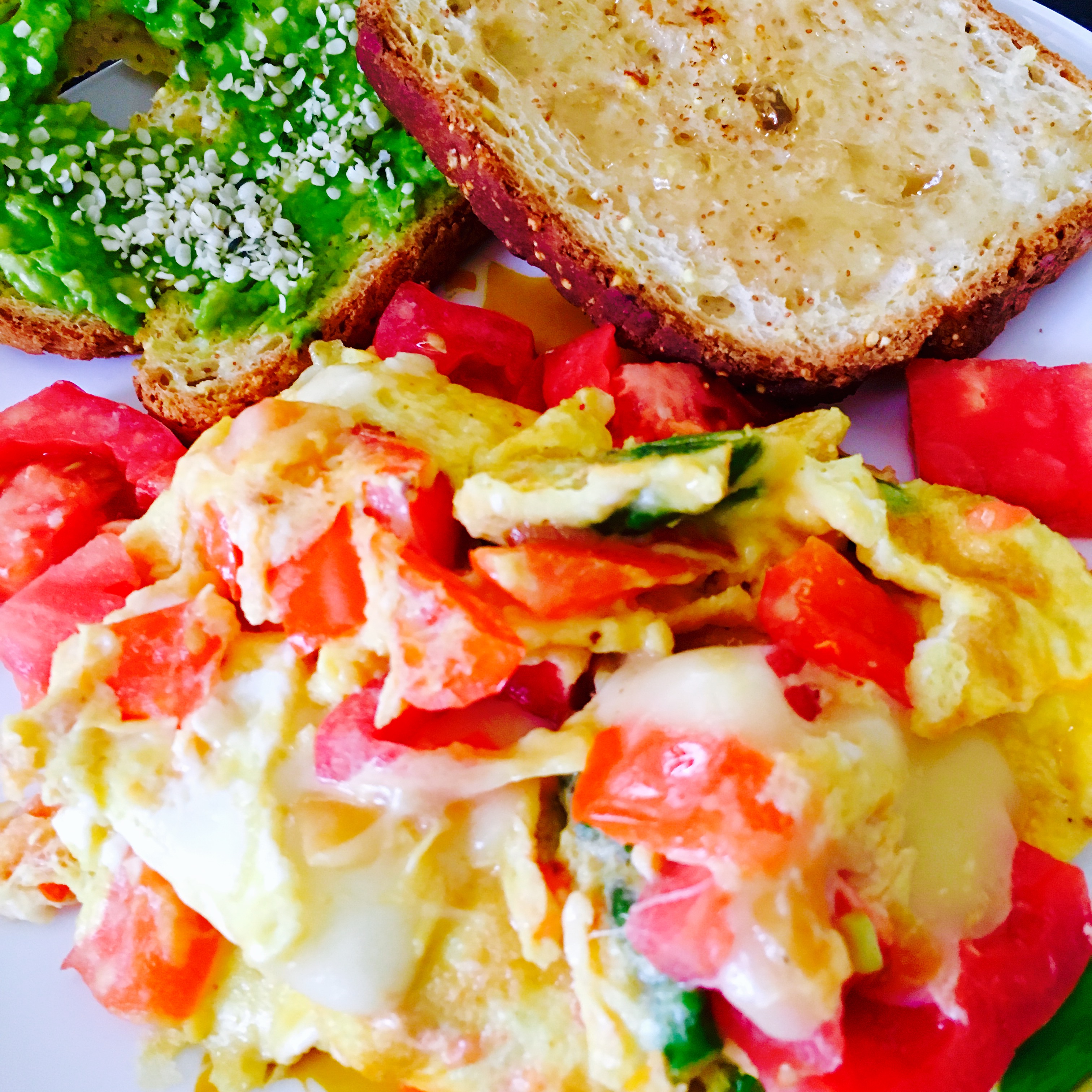 Lunch:
I did some experimenting with a turkey salad.  It's like chicken salad.  Sort of.
Broken up no-salt deli turkey tossed with broccoli slaw, parsley, mushrooms, and red peppers. The dressing is an equal mix of garlic hummus and salsa.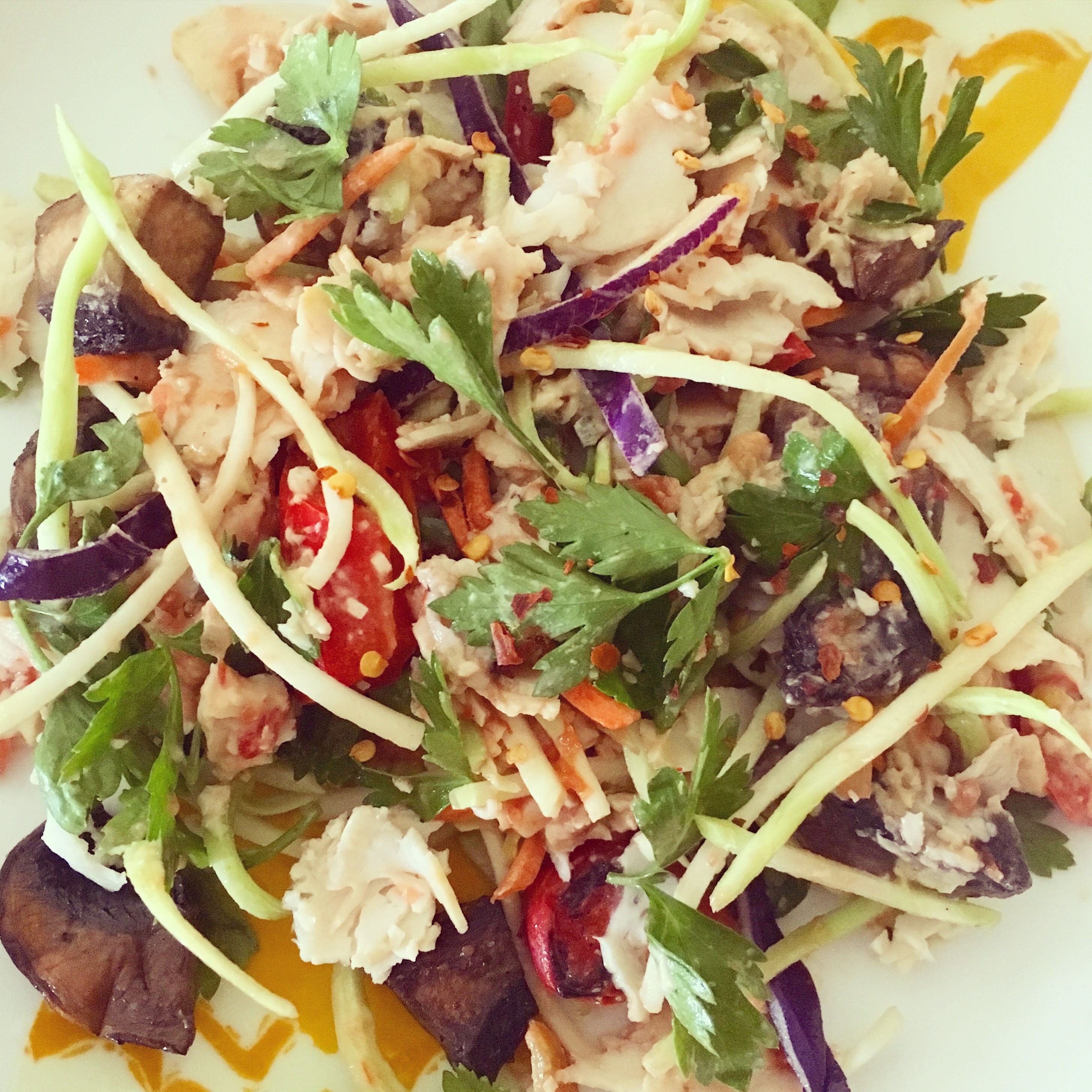 I thought it was fabulous. Vegas looked at me quizzically while eating her burger patty with cottage cheese and tomato (like THAT'S normal).
Snack:
I've been all over these Oh Yeah! Birthday Cake Bars lately.  Have you tried them?  So.  Good.
This is a pic from the weekend, but I had the same snack yesterday.
Dinner:
Flatbread pizza.  Alllllll the shrimps.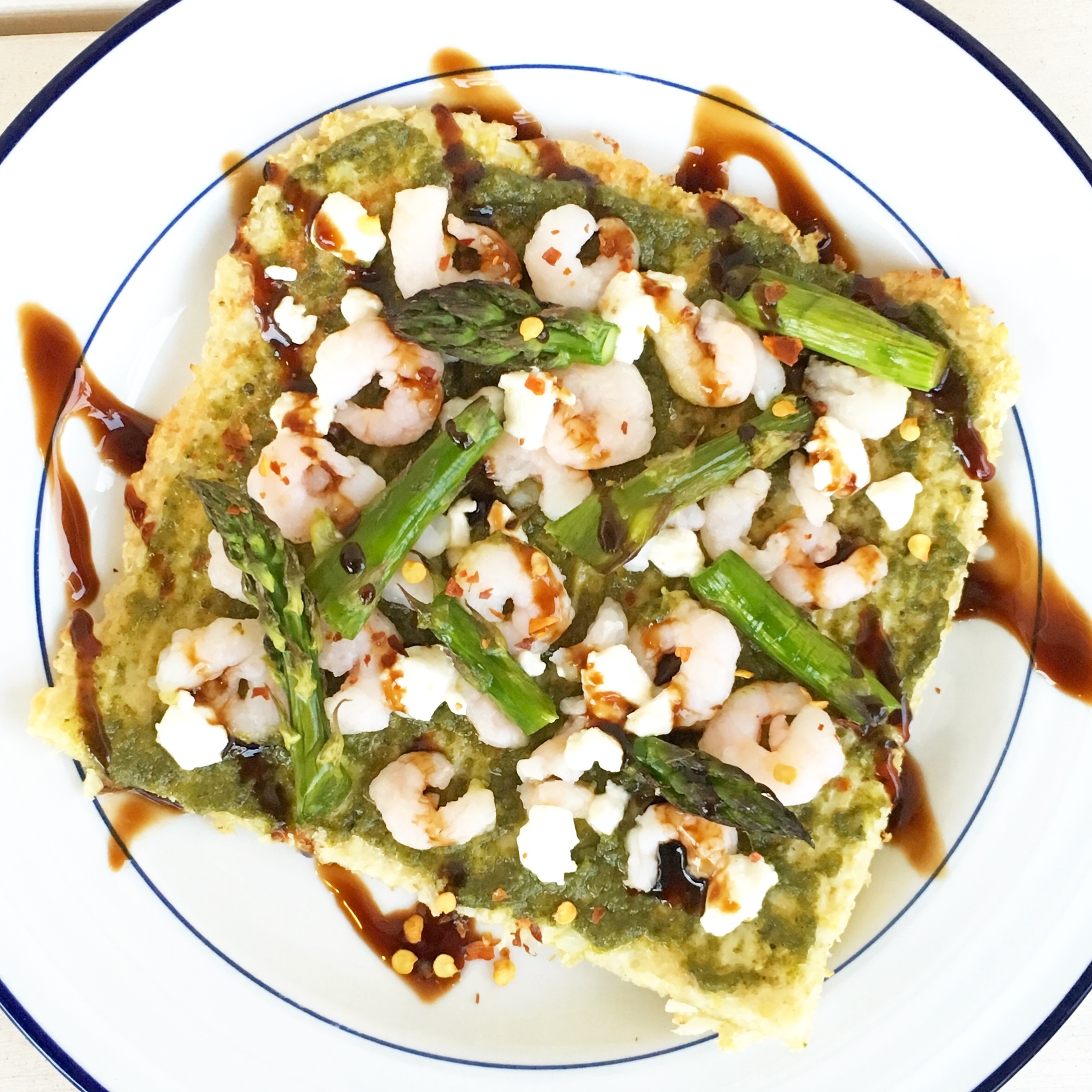 Dessert:
Midnight snack dessert bowls continue to make appearances.  Vegas lives for pizza, I live for dessert.
***
Vegas says she's on the healthy eating train too now… I think it's because I threatened to do a "What Vegas Ate Wednesday" post. 😉
Have you ever made a cauliflower crust? 
What's the latest blogger recipe you want to try?