Las Vegas has grown on me in the last 3 years.
And not just because that's where I picked up Vegas.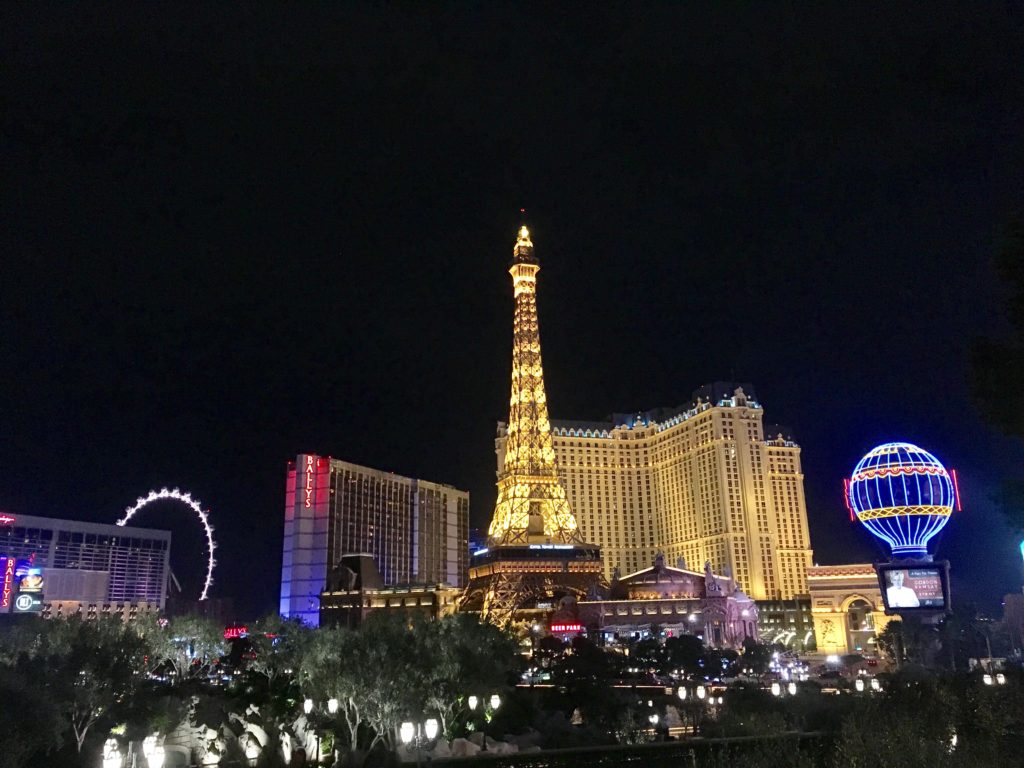 As a blogger, I can get caught up on trying to write posts that are going to have amazing SEO, become stars on Pinterest, or go viral on Facebook.  This post is going to achieve none of those things.  This post is going to be a little random… but I hope it's entertaining and that it makes you laugh a little.
Vegas* and I left for the city of Vegas on Tuesday.  She had to go for work and I always jump at the opportunity to tag along.  A change of scenery is always fun!  Like any good story, this one begins with a martini.
*If you're new, here's the story of Vegas.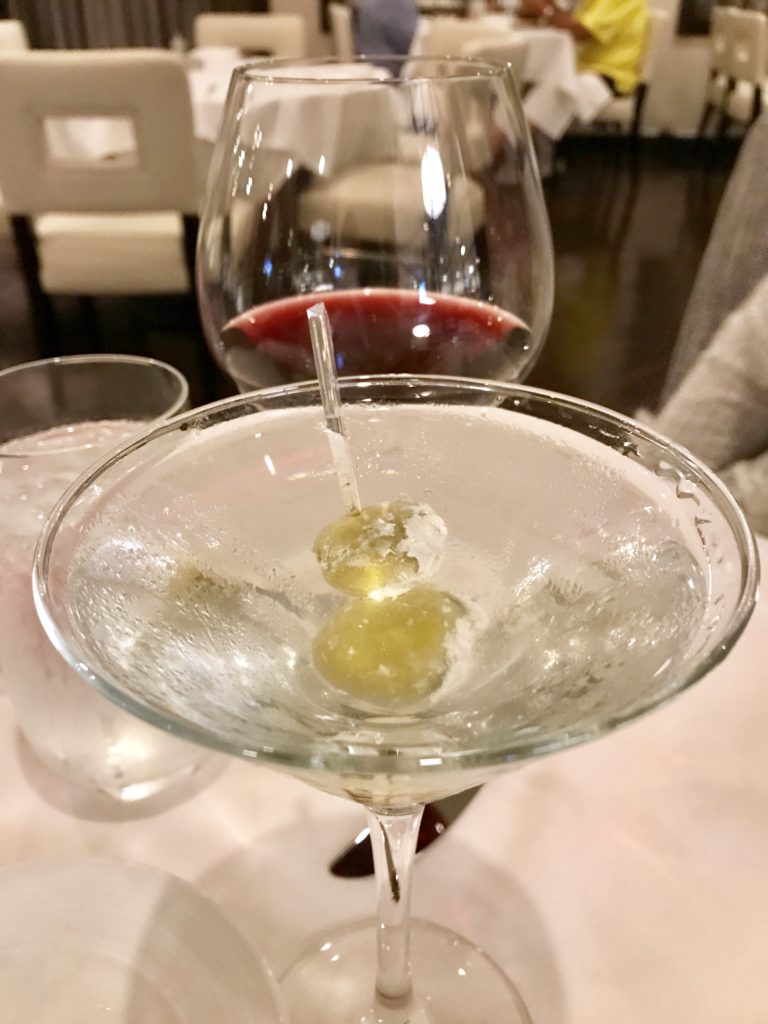 Most people land in a city at 9 pm tired and ready for bed.  Not us.  We went for steaks and martinis at the steakhouse in our temporary casino-home, the Tropicana.  We moved on to wine after the martini.  Thankfully, we didn't finish the bottle of Pinot.  We did take it up to our room, along with a couple of fresh glasses.  I swear the server gave us the glasses.  This did not stop management from loudly commenting as I strolled past with two glasses, a bottle of wine, and a suitcase.
Late night in Vegas and you're staring at me?  Please.  Look around you.
The next morning Vegas won breakfast.  She walked down to the casino Starbucks and came back with coffee and sous vide egg whites.  Have you guys tired these?  I love them!
We sat around in the hotel room all morning and worked.  I hate it when we have to be real people… but at least it didn't require pants.
Vegas left for her meetings and I headed to the gym.  The Tropicana gym is small, but nice.  I did a chest and bicep workout, then rode the bike for 20 mins.
The gym overlooks the hotel pool.  People watching made the time fly!  These people were one article of clothing short of doing the wild monkey dance in the pool.  I'm not exaggerating.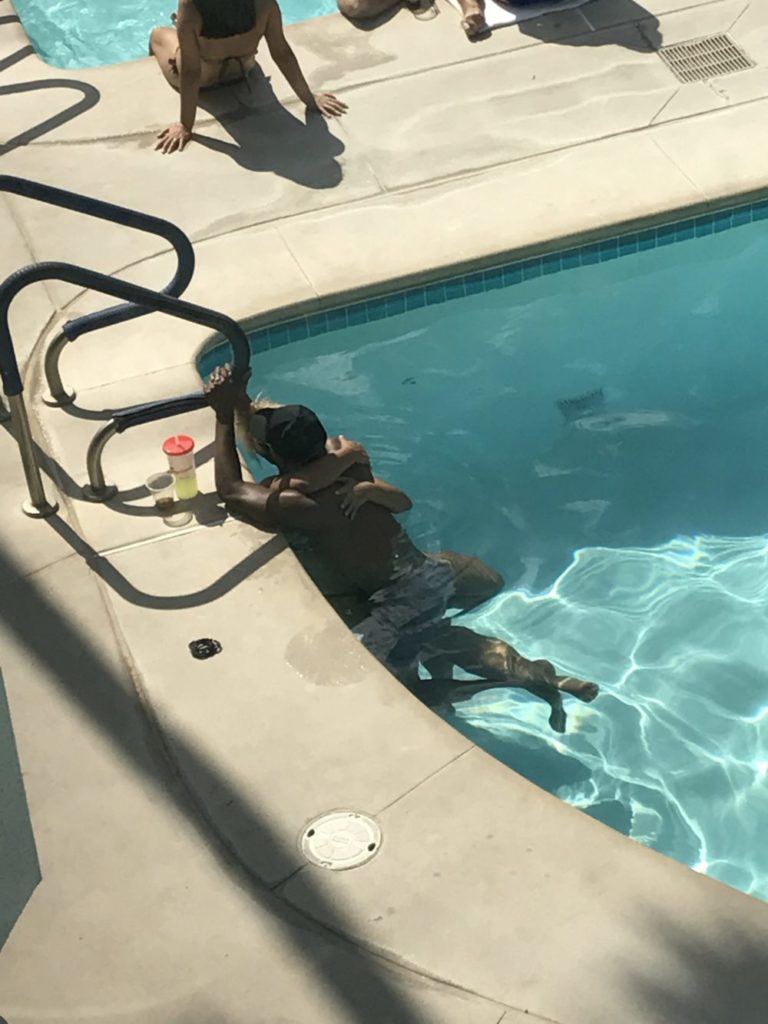 After a shower, I decided to wander about before joining a poker tournament in the casino across the way.  I stopped for a bottle of sparkling water, because hydration.  Staying hydrated is key in Vegas for two reasons: it's really dry and alcohol is free.
Which brings me to my next picture.  Spiked coconut water.  Hydrating while dehydrating?!  This is either genius or danger-zone.
I decided against the coconut vodka drink, grabbed a water, and made my way across the bridge to the Excalibur.  I'd never been in the casino until now.  As one might expect from the outside, the inside basically looks like a Renaissance festival threw up all over it.
While I wouldn't recommend staying there, I did enjoy their poker room.  It's a low buy-in ($45), and not overwhelmingly big.  Tournaments are my favorite because you don't blow a ton of money.  If you can hang in, you can play on whatever the entry fee is for 2-3 hours.  Also, free drinks (see earlier note about hydration).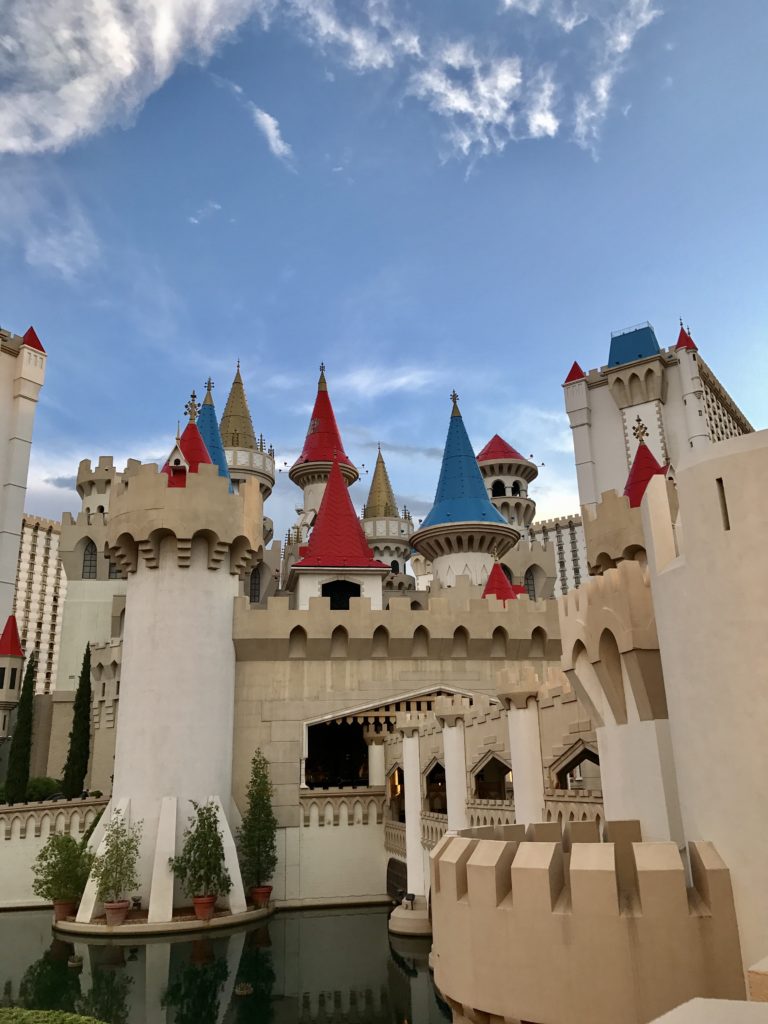 After losing out, I went on a Vegas tour for one.  We usually don't stay on the south end of the Strip, so I had lots to see!  I hit up the Mirage and the Luxor.
The people watching, as always, was rich.  My favorite site was a girl – maybe 25 years old – walking around in black undies, a black sports bra, and a sheer black cover up.  Not a bikini.  Undies.  She was also wearing fuzzy black bedroom slippers.  Based on her figure and the yard frozen daiquiri in her hand, she wasn't a lost showgirl.  Oh, Vegas…
Back to my tour for one.  The Luxor is really cool from the outside; it looks like a giant pyramid!  The inside was cool, but not my favorite… and not just because I lost $20 in 5 seconds playing the House of Cards slot.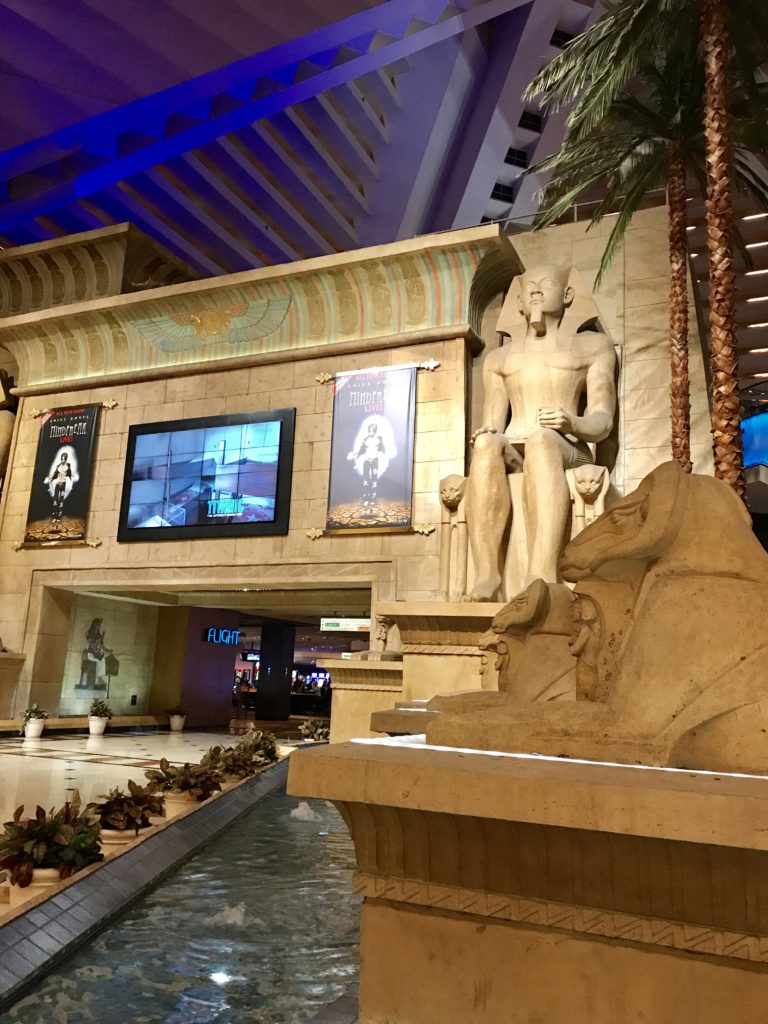 From there, I got in an Uber to go north to the Cosmopolitan, my favorite casino.  Technically you can walk all the way down the strip.  It's only about 1.5 miles.  However, my frankenknee needed a break and it was still 90 degrees at 8 pm.
Thanks to a recommendation from my friend Kristina, I ended up at an incredibly cool pawn shop/restaurant called Beauty & Essex.  The entry is a pawn shop; it was filled with vintage jewelry, art, and other accoutrements.  A pawn shop in a swank casino is weird enough, but for it to lead into a dark, sultry restaurant?!
I ventured through the "secret" door and took a seat at the bar.  PerKristina's suggestion, I ordered the Emerald Gimlet.  It was a mixture of Absolut Elyx vodka, basil, lemon Nectar,  and fresh Lime.  In a rare (by Vegas standards) moment of wisdom, I decided eating would be a good idea.  The bartender suggested the Yellowtail sashimi, topped with pickled jalapeño and barrel-aged fuji apple ponzu.  It was perfect with the refreshing drink!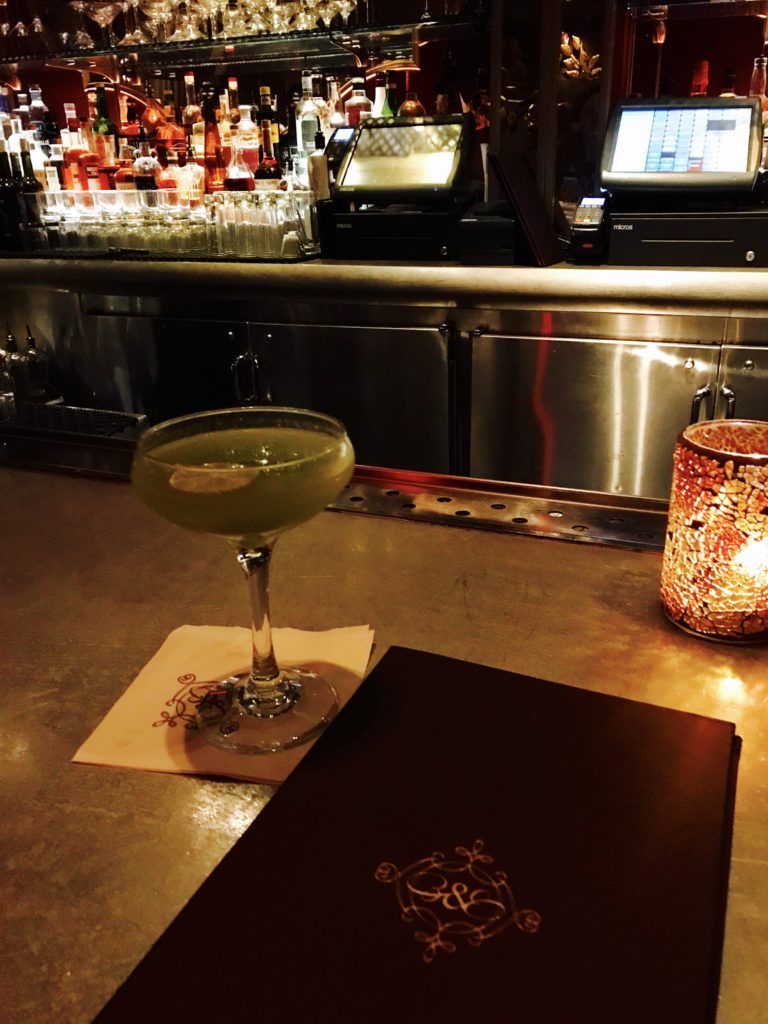 Next time I'm coming back for a full meal!  However, this time I had to peace out.  Vegas texted asking me to meet her and some colleagues in a casino about 15 miles away.  Normally I'd balk at that kind of trip when I was cozied up in a bar, but I missed her.  *gag* *mush*
Seriously though.  She'd been gone since 2 and it was now 9.  However, at this point the pictures stop.  I can tell you there was a short rib, a blue cheese martini, and a Pai Gow poker lesson involved.  We got back to the hotel at 1 am.  Because I'm 21 in my head.
Shockingly, I woke up the most morning.  I always travel with snacks, thank god.  After a Quest bar, I was ready to go!  I hit the gym for some back and leg work, plus 20 mins on the bike for my janky knee.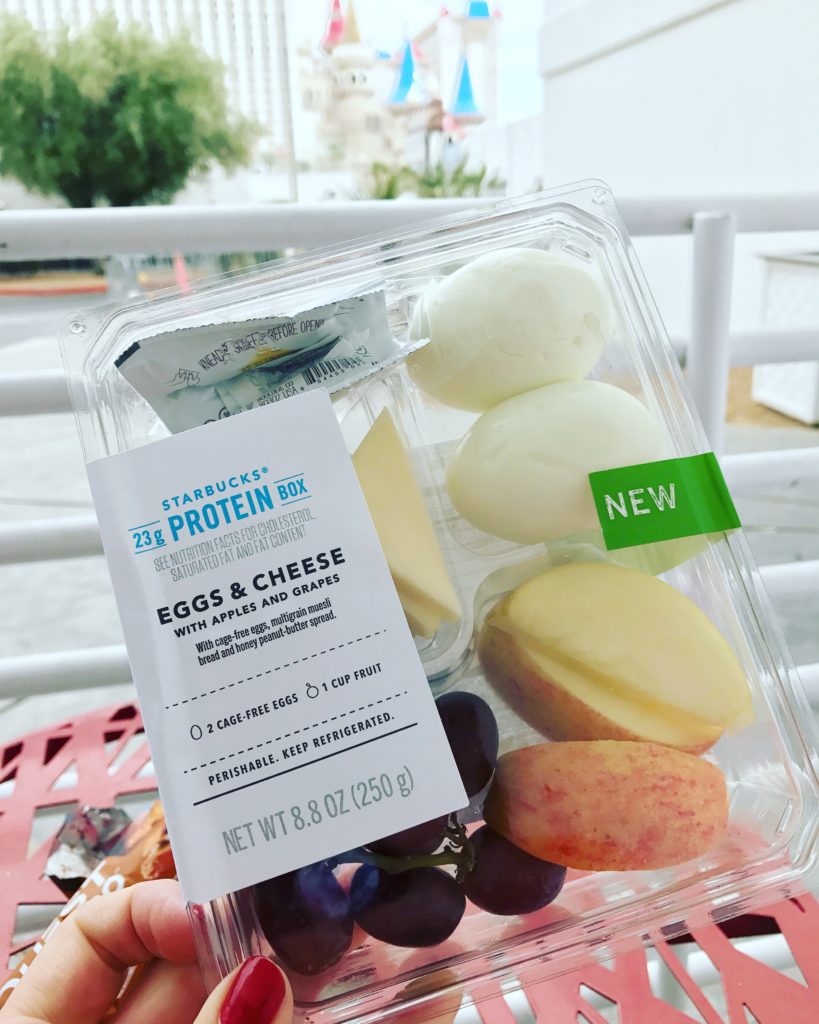 My post-workout meal was a protein box from the casino Starbucks.  They're pretty tasty, but I like the sous vide eggs better.  That castle in the background wasn't bad either.
Funny story: I wanted to go to the pool and get some sun, but I was too embarrassed.  No, this isn't a "I don't want to wear a bikini" story.  I was attacked by some sort of mutant mosquitos in Mexico the weekend before, and the welts on the back of my legs were so gross that I didn't want my ass to be seen in public.
I'll spare you a pic.  You're welcome.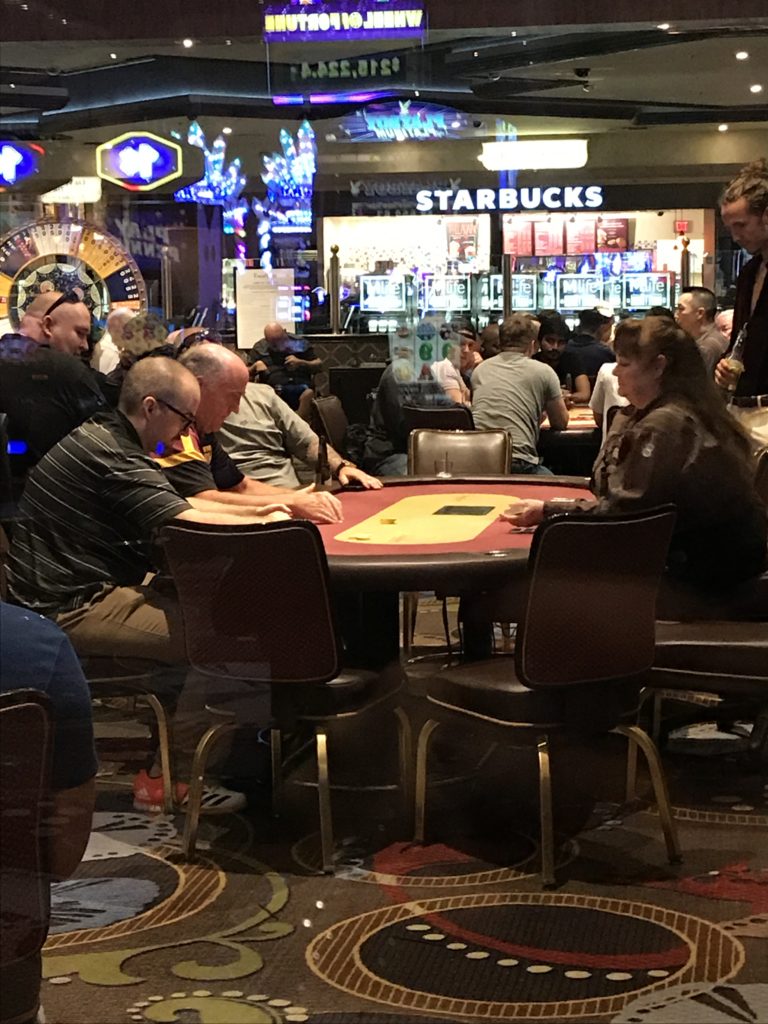 Instead, I played poker.  This went much better than the previous day.  I'm almost always the only female at the table, and always the only one at the final table.  It was true for this game too.  These 3 are the hilarious Irish guys who beat me.  I was 4th place!  That's not in the money, but whatever.
Having fun people at your table is key.  Some people are so serious!  Instead, our conversations ranged from sheep farming *ahem*, to one of the sandwich guys asking if I'd go out with him if he gave me all of his chips.  A dealer offered to be my bodyguard at one point (I was sandwiched between two of the biggest guys).  It was all in good fun, and I laughed so hard my stomach hurt.  Well worth the cost of entry!
Vegas was at another work dinner, but luckily I had Katrina and her husband to entertain me for dinner post-poker game.  We met at Robert Irvine's new restaurant in the Tropicana.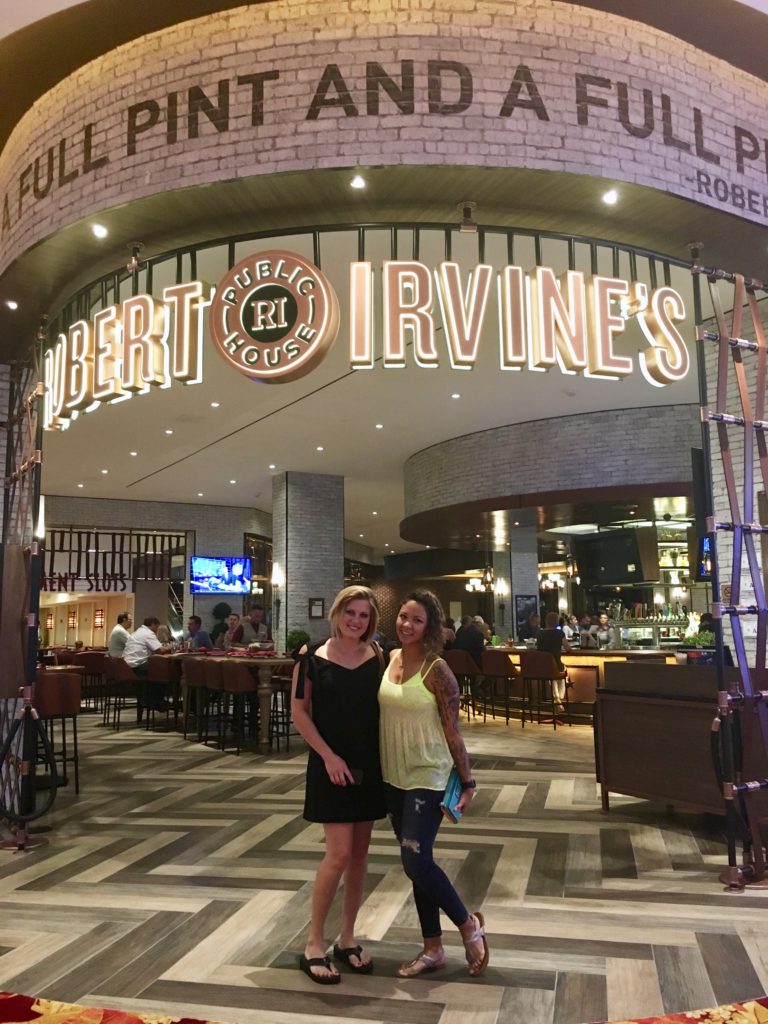 If you were following along in Instagram, you know we had a delicious tater tot poutine.  We also had a great time catching up.  It's so cool to have blogger-friends in other cities.  I love getting to meet up and becoming "real life" friends.  I wish we lived closer!
After that, I won and subsequently lost $60 while waiting for Vegas to come back.  I finally learned my lesson and didn't gamble away the money I started with, so it was all good.  Vegas, however, came back without her wallet… I need clearance to tell that story though. 😉
This is getting insanely long, so I'll continue the story on Wednesday for WIAW.  Today's list of non-accomplishments will be linked up to Megan's Week in Review.
***
I can't believe this post cleared over 1000 words.  Why was that so hard in school?!
Do you like to play cards?  I grew up on Blackjack and Hearts.
Are any of you in Florida?  I hope you weathered the storm okay!